BKMT READING GUIDES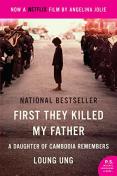 First They Killed My Father: A Daughter of Cambodia Remembers (P.S.)

by Loung Ung
Published: 2010-10-12
Kindle Edition : 274 pages
186 members reading this now
13 clubs reading this now
23 members have read this book
Recommended to book clubs by 6 of 6 members
Repackaged in a new tie-in edition to coincide with the Netflix film produced and directed by Angelina Jolie, a moving story of war crimes and desperate actions, the unnerving strength of a small girl and her triumphant spirit as she survived the Cambodian genocide under Pol Pot's ...
No other editions available.

Jump to
Introduction
From a childhood survivor of the brutal Pol Pot regime comes an unforgettable narrative of tragedy and spiritual triumph. 8-page photo insert.
Editorial Review
Written in the present tense,
First They Killed My Father
will put you right in the midst of the action--action you'll wish had never happened. It's a tough read, but definitely a worthwhile one, and the author's personality and strength shine through on every page. Covering the years from 1975 to 1979, the story moves from the deaths of multiple family members to the forced separation of the survivors, leading ultimately to the reuniting of much of the family, followed by marriages and immigrations. The brutality seems unending--beatings, starvation, attempted rape, mental cruelty--and yet the narrator (a young girl) never stops fighting for escape and survival. Sad and courageous, her life and the lives of her young siblings provide quite a powerful example of how war can so deeply affect children--especially a war in which they are trained to be an integral part of the armed forces. For anyone interested in Cambodia's recent history, this book shares a valuable personal view of events.
--Jill Lightner
Excerpt
Chapter One
phnom penh
April 1975
Phnom Penh city wakes early to take advantage of the cool morning breeze before the sun breaks through the haze and invades the country with sweltering heat. Already at 6 A.M. people in Phnom Penh are rushing and bumping into each other on dusty, narrow side streets. Waiters and waitresses in black-and-white uniforms swing open shop doors as the aroma of noodle soup greets waiting customers. Street vendors push food carts piled with steamed dumplings, smoked beef teriyaki sticks, and roasted peanuts along the sidewalks and begin to set up for another day of business. Children in colorful T-shirts and shorts kick soccer balls on sidewalks with their bare feet, ignoring the grunts and screams of the food cart owners. The wide boulevards sing with the buzz of motorcycle engines, squeaky bicycles, and, for those wealthy enough to afford them, small cars. By midday, as temperatures climb to over a hundred degrees, the streets grow quiet again. People rush home to seek relief from the heat, have lunch, take cold showers, and nap before returning to work at 2 P.M. ...
view entire excerpt...
Discussion Questions
Questions from Publisher's Reading Guide:
1. What fundamental problems existed in the Khmer Rouge's plan that caused the destruction of so many lives? Were there any values that the Khmer Rouge claimed to hold that you share?
2. What impact did the narrator's child's voice have on your experience as a reader? How would you characterize the transformation that takes place in her narrative voice throughout the story?
3. How did it affect your reading of the book that you were aware of Loung's father's impending death long before her?
4. Would you describe Loung as a feminist? How did the experiences of the Ung family differ during the war because of gender?
5. What was your impression of the final separation, both geographic and cultural, that Loung had with her surviving family? Did you sympathize with her eventual desire to assimilate into American culture, or had you expected her to be more aggressive about pursuing her family relationships earlier on?
6. Loung saw herself as a "strong" person, as did many other people in the book, and was eventually drafted into a soldier training camp as a result. What are the qualities of a survivor? How does one reconcile compassion with a will to survive? What qualities enabled her gentle sister Chou to survive as well?
7. With armed struggle a reality of life for people all over the world both past and present, how does one draw the line as to which means are ethical and unethical for coping with it, such as the author's current campaign against the use of landmines? Are there other tools of war that you believe should be broadly banned?
BECOME A MEMBER
it's free
Join the leading website for book clubs with over 35,000 clubs and 20,000 reading guides.
SEARCH OUR READING GUIDES
Search
JOIN OUR MAILING LIST
Get free weekly updates on top club picks, book giveaways, author events and more
Please wait...