BKMT READING GUIDES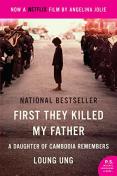 First They Killed My Father: A Daughter of Cambodia Remembers (P.S.)

by Loung Ung
Published: 2010-10-12
Kindle Edition : 274 pages
186 members reading this now
12 clubs reading this now
23 members have read this book
Recommended to book clubs by 6 of 6 members
Repackaged in a new tie-in edition to coincide with the Netflix film produced and directed by Angelina Jolie, a moving story of war crimes and desperate actions, the unnerving strength of a small girl and her triumphant spirit as she survived the Cambodian genocide under Pol Pot's ...
No other editions available.

Jump to
Introduction
From a childhood survivor of the brutal Pol Pot regime comes an unforgettable narrative of tragedy and spiritual triumph. 8-page photo insert.
Editorial Review
Written in the present tense,
First They Killed My Father
will put you right in the midst of the action--action you'll wish had never happened. It's a tough read, but definitely a worthwhile one, and the author's personality and strength shine through on every page. Covering the years from 1975 to 1979, the story moves from the deaths of multiple family members to the forced separation of the survivors, leading ultimately to the reuniting of much of the family, followed by marriages and immigrations. The brutality seems unending--beatings, starvation, attempted rape, mental cruelty--and yet the narrator (a young girl) never stops fighting for escape and survival. Sad and courageous, her life and the lives of her young siblings provide quite a powerful example of how war can so deeply affect children--especially a war in which they are trained to be an integral part of the armed forces. For anyone interested in Cambodia's recent history, this book shares a valuable personal view of events.
--Jill Lightner
Excerpt
Chapter One phnom penh April 1975 Phnom Penh city wakes early to take advantage of the cool morning breeze before the sun breaks through the haze and invades the country with sweltering heat. Already at 6 A.M. people in Phnom Penh are rushing and bumping into each other on dusty, narrow side streets. Waiters and waitresses in black-and-white uniforms swing open shop doors as the aroma of noodle soup greets waiting customers. Street vendors push food carts piled with steamed dumplings, smoked beef teriyaki sticks, and roasted peanuts along the sidewalks and begin to set up for another day of business. Children in colorful T-shirts and shorts kick soccer balls on sidewalks with their bare feet, ignoring the grunts and screams of the food cart owners. The wide boulevards sing with the buzz of motorcycle engines, squeaky bicycles, and, for those wealthy enough to afford them, small cars. By midday, as temperatures climb to over a hundred degrees, the streets grow quiet again. People rush home to seek relief from the heat, have lunch, take cold showers, and nap before returning to work at 2 P.M. My family lives on a third-floor apartment in the middle of Phnom Penh, so I am used to the traffic and the noise. We don't have traffic lights on our streets; instead, policemen stand on raised metal boxes, in the middle of the intersections directing traffic. Yet the city always seems to be one big traffic jam. My favorite way to get around with Ma is the cyclo because the driver can maneuver it in the heaviest traffic. A cyclo resembles a big wheelchair attached to the front of a bicycle. You just take a seat and pay the driver to wheel you around wherever you want to go. Even though we own two cars and a truck, when Ma takes me to the market we often go in a cyclo because we get to our destination faster. Sitting on her lap I bounce and laugh as the driver pedals through the congested city streets. This morning, I am stuck at a noodle shop a block from our apartment in this big chair. I'd much rather be playing hopscotch with my friends. Big chairs always make me want to jump on them. I hate the way my feet just hang in the air and dangle. Today, Ma has already warned me twice not to climb and stand on the chair. I settle for simply swinging my legs back and forth beneath the table. Ma and Pa enjoy taking us to a noodle shop in the morning before Pa goes off to work. As usual, the place is filled with people having breakfast. The clang and clatter of spoons against the bottom of bowls, the slurping of hot tea and soup, the smell of garlic, cilantro, ginger, and beef broth in the air make my stomach rumble with hunger. Across from us, a man uses chopsticks to shovel noodles into his mouth. Next to him, a girl dips a piece of chicken into a small saucer of hoisin sauce while her mother cleans her teeth with a toothpick. Noodle soup is a traditional breakfast for Cambodians and Chinese. We usually have this, or for a special treat, French bread with iced coffee. "Sit still," Ma says as she reaches down to stop my leg midswing, but I end up kicking her hand. Ma gives me a stern look and a swift slap on my leg. "Don't you ever sit still? You are five years old. You are the most troublesome child. Why can't you be like your sisters? How Will you ever grow up to be a proper young lady?" Ma sighs. Of course I have heard all this before. It must be hard for her to have a daughter who does not act like a girl, to be so beautiful and have a daughter like me. Among her women friends, Ma is admired for her height, slender build, and porcelain white skin. I often overhear them talking about her beautiful face when they think she cannot hear. Because I'm a child, they feel free to say whatever they want in front of me, believing I cannot understand. So while they're ignoring me, they comment on her perfectly arched eyebrows; almond-shaped eyes; tall, straight Western nose; and oval face. At 5'6", Ma is an amazon among Cambodian women. Ma says she's so tall because she's all Chinese. She says that some day my Chinese side will also make me tall. I hope so, because now when I stand I'm only as tall as Ma's hips. "Princess Monineath of Cambodia, now she is famous for being proper," Ma continues. "It is said that she walks so quietly that no one ever hears her approaching. She smiles without ever showing her teeth. She talks to men without looking directly in their eyes. What a gracious lady she is." Ma looks at me and shakes her head. "Hmm..." is my reply, taking a loud swig of Coca-Cola from the small bottle. Ma says I stomp around like a cow dying of thirst. She's tried many times to teach me the proper way for a young lady to walk. First, you connect your heel to the ground, then roll the ball of your feet on the earth while your toes curl up painfully. Finally you end up with your toes gently pushing you off the ground. All this is supposed to be done gracefully, naturally, and quietly. It all sounds too complicated and painful to me. Besides, I am happy stomping around. "The kind of trouble she gets into, while just the other day she" Ma continues to Pa. but is interrupted when our waitress arrives with our soup. "Phnom Penh special noodles with chicken for you and a glass of hot water," says the waitress as she puts the steaming bowl of translucent potato noodles swimming in clear broth before Ma. -------------------------------------------------------------------------------- The foregoing is excerpted from First They Killed My Father by Loung Ung. All rights reserved.
view abbreviated excerpt only...
Discussion Questions
Questions from Publisher's Reading Guide:
1. What fundamental problems existed in the Khmer Rouge's plan that caused the destruction of so many lives? Were there any values that the Khmer Rouge claimed to hold that you share?
2. What impact did the narrator's child's voice have on your experience as a reader? How would you characterize the transformation that takes place in her narrative voice throughout the story?
3. How did it affect your reading of the book that you were aware of Loung's father's impending death long before her?
4. Would you describe Loung as a feminist? How did the experiences of the Ung family differ during the war because of gender?
5. What was your impression of the final separation, both geographic and cultural, that Loung had with her surviving family? Did you sympathize with her eventual desire to assimilate into American culture, or had you expected her to be more aggressive about pursuing her family relationships earlier on?
6. Loung saw herself as a "strong" person, as did many other people in the book, and was eventually drafted into a soldier training camp as a result. What are the qualities of a survivor? How does one reconcile compassion with a will to survive? What qualities enabled her gentle sister Chou to survive as well?
7. With armed struggle a reality of life for people all over the world both past and present, how does one draw the line as to which means are ethical and unethical for coping with it, such as the author's current campaign against the use of landmines? Are there other tools of war that you believe should be broadly banned?
BECOME A MEMBER
it's free
Join the leading website for book clubs with over 35,000 clubs and 20,000 reading guides.
SEARCH OUR READING GUIDES
Search
JOIN OUR MAILING LIST
Get free weekly updates on top club picks, book giveaways, author events and more
Please wait...