BKMT READING GUIDES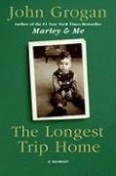 The Longest Trip Home: A Memoir

by John Grogan
Published: 2008-10-21
Hardcover : 352 pages
2 members reading this now
7 clubs reading this now
3 members have read this book
Recommended to book clubs by 2 of 2 members
"As he did in Marley, Grogan makes readers feel they have a seat at the family dinner table….4 stars."
—People
< ?xml:namespace prefix = o ns = "urn:schemas-microsoft-com:office:office" /> 
John Grogan, author of the phenomenal #1 New York Times bestseller, Marley & Me, once again takes readers into his past, his memories, and his heart in The Longest Trip ...
No other editions available.

Jump to
Introduction
"As he did in Marley, Grogan makes readers feel they have a seat at the family dinner table….4 stars."
—People
< ?xml:namespace prefix = o ns = "urn:schemas-microsoft-com:office:office" /> 
John Grogan, author of the phenomenal #1 New York Times bestseller, Marley & Me, once again takes readers into his past, his memories, and his heart in The Longest Trip Home—a funny and poignant memoir of faith, family, and identity. A New York Times bestseller in its own right, The Longest Trip Home has earned glowing accolades from the critics ("Genuinely heartrending," —New York Times "Wry and witty," —Washington Post; "Entertaining, funny, and, best of all, always honest at its core," —St. Louis Post-Dispatch). And, just as Marley & Me was more than simply "a dog book," John Grogan's Longest Trip is much, much more than your typical story of a boy's coming-of-age.
Editorial Review
Finding your place in the world can be the longest trip home . . .
In his debut bestseller, Marley & Me, John Grogan showed how a dog can become an extraordinary presence in the life of one family. Now, in his highly anticipated follow-up, Grogan again works his magic, bringing us the story of what came first.
Before there was Marley, there was a gleefully mischievous boy growing up in a devout Catholic home outside Detroit in the 1960s and '70s. Despite his loving parents' best efforts, John's attempts to meet their expectations failed spectacularly. Whether it was his disastrous first confession, the use of his hobby telescope to take in the bronzed Mrs. Selahowski sunbathing next door, the purloined swigs of sacramental wine, or, as he got older, the fumbled attempts to sneak contraband past his father and score with girls beneath his mother's vigilant radar, John was figuring out that the faith and fervor that came so effortlessly to his parents somehow had eluded him.
And then one day, a strong-willed young woman named Jenny walked into his life. As their love grew, John began the painful, funny, and poignant journey into adulthood—away from his parents' orbit and into a life of his own. It would take a fateful call and the onset of illness to lead him on the final leg of his journey—the trip home again.
The Longest Trip Home is a book for any son or daughter who has sought to forge an identity at odds with their parents', and for every parent who has struggled to understand the values of their children. It is a book about mortality and grace, spirit and faith, and the powerful love of family. With his trademark blend of humor and pathos that made Marley & Me beloved by millions, John Grogan traces the universal journey each of us must take to find our unique place in the world.
Filled with revelation and laugh-out-loud humor, The Longest Trip Home will capture your heart—but mostly it will make you want to reach out to those you love.
Questions for John Grogan
Q:When did you decide to write about your childhood and your relationship with your parents as the subject of your next book?
A: For many years I knew I wanted to write about my childhood. I was born in 1957, so I was growing up in the middle of all the turmoil and social unrest of the 1960s and early 1970s. It was a pretty eventful time. But that's just the first section of The Longest Trip Home. It was only in the last few years that I began seeing the book as more than a growing-up memoir. My childhood was part of the story, but of equal importance was the often funny and sometimes painful struggle I made as a young adult to break free from my parents' influence and find my own place in the world. I realized pretty quickly my courtship of my future wife, Jenny, was central to this part of the story. And then, as I entered middle age and my parents their sunset years, I saw that time was running out to reconcile and reconnect with them. I ended up writing the book in three parts: Growing Up, Breaking Away, and Coming Home.
Q: How do you think readers will relate to your story?
A: Well, we all belong to families. We all have to deal with those messy, complicated, often infuriating dynamics that it seems no family is without. All of us, too, must find our way free of our parents' orbit and to our own place in the world. And we all must come to terms at some point with our parents' mortality--and our own. After I wrote Marley & Me and was going around the country talking about it, countless readers came up to me and said nearly the identical thing: "It was as if you were writing about my life." I hope readers will find the same relevance and touch points in The Longest Trip Home.
Q: Do you ever visit your old neighborhood?
A: I go back at least once or twice a year. My mother resides in a nursing home not far away, and my family still owns our childhood house in Harbor Hills. The neighborhood has changed dramatically in the thirty years since I left home. Nearly every waterfront home --lovely in their day but considered modest by today's standards--has been torn down and replaced with opulent mansions. The houses away from the water, such as the ones in which my friends Tommy, Rock, and Sack grew up, are largely unchanged, but the cars parked in the driveways, mostly European, are a far cry from the made-in-America Chevrolets and Fords that were the order of the day when I was a kid. My childhood home has changed not at all; it's almost like a museum relic. Same kitchen cupboards, same linoleum floor, same bathroom tile. I cannot visit the old homestead or walk those neighborhood streets without being flooded with memories, a lot of good ones and some bittersweet. Thomas Wolfe was right: you can never go home again. Not easily, at least.
Q: Your parents were tremendously devoted to each other, and yet they sound like they were definitely a case of opposites attracting. How were they different?
A: My father was shy, quiet, and bashful. He was serious and meticulous and a horrible dancer. My mother was just the opposite, gregarious, funny, spunky, the life of any party, and light on her feet. Mom loved to pull pranks and tell stories; Dad was incapable of teasing someone and loved to listen to her stories. She was in bed before ten o'clock most nights; he seldom hit the sack before one a.m. Dad would hang a picture on the wall by measuring to the thirty-second of an inch and using a level. Mom would squint through one eye and drive a nail in wherever the spirit led her. But they both had generous and kind hearts, and they shared a deep, life-long devotion to their faith and to God. As the expression goes, the family that prays together stays together. For my parents, that certainly was the case. Their faith was the pillar that supported their marriage for nearly six decades.
Q: How did your parents influence you as a parent? What life lessons did you learn from them?
A: Growing up, I never once doubted my parents' love for me. Even though the words "I love you" were seldom spoken in our house, especially by the men, there also was no question about that love. Their actions, their concern, their worry, their amusement at their children's antics--even some of the more egregious ones--all spoke to their strong love for each other and their children. And it was an unconditional love. Even at times when I knew I had disappointed them deeply, I never wondered about their love for me. They taught me that every child deserves the security of knowing he or she is loved unconditionally. As a parent, I'm trying to follow in their footsteps that way.
Q: Your father wasn't able to witness your success. What do you think he would have thought?
A: My father died in December 2004, while Marley & Me was still in the manuscript stage. Dad was always the biggest fan of my work, even my first college internship at a community weekly paper called, of all things, The Spinal Column. He religiously clipped and saved my newspaper columns and magazine articles. I know how proud he would be of me as an author. At the same time, I am certain I could not have written The Longest Trip Home while he was still alive. As I've said, I believe you shouldn't tell a story unless you can tell it honestly and openly. If I knew my father would be reading it, I don't think I could have done that.
Excerpt
No Excerpt Currently Available
Weblinks
There are no web links at this time.
BECOME A MEMBER
it's free
Join the leading website for book clubs with over 35,000 clubs and 20,000 reading guides.
SEARCH OUR READING GUIDES
Search
JOIN OUR MAILING LIST
Get free weekly updates on top club picks, book giveaways, author events and more
Please wait...