BKMT READING GUIDES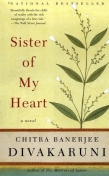 Sister of My Heart : A Novel

by Chitra Banerjee Divakaruni
Published: 2000-01-18
Paperback : 322 pages
137 members reading this now
45 clubs reading this now
17 members have read this book
Recommended to book clubs by 11 of 13 members
From the award-winning author of Mistress of Spices, the bestselling novel about the extraordinary bond between two women, and the family secrets and romantic jealousies that threaten to tear them apart.

Anju is the daughter of an upper-caste Calcutta family of distinction. Her cousin ...
No other editions available.

Jump to
Introduction
From the award-winning author of Mistress of Spices, the bestselling novel about the extraordinary bond between two women, and the family secrets and romantic jealousies that threaten to tear them apart.

Anju is the daughter of an upper-caste Calcutta family of distinction. Her cousin Sudha is the daughter of the black sheep of that same family. Sudha is startlingly beautiful; Anju is not. Despite those differences, since the day on which the two girls were born, the same day their fathers died--mysteriously and violently--Sudha and Anju have been sisters of the heart. Bonded in ways even their mothers cannot comprehend, the two girls grow into womanhood as if their fates as well as their hearts were merged.

But, when Sudha learns a dark family secret, that connection is shattered. For the first time in their lives, the girls know what it is to feel suspicion and distrust. Urged into arranged marriages, Sudha and Anju's lives take opposite turns. Sudha becomes the dutiful daughter-in-law of a rigid small-town household. Anju goes to America with her new husband and learns to live her own life of secrets. When tragedy strikes each of them, however, they discover that despite distance and marriage, they have only each other to turn to.

Set in the two worlds of San Francisco and India, this exceptionally moving novel tells a story at once familiar and exotic, seducing readers from the first page with the lush prose we have come to expect from Divakaruni. Sister of My Heart is a novel destined to become as widely beloved as it is acclaimed.
Editorial Review
Chitra Banerjee Divakaruni made an indelible impression on the literary world with her first novel,
The Mistress of Spices
, a magical tale of love and herbs.
Sister of My Heart
is less reliant on enchantment but no less enchanting as it tells the tale of two cousins born on the same day, their premature births brought on by a mysterious occurrence that claims the lives of both their fathers. Sudha is beautiful, Anju is not; yet the girls love each other as sisters, the bond between them so strong it seems nothing can break it. When both are pushed into arranged marriages, however, each discovers a devastating secret that changes their relationship forever.
Sister of My Heart spans many years and zigzags between India and America as the cousins first grow apart and then eventually reunite. Divakaruni invests this domestic drama with poetry as she traces her heroines' lives from infancy to motherhood, but it is Sudha and Anju who give the story its backbone. Anju might speak for both when she says, "In spite of all my insecurities, in spite of the oceans that'll be between us soon and the men that are between us already, I can never stop loving Sudha. It's my habit, and it's my fate." Book lovers may well discover that reading Chitra Banerjee Divakaruni is habit-forming as well. --Margaret Prior
Excerpt
One: Sudha
They say in the old tales that the first night after a child is born, the Bidhata Purush comes down to earth himself to decide what its fortune is to be. That is why they bathe babies in sandalwood water and wrap them in soft red malmal, color of luck. That is why they leave sweetmeats by the cradle. Silver-leafed sandesh, dark pantuas floating in golden syrup, jilipis orange as the heart of a fire, glazed with honey-sugar. If the child is especially lucky, in the morning it will all be gone. ...
view entire excerpt...
Discussion Questions
Questions from Publisher's Reading Guide:
1. What kind of relationship is there between the older generation in India, who live in a world full of mystical tales and magical occurrences, and Anju and Sudha's generation, which is more drawn to Western ideals? Why are both cousins, especially Anju, skeptical of their own culture and interested in the west, particularly America? How do they incorporate each world into their lives?
2. How are Sudha and Anju different, and how are they similar? Despite their differences, what continues to keep their relationship strong?
3. The mothers tell the girls that loving someone too much is dangerous. What are they trying to achieve with this warning?
4. What does the ruby symbolize? What is the significance of Anju and Sudha being so "unlucky" in the circumstances under which they were born? Why was it significant for Sudha to know the truth about her past and not be able to tell Anju?
5. There is often a great disparity between what is the proper thing to do and what is the fun, exciting thing to do. How does this theme play itself out in the novel?
6. Why does Anju's mother welcome Sudha and her mother into the family even though she knows the truth about Sudha's father? In contrast, why is Sudha's mother so harsh and seemingly ungrateful? Do she and her daughter belong in the house?
7. The mothers often tell stories and gossip. What role do these stories play in their livesand in the lives of Sudha and Anju?
8. According to Bidhata Purush's predictions, Anju is supposed to be brave and clever, fight injustice, marry a fine man and travel the world, while Sudha is supposed to have a life of sorrow. Do the girls live up to these predictions? If not, how else would you characterize each?
9. How did having a man enter each of their lives affect the girls' friendship? Would the friendship have evolved differently had they not married? Are men portrayed positively or negatively in this book?
10. Why is there jealousy between the two cousins? Is it inevitable despite their mutual love? Do they ever successfully rise above it?
11. How does Anju change after she comes to America? Would she have been as independent and assertive if she had stayed in India?
12. Sudha defies traditional Indian culture by leaving her husband and raising her child on her own. How do her actions affect her deep connection to Indian culture? How does the author portray Sudha's decision?
13. The keeping of secrets and the telling of lies play a huge part in the novel. Why are so many secrets kept? Is it better to keep some secrets and to tell some lies or to always share the truth?
14. Discuss your reaction to finding out Singhji's identity. Was Sudha's response reasonable?
15. Should Sudha have gone with Ashok? Throughout the novel, does Sudha give up too much for Anju? Are sacrifices required of a true friend?
16. For Discussion: Divakaruni's Novels and Stories
What do the characters in Divakaruni's novels and stories lose and gain as they become more "American"?
17. In the story "Affair," Abha says, "It's not wrong to be happy, is it? To want more out of life than fulfilling duties you took on before you knew what they truly meant?" How is this idea further developed in The Mistress of Spices? In Sister of My Heart?
18. In Divakaruni's stories, women are wives and mothers, but the men are portrayed primarily as husbands, not fathers. How are the men's roles in the novels similar to or different from those in the stories?
19. How does the Indian immigrant experience compare to that of other immigrants--Spanish, Italian, Chinese?
BECOME A MEMBER
it's free
Now serving over 80,000 book clubs & ready to welcome yours. Join us and get the Top Book Club Picks of 2022 (so far).
SEARCH OUR READING GUIDES
Search
JOIN OUR MAILING LIST
Get free weekly updates on top club picks, book giveaways, author events and more
Please wait...