BKMT READING GUIDES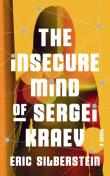 The Insecure Mind of Sergei Kraev

by Eric Silberstein
Published: 2021-08-05T00:0
Paperback : 392 pages
0 members reading this now
1 club reading this now
0 members have read this book
Recommended to book clubs by 1 of 1 members
Math is perfect; people are not.
The year is 2100 and the chaos of the early Internet era is long behind us. Mathematical proof ensures that neural implants can't be hacked, and the Board of Reality Overseers blocks false information from spreading.
When undergraduate Sergei ...
No other editions available.

Jump to
Introduction
Math is perfect; people are not.
The year is 2100 and the chaos of the early Internet era is long behind us. Mathematical proof ensures that neural implants can't be hacked, and the Board of Reality Overseers blocks false information from spreading.
When undergraduate Sergei Kraev, who dreams of becoming a professor, is accepted into a prestigious graduate program in computer science, he is thrilled, and throws himself into his assigned research project—one important enough that if he succeeds, he'll earn the academic appointment of his choice.
But Sergei, plagued by insecurity, falls under the influence of Sunny Kim, the beautiful and charismatic leader of a K-pop cult. Sergei then makes a decision that leads him into a terrifying trap and places the lives of billions at risk.
With the clock ticking towards catastrophe, can Sergei escape and save the world?
Weaving together compelling characters and exotic locales, The Insecure Mind of Sergei Kraev is a classic tale of love, ambition, and self-interest building to a shattering finish. Praise "Where do we go from the global disinformation and pandemic of 2020? A history told from multiple voices, an evocative projection of the world we may invent to protect us—and the ways in which humans being human can game any system—this is a fantastic read that I couldn't put down." —Cindy Alvarez
"I've read thousands of sci-fi stories, and the thing that stands out for me here is the originality—it doesn't quickly fall into some typical genre or pay tribute to some other great novel. This made it especially enjoyable…it deserves to be read and enjoyed widely!" —Bryan Gaensler, PhD
"An absolutely riveting read—a can't-put-down look at a world very much like our own, but with all our trends fast-forwarded. —Drew Hansen
"Sci-fi isn't the genre that I usually gravitate towards but I'm honestly glad I stepped a bit out of my comfort zone. It kept me hooked and I gobbled it down. The tension was real and palpable. The characters spoke with honest emotion and I cared about them. Sergei is everyman without society's required hard, masculine shell. I loved him." —Roxanna Sue O'Connor
Review by Jeffrey Liss
In so many ways, the world Eric Silberstein shows in this debut novel is the one we all want—the world we just know is coming. It is a world of nice things, where humans are online from birth, not merely masters of our technology but, finally, universally enhanced and empowered by it. Neural interfaces connect us to each other while protecting our privacy and gently compensating for our deficiencies.
Inside every utopia there's an unwelcome guest: human nature. What happens when a perfect world is inextricably linked to the minds of its imperfect creators? Are we the reason we can't have nice things after all? Has it always been this way? Silberstein's answer is both an incisive critique and jarring for its feeling of inevitability.
I loved and pitied Sergei for his innocence, his brilliance, and his ability to get lost in a crowd of his own thoughts. For all his talents, he suffers for want of what we all need: to love and to be loved, to feel a part of something lasting; to make things better than they are. Who am I to judge his mistakes? Would I have done any better?
Like all great Sci-Fi authors, Silberstein entices us with a good story, but holds up a mirror. In the end, I reached the conclusion I hope many other readers will enjoy reaching: I am Sergei, and I am why humanity can't have nice things.
Excerpt
Prologue
April 14, 2220
One hundred years after 4-17
Singapore Island
Children,
This is my ninety-fourth annual message. It's hard to believe there are now 2,978 of you, including my two great-great-great-great-grandchildren born today.
My message this year breaks with tradition. Instead of celebrating your accomplishments from the past twelve months, my subject is a chain of events that started before I was born.
I was thirteen on 4-17. Now, one hundred years later, I'm ready to tell you our family's story—a story I've reconstructed from implant recordings, my great-grandfather's glasses, and speculation. ...
view entire excerpt...
Discussion Questions
The title of the novel is The Insecure Mind of Sergei Kraev. How is Sergei insecure and how are the other characters insecure? Looking back at your life, can you point to actions you wish you had taken but failed to due to your own insecurities???Why do people follow Sunny? What, if anything, do you find admirable in her path through life and her leadership style? Have you ever had a manager or worked with someone like Sunny, and if so, what was the culture like???Who deserves the most blame for the catastrophe–Sergei, Sunny, Daniel, or Karima? Who deserves the least? Could you make a reasonable argument for each bearing either the most or the least responsibility???The novel is set in a future where two problems we face today–conspiracy theories and computer hacking–have been solved through technology and regulatory oversight. Do you think a group like the "Board of Reality Overseers" could or should ever exist? Do you see other types of solutions emerging to bring people together around a shared set of facts???You could argue that Lynette is the most principled character. Do you agree with that? Why does she have a hard time persuading people to her point of view? Do you see yourself in Lynette? Do you know anyone like Lynette???Many scenes are set in Korea, Israel, Singapore, and Russia. Have you been to any of those countries? Do you recognize the sights, foods, and music described in the novel? What countries have you traveled to? How might the US role in the world be changed by the turn of the next century?
BECOME A MEMBER
it's free
Now serving over 80,000 book clubs & ready to welcome yours. Join us and get the Top Book Club Picks of 2022 (so far).
SEARCH OUR READING GUIDES
Search
JOIN OUR MAILING LIST
Get free weekly updates on top club picks, book giveaways, author events and more
Please wait...