BKMT READING GUIDES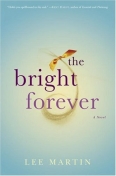 The Bright Forever : A Novel

by Lee Martin
Published: 2005-05-03
Hardcover : 288 pages
30 members reading this now
14 clubs reading this now
7 members have read this book
Recommended to book clubs by 1 of 1 members
On an evening like any other, nine-year-old Katie Mackey, daughter of the most affluent family in a small town on the plains of Indiana, sets out on her bicycle to return some library books.
This simple act is at the heart of The Bright Forever, a suspenseful, deeply affecting novel ...
No other editions available.

Jump to
Introduction
On an evening like any other, nine-year-old Katie Mackey, daughter of the most affluent family in a small town on the plains of Indiana, sets out on her bicycle to return some library books.
This simple act is at the heart of The Bright Forever, a suspenseful, deeply affecting novel about the choices people make that change their lives forever. Keeping fact, speculation, and contradiction playing off one another as the details unfold, author Lee Martin creates a fast-paced story that is as gripping as it is richly human. His beautiful, clear-eyed prose builds to an extremely nuanced portrayal of the complicated give and take among people struggling to maintain their humanity in the shadow of a loss.
Reminiscent of books such as The Little Friend and The Lovely Bones, but most memorable for its own perceptions and power, The Bright Forever is a compelling and emotional tale about the human need to know even the hardest truth.
"I read The Bright Forever in one sitting. I couldn't put it down. Part Mystic River, part Winesburg, Ohio, this harrowing and beautiful book is one of the most powerful novels I've read in years and heralds the breakout of a remarkable talent." —Bret Lott, author of A Song I Knew by Heart and Jewel
"With what consummate skill Lee Martin conjures up a small town in the grip of tragedy and how deftly he explores the way in which a casual remark, a brief kiss, a white lie can have the most terrible consequences. The Bright Forever is a remarkable and almost unbearably suspenseful novel." —Margot Livesey, author of Banishing Verona and Eva Moves the Furniture
"Lee Martin's The Bright Forever goes deep into the mystery of being alive on this earth. Written in the clearest prose, working back and forth over its complex story, and told in the dark, desperate, vivid voices of its various speakers, it holds you spellbound to the end, to its final, sad revelations." —Kent Haruf, author of Eventide and Plainsong
Excerpt
Mr. Dees
On the night it happened—July 5—the sun didn't set until 8:33. I went back later and checked the weather cartoon on the Evening Register's front page: a smiling face on a fiercely bright sun. I checked because it was the heart of summer, and I couldn't stop thinking about that long light and all the people who were out in it; I'd seen them sitting on porches, drinking Pepsis and listening to WTHO's Top Fifty Countdown on transistor radios. I knew they were getting a laugh out of Peanuts or Hi and Lois in the newspaper, thrilling to the adventures of Steve Canyon. Cars were driving along High Street—Trans-Ams and GTOs, Mustangs and Road Runners, Chargers and Barracudas. Some of them were on their way to the drive-in theater east of town—a twin bill, Summer of '42 and Bless the Beasts and Children. Others went downtown. Teenage boys were ducking into the Rexall or the new Super Foodliner to pick up a pack of Marlboros or Kools. Couples were strolling around the courthouse square, lollygagging after supper at the Coach House or a steak and a cold beer at the Top Hat Inn. They were window-shopping, the ladies admiring the new knee-high boots at Bogan's Shoe Store, high school girls looking at the first wire-rim glasses at Blank's Optical, the flared-leg pantsuits at Helene's Dress Shop, the friendship bracelets and engagement sets at Lett's Jewelry. ...
view entire excerpt...
Discussion Questions
Questions from Publisher's Reading Guide:
1. As each character begins to tell his or her part of the story, we see that they all have vivid flashes of memory about that fateful day—a smell, a taste, a feeling, the way that the evening sky looked, the sound of Katie's voice. Beyond setting the scene for the reader, how do these images help you form a picture of who these people are? What are some examples from the book of other events that are remembered in this kind of tactile detail? Are there any events from your own life that you remember in this way?
2. What do you make of the relationship between Clare and Raymond? Why do you think she is afraid that people will find her foolish? Why does she refuse to acknowledge his guilt for so long? What do these two give to each other, and why do you think that those around them are made so uncomfortable by it?
3. Henry Dees says his fixation with Katie comes from the fatherly love he feels for her. Do you agree with this view, or do you think there is something more sinister at play in his mind? Is Henry a harmless eccentric, or a man at war with his own inner nature? He knows that his adoration for the child is somehow wrong, so why is he powerless to stop it?
4. Throughout the novel, we see the purple martins come and go, and both Henry and Clare feel a particular love for and connection with them. Why do you think this is? What is it about the birds that each of them loves? Is it the same for both? And what do the hawks represent in this context?
5. What do you think Raymond sees in Henry that makes him seek him out as a friend? Is he simply taking advantage of someone that he can see right away is weak, or does he truly mean to be a friend to him? And why does Henry befriend Raymond, even letting himself be taken advantage of?
6. Discuss the character of Junior Mackey. Of what significance is the list Gilley finds of his life goals (all achieved, to the letter) and his senior quote in the high school yearbook: "The measure of a man's character is what he would do if he knew he would never be found out"? How is Gilley his father's son, and in what ways does his character diverge from his father's? How would you measure Junior's character when all is said and done?
7. Does Henry really want to help Katie and her family? If so, why does he only reveal bits of information at a time, and never the whole story as he knows it? Do you see it as a failing on his part that he is so afraid to tell what he knows? How does the complex relationship between love for another and hatred for himself play out in his actions?
8. Many of the characters in this novel speak of love at one point or another. What are the kinds of love we see in The Bright Forever, and how does the idea of love motivate these people? In the end, which love resonates the most for you?
9. How significant do you find the setting of this novel to be? Could it just as easily have occurred in earlier or later decades? Elsewhere in the country? Would it have the same impact? Why do you think Martin chose to place the action when and where he did?
10. Why does Tom Evers never pursue an investigation of what happened to Raymond Wright?
11. Throughout the novel, there is the looming question of guilt in the matter of what happened to Katie Mackey. Where do you think the blame lies? To what degree are Henry, Raymond, Clare, Gilley, Mr. and Mrs. Mackey, and even the townspeople responsible? Is there one single unforgivable act that someone commits that seals her fate, or does a combination of coincidences, actions, and inactions lead to her death?
12. What do you find to be the most significant moment in the novel, in terms of the character of Henry Dees? Is there a place where you can see that he has learned from the tragedy that he played such a large part in? Or are you left with the impression that he simply continues his life on the same path of inaction, fear, and shame?
13. What does the title The Bright Forever mean to you? What is the "bright forever" the song refers to, in the context of this story?
BECOME A MEMBER
it's free
Now serving over 80,000 book clubs & ready to welcome yours. Join us and get the Top Book Club Picks of 2022 (so far).
SEARCH OUR READING GUIDES
Search
JOIN OUR MAILING LIST
Get free weekly updates on top club picks, book giveaways, author events and more
Please wait...