BKMT READING GUIDES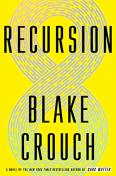 Recursion: A Novel

by Blake Crouch
Published: 2019-06-11
Hardcover : 336 pages
6 members reading this now
21 clubs reading this now
1 member has read this book
Recommended to book clubs by 1 of 1 members
NEW YORK TIMES BESTSELLER • From the bestselling author of Dark Matter and the Wayward Pines trilogy comes a relentless thriller about time, identity, and memory—his most ambitious, mind-boggling, irresistible work to date, and the inspiration for Shondaland's upcoming Netflix ...
No other editions available.

Jump to
Introduction
NEW YORK TIMES BESTSELLER • From the bestselling author of Dark Matter and the Wayward Pines trilogy comes a relentless thriller about time, identity, and memory—his most ambitious, mind-boggling, irresistible work to date, and the inspiration for Shondaland's upcoming Netflix film.

"An action-packed, brilliantly unique ride that had me up late and shirking responsibilities until I had devoured the last page . . . a fantastic read."—Andy Weir, #1 New York Times bestselling author of The Martian

Memory makes reality. That's what New York City cop Barry Sutton is learning as he investigates the devastating phenomenon the media has dubbed False Memory Syndrome—a mysterious affliction that drives its victims mad with memories of a life they never lived.

Neuroscientist Helena Smith already understands the power of memory. It's why she's dedicated her life to creating a technology that will let us preserve our most precious moments of our pasts. If she succeeds, anyone will be able to re-experience a first kiss, the birth of a child, the final moment with a dying parent. 

As Barry searches for the truth, he comes face-to-face with an opponent more terrifying than any disease—a force that attacks not just our minds but the very fabric of the past. And as its effects begin to unmake the world as we know it, only he and Helena, working together, will stand a chance at defeating it.

But how can they make a stand when reality itself is shifting and crumbling all around them?

Praise for Recursion

"Blake Crouch has invented his own brand of page-turner—fearlessly genre-bending, consistently surprising, and determined to explode the boundaries of what a thriller can be."—Karin Slaughter, #1 internationally bestselling author of Pieces of Her
 
"Brilliant. Crouch's innovative novels never fail to grip!"—Sarah Pekkanen, #1 New York Times bestselling co-author of The Wife Between Us and An Anonymous Girl
 
"A masterful mind-bender of a novel. Crouch brilliantly infuses his story with dire repercussions and unexpected moral upheaval, and leaves you wondering what you would do if you had the chance to turn back the clock."—Mark Sullivan, #1 New York Times bestselling coauthor of the Private series and author of Beneath a Scarlet Sky 
Editorial Review
An Amazon Best Book of June 2019:
The mind-bending thrillers of Blake Crouch (
Dark Matter, Pines
) remind me of Michael Crichton at the top of his game, but peopled with more complex characters. After New York City detective Barry Sutton sees a woman jump off a ledge because she's a victim of FMS—False Memory Syndrome—he decides to track down her story of suddenly remembering a whole life she apparently lived instead of her "real" one. The strangest aspect of FMS is that friends and family of the afflicted also remember portions of the false lives. Motivated by a tragedy in his own past he wishes he could change, Sutton is determined to find out whether FMS is truly false or the gate to a new, better life. Alternate-reality stories are tough to maintain while suspending the reader's disbelief, but Crouch's cinematic style makes every moment vibrant, suspenseful, and convincing as his heroes struggle to untangle an impossible solution.
—Adrian Liang, Amazon Book Review
Excerpt
No Excerpt Currently Available
Discussion Questions
From the publisher:
1. If put in Helena's position, would you have accepted Jee-woon's offer, especially without knowing who you'd be working for?
2. Who would benefit/suffer most from the creation of the chair?
3. What are the pros and cons of the chair?
4. When Helena laments her lack of personal relationships and work-life imbalance, Slade says, "I think balance is for people who don't know why they're here." (p. 39). Do you agree?
5. Do you think Helena's tunnel vision about building the chair blinds her to its potential for evil? Or is she aware of all of its capabilities – both good and bad?
6. Is there anything to be learned from the characters in the book about reconciling with the past?
7. Which of the two protagonists do you find more relatable – Barry or Helena? In what ways, if any, can you relate to Slade? Explain.
8. Does the view of time presented in the book make you think differently about déjà vu or memories in general? How so?
9. What do you think of Marcus Slade's obsession with (re)creating the chair? Can you empathize with him? If you were in his situation, would you be tempted to do the same?
10. Would you use the chair for self-gain or for humanitarian purposes, if put in Slade's position?
11. If you could relive a treasured moment of your past without consequences, would you? What moment would you choose?
12. Is there some moment in your past you would go back to and do differently, even if it meant your loved ones experiencing dead memories?
13. Helena feels solely responsible for the fate of the world due to her creation of the chair. Is she right for feeling this way?
14. What lesson, if any, does Barry learn throughout the course of the book and how does it contrast with the view of the past that Slade endorses?
15. The author leaves the book somewhat open-ended. Do you believe Barry and Helena will eventually be together again?
Weblinks
There are no web links at this time.
BECOME A MEMBER
it's free
Join the leading website for book clubs with over 35,000 clubs and 20,000 reading guides.
SEARCH OUR READING GUIDES
Search
JOIN OUR MAILING LIST
Get free weekly updates on top club picks, book giveaways, author events and more
Please wait...