BKMT READING GUIDES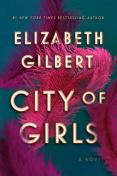 City of Girls: A Novel

by Elizabeth Gilbert
Published: 2019-06-04
Hardcover : 480 pages
142 members reading this now
278 clubs reading this now
16 members have read this book
Recommended to book clubs by 11 of 11 members
AN INSTANT NEW YORK TIMES BESTSELLER!

From the # 1 New York Times bestselling author of Eat Pray Love and The Signature of All Things, a delicious novel of glamour, sex, and adventure, about a young woman discovering that you don't have to be a good girl to be a good person.

"A spellbinding ...
No other editions available.

Jump to
Introduction
AN INSTANT NEW YORK TIMES BESTSELLER!

From the # 1 New York Times bestselling author of Eat Pray Love and The Signature of All Things, a delicious novel of glamour, sex, and adventure, about a young woman discovering that you don't have to be a good girl to be a good person.

"A spellbinding novel about love, freedom, and finding your own happiness." - PopSugar

"Intimate and richly sensual, razzle-dazzle with a hint of danger." -USA Today

"Pairs well with a cocktail...or two." -TheSkimm

"Life is both fleeting and dangerous, and there is no point in denying yourself pleasure, or being anything other than what you are."

Beloved author Elizabeth Gilbert returns to fiction with a unique love story set in the New York City theater world during the 1940s. Told from the perspective of an older woman as she looks back on her youth with both pleasure and regret (but mostly pleasure), City of Girls explores themes of female sexuality and promiscuity, as well as the idiosyncrasies of true love.

In 1940, nineteen-year-old Vivian Morris has just been kicked out of Vassar College, owing to her lackluster freshman-year performance. Her affluent parents send her to Manhattan to live with her Aunt Peg, who owns a flamboyant, crumbling midtown theater called the Lily Playhouse. There Vivian is introduced to an entire cosmos of unconventional and charismatic characters, from the fun-chasing showgirls to a sexy male actor, a grand-dame actress, a lady-killer writer, and no-nonsense stage manager. But when Vivian makes a personal mistake that results in professional scandal, it turns her new world upside down in ways that it will take her years to fully understand. Ultimately, though, it leads her to a new understanding of the kind of life she craves - and the kind of freedom it takes to pursue it. It will also lead to the love of her life, a love that stands out from all the rest.

Now eighty-nine years old and telling her story at last, Vivian recalls how the events of those years altered the course of her life - and the gusto and autonomy with which she approached it. "At some point in a woman's life, she just gets tired of being ashamed all the time," she muses. "After that, she is free to become whoever she truly is." Written with a powerful wisdom about human desire and connection, City of Girls is a love story like no other.
Editorial Review
An Amazon Best Book of June 2019:
It's 1940 and good-time gal Vivian Morris has just been expelled from Vassar, but she doesn't much mind. Her parents, on the other hand, are less than thrilled, so they dispatch their dawdling daughter to New York to live with her aunt Peg—the charismatic proprietor of a past-its-prime theater that is home to a quirky, cobbled-together family of thespians and showgirls (whom you will genuinely miss when the last page is turned). Here, Vivian sets out to become someone interesting, and in short order commits a colossal youthful indiscretion that makes her interesting for all the wrong reasons. Elizabeth Gilbert has said that she wants
City of Girls
to go down like a gin fizz. (Mission accomplished!) But she slyly imparts some hard-won wisdom into this bawdy but bighearted novel, written as an antidote to the grief Gilbert was experiencing after the loss of her partner, Rayya Elias: "Life is dangerous and fleeting. And thus there is no point in denying yourself pleasure or adventure while you are here." To that end, don't deny yourself the pleasure of reading
City of Girls
.
—Erin Kodicek, Amazon Book Review
Excerpt
No Excerpt Currently Available
Discussion Questions
1. Narrative: Elizabeth Gilbert chooses to tell Vivian's story in the form of a letter to a younger woman, Angela. How do you think the story benefits from being told in the voice of 89-year-old Vivian, looking back? What did you learn from this vantage? How did it influence your reading experience?
2. Character perspective: In 1940, nineteen-year-old Vivian's introduction to life in New York City and within the Lily Playhouse is a shock after her world at Vassar and her family outside of the city. What is so different about it all? What elements of this new city and world shape her the most, do you think? And how might they have struck her differently if she'd come from a different kind of family and class background?
3. Sexuality: Vivian receives an atypical sexual education from her new friends, the showgirls, and from her time with Anthony. How does her time at the Lily shape Vivian's ideas about sex and love and desire and appetite as a young woman, and how do these ideas sustain and evolve later in her life? How much do you think her adult ideas about female desire are due to her personality or experience? How typical do you think Vivian's attitudes about sex and love would have been for someone of her age and time?
4. Female friendship, part 1: Consider the portrayal of Vivian's friendship with Celia Ray, the smoldering showgirl at the Lily Playhouse. How does it compare to her previous experiences of female friendship from school. How much does this friendship influence what happens next for Vivian? Which of these two women, Vivian or Celia, do you think holds the power in their friendship, and why? How do you imagine their friendship would have played out over the years if certain events had not intervened?
5. Female friendship, part 2: How does Vivian's later friendship with Marjorie compare with her younger friendship with Celia Ray? Would Vivian's life with Marjorie and her other friends later in life have been possible if not for knowing Celia and the other women at the Lily when she was younger? Do you see her applying any lessons learned by observing the relationship between Peg and Olive and Uncle Billy?
6. Men: Consider the different male characters in the book – Vivian's father, Walter, Uncle Billy, Mr. Herbert, Arthur, Anthony, Jim, Frank – and their different ideas expectations of women. What accounts for the differences between these men and how they relate to women? In what ways does Vivian meet their expectations or challenge / change them?
7. Fashion: City of Girls is full of descriptions of fantastic costumes and characters with truly original senses of style. What does Vivian learn about fashion and style from the showgirls? From her grandmother? From Edna? Even from Peg and Olive? Consider the role that fashion plays in Vivian's story and in the various relationships and stages of her life: in boarding school, at the Lily Playhouse, at the Navy Yards, at L'Atelier with Marjorie, and in meeting Angela.
8. Generations: Edna, Olive, and Peg represent an older generation of women. Their views and relationships (with Billy, with Arthur) and behaviors influence Vivian in different ways. Consider what Vivian learns from Peg, Olive, and Billy's domestic / professional arrangement. What about the dynamics she observes between Edna and Arthur? Think about how Edna treats Vivian after Vivian's betrayal is revealed. Do you think Edna is justified in her behavior? Ultimately Edna decides to stay with Arthur even after what he has done. Do you think Vivian would have stayed with Arthur if she were in Edna's position? Would Arthur have stayed with Edna if the positions were reversed?
9. Family: Were you surprised by the kind of life that Vivian builds with Marjorie and Nathan? In what ways can you see it growing out of her experiences at the Lily Playhouse in her twenties, and the lifestyle and values she adopts during and after the war? How does Vivian's adult family life compare to the family she grew up with? Do you think Vivian ever wants more than the life she attains?
10. Love: What kind of love does Vivian have for Frank, and how does this love change the course of her life? How does Vivian's love for Frank differ from her youthful love of Anthony? How does it compare with any of her other friendships or romantic relationships? How do you think Vivian would describe the difference between a "love" and a "lover"? Can you imagine Frank and Vivian having a physical relationship? How might that have changed Vivian's life and story?
11. Values: On page 377, Vivian states: "I could have spent the rest of my life trying to prove that I was a good girl—but that would have been unfaithful to who I really was. I believed that I was a good person, if not a good girl." What does this quote mean to you? Is there a difference between being a good girl and being a good person? Does Vivian live up to this ideal in your opinion?
Suggested by Members
Discuss the friendship with Cecila Ray vs Majorie?
by [email protected]
(see profile)
02/11/21
Weblinks
There are no web links at this time.
BECOME A MEMBER
it's free
Now serving over 80,000 book clubs & ready to welcome yours. Join us and get the Top Book Club Picks of 2022 (so far).
SEARCH OUR READING GUIDES
Search
JOIN OUR MAILING LIST
Get free weekly updates on top club picks, book giveaways, author events and more
Please wait...