BKMT READING GUIDES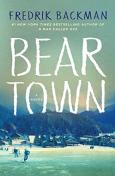 Beartown: A Novel

by Fredrik Backman
Published: 2017-04-25
Hardcover : 432 pages
2 members reading this now
1 club reading this now
12 members have read this book
Recommended to book clubs by 20 of 22 members
NAMED ONE OF THE BEST BOOKS OF THE YEAR BY: LibraryReads • BookBrowse • Goodreads

"You'll love this engrossing novel." —People

The bestselling author of A Man Called Ove returns with a dazzling, profound novel about a small town with a big dream—and the price required to ...
No other editions available.

Jump to
Introduction
NAMED ONE OF THE BEST BOOKS OF THE YEAR BY: LibraryReads • BookBrowse • Goodreads

"You'll love this engrossing novel." —People

The bestselling author of A Man Called Ove returns with a dazzling, profound novel about a small town with a big dream—and the price required to make it come true.

People say Beartown is finished. A tiny community nestled deep in the forest, it is slowly losing ground to the ever-encroaching trees. But down by the lake stands an old ice rink, built generations ago by the working men who founded this town. And in that ice rink is the reason people in Beartown believe tomorrow will be better than today. Their junior ice hockey team is about to compete in the national semi-finals, and they actually have a shot at winning. All the hopes and dreams of this place now rest on the shoulders of a handful of teenage boys.

Being responsible for the hopes of an entire town is a heavy burden, and the semi-final match is the catalyst for a violent act that will leave a young girl traumatized and a town in turmoil. Accusations are made and, like ripples on a pond, they travel through all of Beartown, leaving no resident unaffected.

Beartown explores the hopes that bring a small community together, the secrets that tear it apart, and the courage it takes for an individual to go against the grain. In this story of a small forest town, Fredrik Backman has found the entire world.
Editorial Review
An Amazon Best Book of April 2017:
How do I love
Beartown
? Let me count the ways. It's a domestic drama in which a family is pulled apart by an act of violence. It's a coming-of-age story for a young woman who must choose to speak out or keep silent. (And a young man, too, actually.) It's a slow-build thriller, opening the story with the statement that one teenager is going to put a shotgun to the head of another and pull the trigger. It's a cautionary tale of small-town thinking…yet at the same time celebrates how a handful of people can change a tight-knit community.
Beartown
has so much going on within its enjoyably readable pages that putting it in a literary box is all but impossible—and indeed that is one of the many reasons readers will pass this book amongst one another with a confident "I think you'll like this." As the town's finances decline, small, scrappy Beartown hunkers deeper into itself, proud only of its white-hot junior hockey team led by a coach whose hard-driving mantra is, simply, "Win." Seizing the upcoming hockey championship could lure a new hockey academy their way and jumpstart the local economy. But the exposure of a hidden crime sweeps the hockey club into its vortex and fractures the town and longtime friendships, even as it welds together new, unlikely alliances. Once the crime is revealed,
Beartown
could have strolled down an easy trail, but Backman refuses to tread it, sidestepping the predictable as he forges a new path of soul-searching and truth-telling. There are hard moments here, and readers might find difficult discoveries in their own hearts as the people of Beartown struggle with what they hope is real but fear is not. Masterful in its storytelling and honesty, this is another winner for Backman, surpassing even his much-lauded
A Man Called Ove
.
—Adrian Liang, The Amazon Book Review
Excerpt
Beartown
Bang-bang-bang-bang-bang.
It's a Friday in early March in Beartown and nothing has happened yet. Everyone is waiting. Tomorrow, the Beartown Ice Hockey Club's junior team is playing in the semifinal of the biggest youth tournament in the country. How important can something like that be? In most places, not so important, of course. But Beartown isn't most places. ...
view entire excerpt...
Discussion Questions
1. What does hockey mean to the people of Beartown? What does winning the semifinal mean for the town's future?
2. The town and the parents of the Beartown junior hockey team place great expectations on the shoulders of seventeen-year-old boys. How does this pressure affect the boys? Have the club's leaders (David, Sune, Peter, and the others) prepared the boys to deal with this pressure? Have the boys' parents?
3. How do issues related to social class affect the people of Beartown and the hockey club? Do those who live in the Hollow have a different world view from those who live in the Heights? Does hockey cut through class distinctions or reinforce them?
4. What does Kira's role as a working mother, and her job as a lawyer, mean to her? How does her job affect the way others treat her? Consider this passage from the novel:
"Not a second has passed since she had children without her feeling like a bad mother. For everything. For not understanding, for being impatient, for not knowing everything, not making better packed lunches, for still wanting more out of life than just being a mother. She hears other women in Beartown sigh behind her back: 'Yes, but she has a full-time job, you know. Can you imagine?'" (p. 63)
5. How do Peter and Kira complement each other in their relationship? How does he make up for her weaknesses, and vice versa? Do you think they have a solid marriage? A happy one?
6. Peter loves hockey because it demands his all, his everything. What does hockey demand from each of the characters in the book? What does it take from them?
7. There are many different parents and styles of parenting portrayed in the book. Which parents do you think are the most successful at preparing their children for the real world? Why?
8. Consider this sentiment echoed throughout the book: "What is a community? It is the sum total of our choices." (p. 312) By this definition, how do the townspeople of Beartown ultimately measure up? What kind of community have they built?
9. Several characters must find the courage to go against the grain of the tight-knit Beartown community. What is at stake for each character who does so, and is it worth it for them in the end?
10. Discuss the difference between male and female roles in the small village of Beartown. What is expected of the girls and women vs. the boys and men? Which characters break these expectations, and what are the consequences of doing so?
11. Consider the importance of names and nicknames throughout the novel. How does the lack of first names for "Kevin's mother," "Kevin's father," "David's girlfriend," and Benji's "bass player" change your impression of them? What effect does calling Maya "the young woman" have on Maya and her own narrative? How does she start to reclaim her own story?
12. In the course of the novel, we see that playing on a sports team teaches young people values like loyalty, responsibility, and commitment. But we also see instances of exclusion, aggression, and entitlement. Are their certain behaviors that are rewarded in a sports competition but considered inappropriate in daily life? Give examples. Which characters in the book have difficulty navigating this?
13. The events of the novel force the junior boys to grow up quickly as they are faced with very adult realities. What kind of man does Amat become over the course of the book? What do his actions reveal about him? What kind of man does Bobo become? Kevin? Benji?
14. Maya is surprised by how easily she can start to lie to her best friend, Ana, and keep secrets from her. How do each character's secrets affect his or her relationship with loved ones? Consider the secrets between friends (Maya and Ana, Kevin and Benji, Amat and Zach), as well as those between parents and children, and husbands and wives.
15. How does Maya's final act shape her future? How does it shape Kevin's? Do you think a form of justice is achieved? Why or why not?
16. Why do you think Benji chooses to stay in Beartown and play for Sune's A-Team instead of following the others to Hed? Was his choice affected by his relationship with the bass player?
17. At the end of the novel, do you think the tradition of the Beartown Hockey Club continues? Has its fundamental character changed? How do you think it will change going forward?
Suggested by Members
Bear Town had a pervasive culture. Consider your own town, what is at the center of its culture? Do you personally feed into this culture or rebel against it?
by bkmnmpl
(see profile)
02/11/19
Did the hockey scenes distract from the story?
Spoiler: Did you think Maya would kill Kevin?
Discuss/contrast Peter's & David's characters and motivations
by lorish9
(see profile)
06/22/18
Weblinks
There are no web links at this time.
BECOME A MEMBER
it's free
Now serving over 80,000 book clubs & ready to welcome yours. Join us and get the Top Book Club Picks of 2022 (so far).
SEARCH OUR READING GUIDES
Search
JOIN OUR MAILING LIST
Get free weekly updates on top club picks, book giveaways, author events and more
Please wait...