BKMT READING GUIDES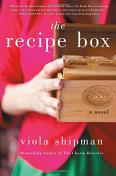 The Recipe Box: A Novel

by Viola Shipman
Published: 2018-03-20
Hardcover : 336 pages
21 members reading this now
16 clubs reading this now
1 member has read this book
Recommended to book clubs by 3 of 3 members
"Filled with cherished memories and treasured recipes, The Recipe Box is a touching tribute to the women and food that unite us and connect our past to the present." ?Richard Paul Evans, #1 New York Times bestselling author
"An easy, delightful novel" –Good Housekeeping
In The Recipe Box, ...
No other editions available.

Jump to
Introduction
"Filled with cherished memories and treasured recipes, The Recipe Box is a touching tribute to the women and food that unite us and connect our past to the present." ?Richard Paul Evans, #1 New York Times bestselling author
"An easy, delightful novel" –Good Housekeeping
In The Recipe Box, bestselling beloved author Viola Shipman spins a tale about a lost young woman and the family recipe box that changes her life.
Growing up in northern Michigan, Samantha "Sam" Mullins felt trapped on her family's orchard and pie shop, so she left with dreams of making her own mark in the world. But life as an overworked, undervalued sous chef at a reality star's New York bakery is not what Sam dreamed.
When the chef embarrasses Sam, she quits and returns home. Unemployed, single, and defeated, she spends a summer working on her family's orchard cooking and baking alongside the women in her life?including her mother, Deana, and grandmother, Willo. One beloved, flour-flecked, ink-smeared recipe at a time, Sam begins to learn about and understand the women in her life, her family's history, and her passion for food through their treasured recipe box.
As Sam discovers what matters most she opens her heart to a man she left behind, but who now might be the key to her happiness.
Excerpt
Prologue
Apple Crisp
Fall 1939
Alice washed her hands in the kitchen sink, looked out the window, and smiled.
The last of the day's light filtered through the brightly colored leaves of the sugar maples and sassafras, basking the kitchen in an otherworldly glow. One good storm off the lake, one sweeping windstorm, and the leaves would be gone, the trees would be bare, the orchard's twigs and limbs just silhouettes, the land ready to hibernate once again. ...
view entire excerpt...
Discussion Questions
1) The Recipe Box is inspired by the author's grandmothers' beloved recipe boxes. Do you have a recipe box? What memories does it convey, and what does it mean to you?
2) The Recipe Box is also inspired by the author's treasured family recipes. What are your favorite family recipes? Why are they so beloved? Do they have a history? If so, what is it? Does your family ask for the same foods to be made on certain holidays/occasions? If so, what are they and why?
3) In The Recipe Box, the author writes, "You bake for someone because it is a way of connecting generations … an act of love." Why is food and cooking such a great generational and emotional connector? Why are they so important in our lives and the lives of our families?
4) Do you still bake with family? Teach younger generations how to bake? What's that mean to you/them? Are we losing that connection?
5) Recipe cards – from the handwriting to chocolate-y fingerprints – have a history. But, today, we look online for recipes: From favorite food blogs to Food Network shows and Facebook videos. Do you have family recipe cards? Do you think we are sacrificing history for convenience today?
6) In the novel, the author didn't share how cooking and baking a recipe can go off the rails (in writing this book, the author tested all of the recipes many times, and once – while tired after being on book tour – added curry instead of cinnamon, and also once burned a crust and set off the smoke alarms). Share a funny story about a recipe that went horribly wrong.
7) A main theme in the novel centers on the importance of home and history. Sam – the main character – can't wait to move from her hometown and away from her family to start a new life and career. Many people today move from the areas in which they're raised for college, job opportunities, marriage. Do you think that "home" and "hometown" has changed since you were growing up? And has America changed since you were growing up? How? Why? Is this harming our small towns and family histories?
8) Another theme in the novel centers on Sam choosing – her father believes intentionally – the wrong men in which to surround herself, personally and professionally. Do you know women who do this, or have you ever stayed in a relationship or job too long for convenience sake or because you felt stuck? Why?
9) Sam's job working for a reality star turned celebrity chef is a nightmare. Have you ever had a nightmarish job? What was that like? Did you stay or quit? Did you ever have to stand up to a bad boss? What was that like? That said, Sam's father turns down a wonderful career opportunity to run his wife's family's orchard. Have you or someone you love ever said no to a great job. Why? What was that like?
10) Willo, the grandmother in the novel, is turning 75. Although the orchard and pie pantry that she owns and runs is celebrating her birthday with a big party, Willo is content with aging, feeling as if she's led a life "with few regrets." How do you feel about aging? Do you have regrets in life? What are they, and how did they impact you and your decisions? Do you think American society has difficulty embracing aging with grace?
11) What are your other favorite books that feature food? What are your favorite cookbooks? The Recipe Box is set on an orchard that has a U-Pick and Pie
Pantry and is inspired by a place close to where the author lives. Do you have a favorite bakery, donut shop, or pie pantry close to where you live? Or a U-Pick orchard?
Book Club Recommendations
Recommended to book clubs by 3 of 3 members.
Visit ViolaShipman.com
by Homewithatwist (see
profile
) 06/02/18
Her site has great book club questions. We were able to arrange a phone call into our bookclub with author Wade Rouse. He was very responsive to my email and a delight to share his insights with us when he wrote the book.
BECOME A MEMBER
it's free
Now serving over 80,000 book clubs & ready to welcome yours. Join us and get the Top Book Club Picks of 2022 (so far).
SEARCH OUR READING GUIDES
Search
JOIN OUR MAILING LIST
Get free weekly updates on top club picks, book giveaways, author events and more
Please wait...