BKMT READING GUIDES
No.
8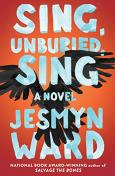 Sing, Unburied, Sing: A Novel

by Jesmyn Ward
Published: 2017-09-05
Hardcover : 304 pages
86 members reading this now
116 clubs reading this now
4 members have read this book
Recommended to book clubs by 6 of 8 members
*WINNER of the NATIONAL BOOK AWARD for FICTION
*A TIME MAGAZINE BEST NOVEL OF THE YEAR and A NEW YORK TIMES TOP 10 OF 2017
*Finalist for the Kirkus Prize
*Finalist for the Andrew Carnegie Medal
*Finalist for the Aspen Words Literary Prize
*Publishers Weekly Top 10 of 2017
*Finalist for ...
No other editions available.

Jump to
Introduction
*WINNER of the NATIONAL BOOK AWARD for FICTION
*A TIME MAGAZINE BEST NOVEL OF THE YEAR and A NEW YORK TIMES TOP 10 OF 2017
*Finalist for the Kirkus Prize
*Finalist for the Andrew Carnegie Medal
*Finalist for the Aspen Words Literary Prize
*Publishers Weekly Top 10 of 2017
*Finalist for the National Book Critics Circle Award

"The heart of Jesmyn Ward's Sing, Unburied, Sing is story—the yearning for a narrative to help us understand ourselves, the pain of the gaps we'll never fill, the truths that are failed by words and must be translated through ritual and song...Ward's writing throbs with life, grief, and love, and this book is the kind that makes you ache to return to it." —Buzzfeed

In Jesmyn Ward's first novel since her National Book Award–winning Salvage the Bones, this singular American writer brings the archetypal road novel into rural twenty-first-century America. An intimate portrait of a family and an epic tale of hope and struggle, Sing, Unburied, Sing journeys through Mississippi's past and present, examining the ugly truths at the heart of the American story and the power—and limitations—of family bonds.

Jojo is thirteen years old and trying to understand what it means to be a man. He doesn't lack in fathers to study, chief among them his Black grandfather, Pop. But there are other men who complicate his understanding: his absent White father, Michael, who is being released from prison; his absent White grandfather, Big Joseph, who won't acknowledge his existence; and the memories of his dead uncle, Given, who died as a teenager.

His mother, Leonie, is an inconsistent presence in his and his toddler sister's lives. She is an imperfect mother in constant conflict with herself and those around her. She is Black and her children's father is White. She wants to be a better mother but can't put her children above her own needs, especially her drug use. Simultaneously tormented and comforted by visions of her dead brother, which only come to her when she's high, Leonie is embattled in ways that reflect the brutal reality of her circumstances.

When the children's father is released from prison, Leonie packs her kids and a friend into her car and drives north to the heart of Mississippi and Parchman Farm, the State Penitentiary. At Parchman, there is another thirteen-year-old boy, the ghost of a dead inmate who carries all of the ugly history of the South with him in his wandering. He too has something to teach Jojo about fathers and sons, about legacies, about violence, about love.

Rich with Ward's distinctive, lyrical language, Sing, Unburied, Sing is a majestic new work and an unforgettable family story.
Editorial Review
An Amazon Best Book of September 2017:
A slamming, heartbreaker of a novel that is rendered with such stinging beauty and restrained emotion that despite the anguish taking place on the page, you won't want it to end. For her third novel, National Book Award winning Jesmyn Ward, tells the story of Jojo, a young black Mississippi boy raised by his grandparents, who is forced to become a man far before he should because his mother is a drug addict, his father is in jail, and his baby sister needs a guardian. When Jojo's dad is released from prison, Leonie packs Jojo and Kayla in the car, picks up her meth addled friend and drives north. What transpires is a nightmarish journey that weaves in and out of the present – Leonie's meth induced highs, when she dreams of her dead brother who was killed by white hands decades ago, and the past -- when a man named Ritchie served time alongside Jojo's grandfather.
Sing, Unburied, Sing
shimmers with mythic southern memories to tell a story of the drugged and the damned and the fluttering promise of youth.
--Al Woodworth
Excerpt
No Excerpt Currently Available
Discussion Questions
1. The novel begins with Jojo's thoughts, "I like to think I know what death is" and "I want Pop to know I can get bloody" (page 1). How do these thoughts set the stage for Jojo's birthday and what follows?
2. How does Given's death shape Leonie, Pop, and Mam? How does it change how they relate to each other?
3. Why does Given begin appearing to Leonie after Michael goes to jail, whenever she gets high? Why doesn't Leonie tell anyone about seeing Given?
4. Leonie says from the first moment she saw Michael, he "saw me. . . .Saw the walking wound I was and came to be my balm" (page 54). Discuss how guilt, desire, taboo, defiance, and grief are at work in Michael and Leonie's connection to each other.
5. What does Leonie get out of her friendship with Misty? What does Jojo see in the dynamics at play between Misty and Leonie?
6. Discuss the gris-gris bag from Pop that Jojo finds hidden in his clothes (page 63). What does each item signify? Why must Jojo hide it from Leonie?
7. Why can Pop only tell Richie's story to Jojo in pieces (page 70)? What do you think Pop wants or needs Jojo to understand?
8. As Leonie looks at Jojo and Kayla in the back seat on their way to pick up Michael, she thinks, "Sometimes, when Jojo's playing with Kayla or sitting in Mama's room rubbing her hands or helping her turn over in the bed, I look at him and see a hungry girl" (page 95). Why does Leonie see this "hungry girl" in Jojo?
9. Why is Jojo convinced that "Leonie kill things" (page 108)? Why are Leonie and Jojo always in conflict, especially concerning how to take care of Kayla?
10. When Richie joins Jojo at Parchman, is it a surprise? Why is Richie tied to Parchman? And to River?
11. Why does Michael brawl with Big Joseph and ultimately choose to leave with Leonie rather than stay with his parents (page 208)?
12. When Mam insists that Leonie help her die, to "Let me leave with something of myself" (page 216), what makes Leonie hesitate? Why does she wish for Given to be there in that moment?
13. What does Richie mean when he tells Jojo, "I can't. Come inside. I tried. Yesterday. There has to be some need, some lack. Like a keyhole. Makes it so I can come in. But after all that—your mam, your uncle. Your mama. I can't. You've . . . changed. Ain't no need. Or at least, ain't no need big enough for a key"? (page 281)
14. Water plays an important role throughout the novel. Pop's name is River. Mam is known as the "saltwater woman." The town and prison where Pop and Michael are incarcerated are named for the "parched man." Jojo wonders who the parched man is, if he looked like Pop, Jojo, or Michael. Which characters seem to need water? Which are of the water?
15. Kayla is central to the final scene of the novel, with the "tree of ghosts." Jojo describes her: "Her eyes Michael's, her nose Leonie's, the set of her shoulders Pop's, and the way she looks upward, like she is measuring the tree, all Mam. But something about the way she stands, the way she takes all the pieces of everybody and holds them together, is all her. Kayla" (page 284). How is it fitting that Kayla closes the story, telling the ghosts to "Go home" and singing to them and to Jojo?
Enhance Your Book Club
1. Read William Faulkner's As I Lay Dying. Compare Ward's Delta to Faulkner's Yoknapatawpha County.
2. Read Ward's novels Where the Line Bleeds and Salvage the Bones. How do these works form a trilogy with Sing, Unburied, Sing?
3. Mississippi State Penitentiary, also known as Parchman Farm, is still in use today and the only maximum security prison for men in the state of Mississippi. Pick up Bruce Jackson's Parchman Farm: Photographs and Field Recordings, 1947–1959 to see and hear what Parchman might have been like in Pop's time.
And for further reading on labor camps and prison farms, read Douglas A. Blackmon's Slavery by Another Name.
Weblinks
There are no web links at this time.
BECOME A MEMBER
it's free
Now serving over 80,000 book clubs & ready to welcome yours. Join us and get the Top Book Club Picks of 2022 (so far).
SEARCH OUR READING GUIDES
Search
JOIN OUR MAILING LIST
Get free weekly updates on top club picks, book giveaways, author events and more
Please wait...