BKMT READING GUIDES
No.
1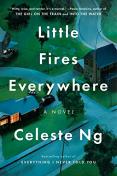 Little Fires Everywhere

by Celeste Ng
Published: 2017-09-12
Kindle Edition : 348 pages
255 members reading this now
770 clubs reading this now
66 members have read this book
Recommended to book clubs by 28 of 33 members
Soon to be a Hulu limited series, starring Reese Witherspoon and Kerry Washington

eBook includes special materials for book clubs: a Q&A with Celeste Ng and John Green, a letter from Celeste Ng, and book club discussion questions. 

Named a Best Book of the Year by: 
People, The Washington ...
Jump to
Introduction
Soon to be a Hulu limited series, starring Reese Witherspoon and Kerry Washington

eBook includes special materials for book clubs: a Q&A with Celeste Ng and John Green, a letter from Celeste Ng, and book club discussion questions. 

Named a Best Book of the Year by: 
People, The Washington Post, Bustle, Esquire, Southern Living, The Daily Beast, GQ, Entertainment Weekly, NPR, Amazon, Barnes & Noble, iBooks, Audible, Goodreads, Library Reads, Book of the Month, Paste, Kirkus Reviews, St. Louis Post-Dispatch, and many more!
 
"I read Little Fires Everywhere in a single, breathless sitting." –Jodi Picoult

"To say I love this book is an understatement. It's a deep psychological mystery about the power of motherhood, the intensity of teenage love, and the danger of perfection. It moved me to tears." - Reese Witherspoon

"I am loving Little Fires Everywhere. Maybe my favorite novel I've read this year."—John Green

"Witty, wise, and tender. It's a marvel." – Paula Hawkins

From the bestselling author of Everything I Never Told You, a riveting novel that traces the intertwined fates of the picture-perfect Richardson family and the enigmatic mother and daughter who upend their lives.

In Shaker Heights, a placid, progressive suburb of Cleveland, everything is planned – from the layout of the winding roads, to the colors of the houses, to the successful lives its residents will go on to lead. And no one embodies this spirit more than Elena Richardson, whose guiding principle is playing by the rules.

Enter Mia Warren – an enigmatic artist and single mother – who arrives in this idyllic bubble with her teenaged daughter Pearl, and rents a house from the Richardsons. Soon Mia and Pearl become more than tenants: all four Richardson children are drawn to the mother-daughter pair. But Mia carries with her a mysterious past and a disregard for the status quo that threatens to upend this carefully ordered community.

When old family friends of the Richardsons attempt to adopt a Chinese-American baby, a custody battle erupts that dramatically divides the town--and puts Mia and Elena on opposing sides.  Suspicious of Mia and her motives, Elena is determined to uncover the secrets in Mia's past. But her obsession will come at unexpected and devastating costs.

Little Fires Everywhere explores the weight of secrets, the nature of art and identity, and the ferocious pull of motherhood – and the danger of believing that following the rules can avert disaster.

Perfect for book clubs! Visit celesteng.com for discussion guides and more.
Editorial Review
An Amazon Best Book of September 2017:
With her first two novels, Celeste Ng has established herself as a writer of rare sensitivity and talent. Her debut
Everything I Never Told You
was picked by the Amazon Editors as the best book of 2014 and went on to be a best seller. Now,
Little Fires Everywhere
is sure to please her fans and attract many more. The Richardson family lives in the planned community of Shaker Heights, Ohio—a place of wealth, comfort, and stability—and they are a clan that embodies those traits. But when Mia, a single mother, and her fifteen year old daughter, Pearl, rent a house in the area, their very different lives will merge with those of the Richardson family and begin to contort the carefully laid lattice that supports their views. Once again, the plotting and pacing are nearly perfect, the characters believable and real. Ng is a master of family and societal dynamics, shifting perspectives, and the secrets that we try to protect—and readers who loved her debut will recognize the author in this second novel, even as she continues to stretch herself as a writer. We are now eagerly awaiting her next novel.
--Chris Schluep, Amazon Book Review
Excerpt
1
Everyone in Shaker Heights was talking about it that summer: how Isabelle, the last of the Richardson children, had finally gone around the bend and burned the house down. All spring the gossip had been about little Mirabelle McCullough—or, depending which side you were on, May Ling Chow—and now, at last, there was something new and sensational to discuss. A little after noon on that Saturday morning in May, the shoppers pushing their grocery carts in Heinen's heard the fire engines wail to life and careen away, towards the duck pond. By a quarter after twelve there were four of them parked in a haphazard red line along Parkland Drive, where all six bedrooms of the Richardson house were ablaze, and everyone within a half-mile could see the smoke rising over the trees like a dense black thundercloud. Later people would say that the signs had been there all along: that Izzy was a little lunatic, that there had always been something off about the Richardson family, that as soon as they heard the sirens that morning they knew something terrible had happened. By then, of course, Izzy would be long gone, leaving no one to defend her, and people could—and did—say whatever they liked. At the moment the fire trucks arrived, though, and for quite a while afterward, no one knew what was happening. Neighbors clustered as close to the makeshift barrier—a police cruiser, parked crosswise a few hundred yards away—as they could and watched the firemen unreel their hoses with the grim faces of men who recognized a hopeless cause. Across the street, the geese at the pond ducked their heads underwater for weeds, wholly unruffled by the commotion. ...
view entire excerpt...
Discussion Questions
1. Shaker Heights is almost another character in the novel. Do you believe that "the best communities are planned"? Why or why not?
2. There are many different kinds of mother-daughter relationships in the novel. Which ones did you find most compelling? Do mothers have a unique ability to spark fires, for good and ill, in us?
3. Which of the Richardson children is most changed by the events of the novel? How do you think this time ultimately changes Lexie's life? Trip's? Moody's? Izzy's?
4. The debate over the fate of May Ling/Mirabelle is multilayered and heartbreaking. Who do you think should raise her?
5. How is motherhood defined throughout the book? How do choice, opportunity, and circumstances impact different characters' approach to motherhood?
6. Mia's journey to becoming an artist is almost a beautiful novella of its own. Mia's art clearly has the power to change lives. What piece of art has shaped your life in an important way?
7. Pearl has led a singular life before arriving in Shaker, but once she meets the Richardsons, she has the chance to become a "normal" teenager. Is that a good thing?
8. What ultimately bothers Elena most about Mia?
9. The novel begins with a great conflagration, but its conclusion is even more devastating. What do you think happens to Elena after the novel ends? To Mia and Pearl? To Izzy? Do you think Izzy ever returns to Shaker and her family? Why or why not?
10. Celeste Ng is noted for her ability to shift between the perspective of different characters in her work. How does that choice shape the reader's experience of the novel?
11. We see how race and class underline the experiences of all the characters and how they interact with one another. In what ways are attitudes toward race and class different and the same today as in the late 1990s, when the book is set?
12. What does the title mean to you? What about the book's dedication?
Suggested by Members
Mother/ daughter relationships
Adoption
Which character changes the most.
by judithecampbell
(see profile)
11/28/17
BECOME A MEMBER
it's free
Join the leading website for book clubs with over 35,000 clubs and 20,000 reading guides.
SEARCH OUR READING GUIDES
Search
JOIN OUR MAILING LIST
Get free weekly updates on top club picks, book giveaways, author events and more
Please wait...