BKMT READING GUIDES
No.
43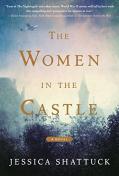 The Women in the Castle: A Novel

by Jessica Shattuck
Published: 2017-03-28
Hardcover : 368 pages
55 members reading this now
110 clubs reading this now
15 members have read this book
Recommended to book clubs by 7 of 7 members
INSTANT NEW YORK TIMES BESTSELLER
GoodReads Choice Awards Semifinalist 
"Moving . . . a plot that surprises and devastates."—New York Times Book Review
"A masterful epic."—People magazine
"Mesmerizing . . . The Women in the Castle stands tall among the literature that reveals new ...
No other editions available.

Jump to
Introduction
INSTANT NEW YORK TIMES BESTSELLER
GoodReads Choice Awards Semifinalist 
"Moving . . . a plot that surprises and devastates."—New York Times Book Review
"A masterful epic."—People magazine
"Mesmerizing . . . The Women in the Castle stands tall among the literature that reveals new truths about one of history's most tragic eras."—USA Today
Three women, haunted by the past and the secrets they hold
Set at the end of World War II, in a crumbling Bavarian castle that once played host to all of German high society, a powerful and propulsive story of three widows whose lives and fates become intertwined—an affecting, shocking, and ultimately redemptive novel from the author of the New York Times Notable Book The Hazards of Good Breeding.
 Amid the ashes of Nazi Germany's defeat, Marianne von Lingenfels returns to the once-grand castle of her husband's ancestors, an imposing stone fortress now fallen into ruin following years of war. The widow of a resister murdered in the failed July 20, 1944, plot to assassinate Adolf Hitler, Marianne plans to uphold the promise she made to her husband's brave conspirators: to find and protect their wives, her fellow resistance widows.
First Marianne rescues six-year-old Martin, the son of her dearest childhood friend, from a Nazi reeducation home. Together, they make their way across the smoldering wreckage of their homeland to Berlin, where Martin's mother, the beautiful and naive Benita, has fallen into the hands of occupying Red Army soldiers. Then she locates Ania, another resister's wife, and her two boys, now refugees languishing in one of the many camps that house the millions displaced by the war.
As Marianne assembles this makeshift family from the ruins of her husband's resistance movement, she is certain their shared pain and circumstances will hold them together. But she quickly discovers that the black-and-white, highly principled world of her privileged past has become infinitely more complicated, filled with secrets and dark passions that threaten to tear them apart. Eventually, all three women must come to terms with the choices that have defined their lives before, during, and after the war—each with their own unique share of challenges.
Written with the devastating emotional power of The Nightingale, Sarah's Key, and The Light Between Oceans, Jessica Shattuck's evocative and utterly enthralling novel offers a fresh perspective on one of the most tumultuous periods in history. Combining piercing social insight and vivid historical atmosphere, The Women in the Castle is a dramatic yet nuanced portrait of war and its repercussions that explores what it means to survive, love, and, ultimately, to forgive in the wake of unimaginable hardship.
Editorial Review
An Amazon Best Book of April 2017:
Much of the buzz touting Jessica Shattuck's WWII novel,
The Women in the Castle
, likens it to Kristin Hannah's wildly popular,
The Nightingale
. It's an apt comparison—both feature brave women overcoming nearly unfathomable obstacles. But their association actually made me hesitant to pick it up. Surely the well of enthusiasm for Nazi-related dramas has to be running dry, and if it hasn't, then an author
really
needs to "bring it." Well, that well is still brimming as it turns out, and Ms. Shattuck certainly does. The women referred to in the title are widows of three conspirators involved in the assassination attempt on Hitler. Marianne von Lingenfels, whose moneyed pedigree has protected her from the more unsavory punishments of the war, has been tasked with locating the other resistance widows, and ensuring their safety. But she is no superhero. Along with the naïve Benita and inscrutable Ania, they represent the everyday, ordinary Germans swept up in the extraordinary, who survived as best they could when the right thing to do wasn't always clear (or even an option). If you're curious about what it was like to be a typical citizen during this time--if you struggle to comprehend how a society could become a breeding ground for Hitler's brand of evil,
The Women in the Castle
offers some insight. It also draws some chilling parallels to things brewing in the political climate today. Jessica Shattuck has provided a worthy addition to the canon of great WWII literature, one that answers why the appetite for this genre has not abated: In many ways, we still haven't learned the lessons that history has to teach us.
--Erin Kodicek, The Amazon Book Review
Excerpt
No Excerpt Currently Available
Discussion Questions
1. Compare and contrast the three women of the novel: Marianne, Benita, and Ania. How did their backgrounds—class, family, education—define each of them and affect their outlook toward the Nazis and one another? Did Marianne's privilege make it easier for her to be an active resister? Why was Benita dazzled by the Nazi's pageantry? How did Ania's childhood influence her feelings toward Hitler?
2. Would the three women have been friends if not for the war? How do the events of the war and its aftermath shape each of them and their perceptions of themselves? Though they have numerous differences, what characteristics do they share? While the war brought these women into each other's lives, was it ultimately what bound them together?
3. Before the war began, Marianne was charged with being "the Commander of Wives and Children." How does she uphold her duty? A passionate and deeply moral woman, Marianne was certain she always did the right thing. But did she?
4. Do you think the confidence and self-certainty that enabled Marianne to survive also blinded her to her own failings—and to the goodness in those who did not seem to measure up to her rigid standards? Was she a good protector and friend to Benita and Ania?
5. What drew Benita to Connie? Did she love him? What were her true feelings for Herr Muller? Why was Marianne so opposed to their union? Should Herr Muller have defied Marianne and married Benita?
6. How did Benita's beauty both help and hurt her? How did reading Connie's final letter influence the tragic choice she makes? Why did Benita feel that love, for her generation, was dead?
7. Think about Ania. Do you think she was like most ordinary Germans of the period? How did she hide her past from Marianne and Benita? How did the revelation about her past affect her relationship with Marianne? Do you think Ania was ashamed of the choices she made?
8. At the end of the war, each woman was in a different place, physically and emotionally. What ordeals did these widows face? What choices were they forced to make to survive? How did the years of fighting—and their nation's defeat—change daily life for Germans like Marianne, Benita, Ania, and their children?
9. Where did fate eventually lead these three women? What about their children? How did the secrets these women carried haunt their lives?
10. The Women in the Castle offers a different look at World War II as it explores the lives of ordinary Germans. How does Jessica Shattuck's novel challenge our perceptions and notions of Germans during and after the war? Were women like Marianne, Benita, and Ania victims in their own way? How responsible are individuals for their leaders? What about resisters like Marianne and her circle? Why do you think she saw the true monster that Hitler was when many others did not?
11. What insights does The Women in the Castle hold for our own time?
Suggested by Members
Is evil in the cause of "the greater good" ever justified?
Can people ever escape their past? Should they?
Do good intentions justify meddling in others' lives?
by Susanmoore
(see profile)
02/24/18
Weblinks
There are no web links at this time.
BECOME A MEMBER
it's free
Now serving over 80,000 book clubs & ready to welcome yours. Join us and get the Top Book Club Picks of 2022 (so far).
SEARCH OUR READING GUIDES
Search
JOIN OUR MAILING LIST
Get free weekly updates on top club picks, book giveaways, author events and more
Please wait...