BKMT READING GUIDES
No.
20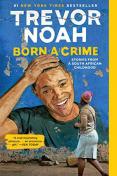 Born a Crime: Stories from a South African Childhood

by Trevor Noah
Published: 2019-02-12
Paperback : 304 pages
113 members reading this now
406 clubs reading this now
20 members have read this book
Recommended to book clubs by 22 of 22 members
#1 NEW YORK TIMES BESTSELLER â?¢Â The compelling, inspiring, and comically sublime story of one manâ??s coming-of-age, set during the twilight of apartheid and the tumultuous days of freedom that followed

NAMED ONE OF THE BEST BOOKS OF THE YEAR BY Michiko Kakutani, New York Times ...
No other editions available.

Jump to
Introduction
#1 NEW YORK TIMES BESTSELLER â?¢Â The compelling, inspiring, and comically sublime story of one manâ??s coming-of-age, set during the twilight of apartheid and the tumultuous days of freedom that followed

NAMED ONE OF THE BEST BOOKS OF THE YEAR BY Michiko Kakutani, New York Times � USA Today � San Francisco Chronicle � NPR � Esquire � Newsday � Booklist

Trevor Noahâ??s unlikely path from apartheid South Africa to the desk of The Daily Show began with a criminal act: his birth. Trevor was born to a white Swiss father and a black Xhosa mother at a time when such a union was punishable by five years in prison. Living proof of his parentsâ?? indiscretion, Trevor was kept mostly indoors for the earliest years of his life, bound by the extreme and often absurd measures his mother took to hide him from a government that could, at any moment, steal him away. Finally liberated by the end of South Africaâ??s tyrannical white rule, Trevor and his mother set forth on a grand adventure, living openly and freely and embracing the opportunities won by a centuries-long struggle.

Born a Crime is the story of a mischievous young boy who grows into a restless young man as he struggles to find himself in a world where he was never supposed to exist. It is also the story of that young manâ??s relationship with his fearless, rebellious, and fervently religious motherâ??his teammate, a woman determined to save her son from the cycle of poverty, violence, and abuse that would ultimately threaten her own life.

The stories collected here are by turns hilarious, dramatic, and deeply affecting. Whether subsisting on caterpillars for dinner during hard times, being thrown from a moving car during an attempted kidnapping, or just trying to survive the life-and-death pitfalls of dating in high school, Trevor illuminates his curious world with an incisive wit and unflinching honesty. His stories weave together to form a moving and searingly funny portrait of a boy making his way through a damaged world in a dangerous time, armed only with a keen sense of humor and a motherâ??s unconventional, unconditional love.

Praise for Born a Crime

 â??[A] compelling new memoir . . . By turns alarming, sad and funny, [Trevor Noahâ??s] book provides a harrowing look, through the prism of Mr. Noahâ??s family, at life in South Africa under apartheid. . . . Born a Crime is not just an unnerving account of growing up in South Africa under apartheid, but a love letter to the authorâ??s remarkable mother.â?â??Michiko Kakutani, The New York Times

â??[An] unforgettable memoir.â?â??Parade

 â??What makes Born a Crime such a soul-nourishing pleasure, even with all its darker edges and perilous turns, is reading Noah recount in brisk, warmly conversational prose how he learned to negotiate his way through the bullying and ostracism. . . . What also helped was having a mother like Patricia Nombuyiselo Noah. . . . Consider Born a Crime another such gift to herâ??and an enormous gift to the rest of us.â?â??USA Today

â??[Noah] thrives with the help of his astonishingly fearless mother. . . . Their fierce bond makes this story soar.â?â??People
Excerpt
No Excerpt Currently Available
Discussion Questions
1. Trevor Noah opens his memoir with a story about being thrown from a car by his mother. In what ways does this story illustrate the overarching narrative of Trevor Noah's early life?
2. In Born a Crime, Noah seeks to dispel the myth that the ending of apartheid was bloodless. How much did you know about the end of apartheid before reading this book, and what did you learn about the history of South Africa by reading Noah's story?
3. One of the most impressive characteristics that Noah conveys about his mother is her faith. How did Patricia's faith impact young Trevor, and what do you think has been the lasting impression of Patricia's faith on Trevor Noah's life?
4. Trevor Noah learned to speak six different languages growing up. What impressed you about the ways that Trevor and his mother navigate neighborhoods, cultures, and family; and how did language make that possible?
5. With all of the challenges Trevor faced growing up, he was gifted by his mother's assurance that he was always wanted and loved by both of his parents. Given that knowledge, how did issues of race play out in Noah's relationships with those closest to him — his mother, father, grandparents, and cousins?
6. Noah recounts his mother's use of the Xhosa term Sun'qhela, "a phrase with many shades of meaning" including "don't undermine me", "don't underestimate me," and "just try me." Noah recalls that Sun'qhela is "a command and a threat, all at once." Were there any such phrases employed in your childhood, and if so, what were they?
7. In sharing his story, Trevor Noah shares the stories of many of his family members, including how the meanings of their names were reflected in their lives. His mother's name, Patricia Nombuyiselo Noah, means "She Who Gives Back." His grandfather, Temperance Noah, was anything but temperate, but his nickname "Tat Shisha", which translates loosely as "the smokin' hot grandpa", was a perfect fit. What insights does Noah's story offer about the ways that identity is both assigned and chosen?
8. A prominent character in this memoir is Noah's stepfather, Abel. The name "Abel" recalls the biblical character in the book of Genesis, but his stepfather's Tsonga name, Ngisaveni, means "Be afraid." Those two names would turn out to be indicative of his stepfather's public and private personas. How does Noah describe and wrestle with the issue of domestic violence?
9. Some of the most humorous and heartbreaking stories in Born a Crime are about young Trevor's early forays into relationships with girls. How did his parents relationships with others influence his perspective on love and relationships?
10. A notable relationship in Born a Crime is between young Trevor and his dog, Fufi. What parallels might be drawn between the way Noah describes his dog Fufi and how he describes himself in his childhood and youth?
11. Noah describes, with hilarious detail, an incident that happened when he was home alone with his great-grandmother (Koko) and didn't want to use the outhouse. Which incidents, friends, or family members described in Born a Crime are most memorable to you?
12. Noah and his mother lived in a variety of neighborhoods over the years. How does racial segregation affect the daily lives of young Trevor and his mother? What connections can you identify between the challenges in transportation and housing faced by Noah's family and those faced by people living in poverty in racially segregated communities in the U.S. and Canada today?
Thanks to https://network.crcna.org/faith-nurture/new-resource-discussion-guide-born-crime-trevor-noah
Suggested by Members
What is the
How did Trevor's ability to speak multiple languages impact his life?
by [email protected]
(see profile)
02/14/18
Weblinks
There are no web links at this time.
BECOME A MEMBER
it's free
Now serving over 80,000 book clubs & ready to welcome yours. Join us and get the Top Book Club Picks of 2022 (so far).
SEARCH OUR READING GUIDES
Search
JOIN OUR MAILING LIST
Get free weekly updates on top club picks, book giveaways, author events and more
Please wait...