BKMT READING GUIDES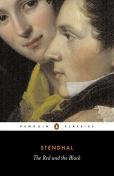 The Red and the Black (Penguin Classics)

by Stendhal
Published: 2002-09-24
Paperback : 607 pages
0 members reading this now
5 clubs reading this now
0 members have read this book
Recommended to book clubs by 1 of 1 members
Charts the rise and fall of an ambitious young social climber in a cruel, monarchical society

Handsome, ambitious Julien Sorel is determined to rise above his humble provincial origins. Soon realizing that success can only be achieved by adopting the subtle code of hypocrisy by which ...
No other editions available.

Jump to
Introduction
Charts the rise and fall of an ambitious young social climber in a cruel, monarchical society

Handsome, ambitious Julien Sorel is determined to rise above his humble provincial origins. Soon realizing that success can only be achieved by adopting the subtle code of hypocrisy by which society operates, he begins to achieve advancement through deceit and self-interest. His triumphant career takes him into the heart of glamorous Parisian society, along the way conquering the gentle, married Madame de Rênal, and the haughty Mathilde. But then Julien commits an unexpected, devastating crime—and brings about his own downfall. The Red and the Black is a lively, satirical portrayal of French society after Waterloo, riddled with corruption, greed and ennui, and Julien—the cold exploiter whose Machiavellian campaign is undercut by his own emotions—is one of the most intriguing characters in European literature.

Roger Gard's fine translation remains faithful to the natural, conversational tone of the original, while his introduction elucidates the complexities of Julien's character. This edition also contains a chronology, further reading and an appendix on Stendhal's use of epigraphs.

For more than seventy years, Penguin has been the leading publisher of classic literature in the English-speaking world. With more than 1,700 titles, Penguin Classics represents a global bookshelf of the best works throughout history and across genres and disciplines. Readers trust the series to provide authoritative texts enhanced by introductions and notes by distinguished scholars and contemporary authors, as well as up-to-date translations by award-winning translators.
Excerpt
No Excerpt Currently Available
Weblinks
There are no web links at this time.
Book Club Recommendations
Recommended to book clubs by 1 of 1 members.
Introduction and Discussion Questions for Stendhal\'s The Red and the Black
by spacer5 (see
profile
) 12/21/14
Introduction: Marie-Henrie Beyle (1783-1842), better known by his nom-de-plume Stendhal, was born in Grenoble, to the south of the region in eastern France that serves as the setting for Book I of Le rouge et le noir. He lived an unhappy childhood punctuated by the death of his beloved mother when he was just seven and a dismissive relationship with his father. But as a young man he found satisfaction in serving his idol, Napoleon, as an auditor for the Conseil d'État in Italy, beginning in 1810. Stendhal quickly fell in love with Italy; spent much of his life there; set his other great novel, Le chartreuse de Parme (1839) there, and is still much admired there. In particular, the great Sicilian writer, Giuseppe di Lampedusa, cites Stendhal as a key influence, especially for style. But the historical setting of Le rouge et le noir is not the First French Empire, but the Bourbon Restoration period (1814 to 1830). To understand the novel, one must also have a knowledge of this period in French history; after all, Stendhal invites as much with the subtitle—chronique de 1830—history or chronicle of 1830. After Napoleon's fall, the remnant of the old French aristocracy was once again put upon the throne, but this time as a constitutional monarchy, not an absolute one as before the French Revolution. By 1830, however, the restored monarchy is about to end. The reasons are clear: The horrors of the French Revolution—its chaos induced by the extreme economic disparity between the social classes, the slaughter of so many royalists and their supporters, the exile of all the others, the outlawing of religious worship—all this had taught the Bourbons nothing. By 1830 Charles X was prepared to re-establish an absolute monarchy by dissolving the Assembly of Deputies, banning the free press, restricting property rights to the wealthiest few, and ordering a rigged election that would give a democratic air of legitimacy to his power base. The remnant Jacobin forces in Paris were quickly re-inflamed and took the streets to protest these Four Ordinances, but it was the Liberals, the new middle class, who acted decisively to remove Charles X during the July Revolution of 1830. The tripartite nature of Restoration politics—royalists, liberals, and Jacobins (also known then as les constitutionels)—provides most of the dramatic tension in Le rouge et le noir. As for Stendhal himself, his personality is also a factor in the novel. He was well-known as both a sympathizer for the status of women in French society as well as a notorious sexual victimizer of them, the former trait perhaps serving as a tool for the latter one. Without a doubt, however, his portrayal of female characters contains convincing psychological detail, while his character Julien Sorel displays much of Stendhal's own predatory sexuality. Accordingly, it is worth noting that Stendhal died in considerable agony from a syphilis-induced seizure in the streets of Paris in 1842. Discussion Questions: 01. Le rouge et le noir is regarded as an early example of literary realism. What is realism in literature? What makes this novel realistic? How does its subtitle, chronique de 1830, figure into its realistic nature? 02. How does the historical period influence the novel? Who in the novel are the royalists, the liberals, and the Jacobins? How is the visit of Charles X to Verrières in Book 1.18 used to illustrate these political differences? 03. Explain the title. How is it related to the novel's division into Books I and II? How is it related to Julien's two mistresses—Madame de Rênal and Mme. De la Mole? How is it related to the two settings—the Doubs province and Paris? Finally, how is it related to Julien himself? 04. What forces or influences consistently motivate Julien? 05. Since Julien is hardly a character to arouse our sympathies, why does Stendhal make him the focus of narration for this lengthy novel? If he could be regarded as a tragic figure, what is his fatal flaw? 06. If Julien were a real person, what historical significance would he have—that is, what aspects of contemporary Bourbon life does he represent? 07. Discuss the role of the first person narrator in this novel? What seems to be the narrator's opinion of Julien and the other major figures? 08. Compare and contrast Madame de Rênal and Mme. De Mole. 09. Within her society is Madame de Rênal a victim or a perpetrator of adultery? Consider the same question for Mme. De la Mole. 10. Stendhal, like Flaubert after him, is regarded as a master of French style. How much of this can you detect through translation: clarity, balance, concision? Is his style more classical or romantic? How does it serve to underscore the novel's content?
BECOME A MEMBER
it's free
Join the leading website for book clubs with over 35,000 clubs and 20,000 reading guides.
SEARCH OUR READING GUIDES
Search
JOIN OUR MAILING LIST
Get free weekly updates on top club picks, book giveaways, author events and more
Please wait...