BKMT READING GUIDES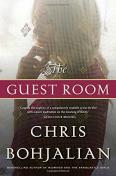 The Guest Room: A Novel

by Chris Bohjalian
Published: 2016-01-05
Hardcover : 336 pages
14 members reading this now
14 clubs reading this now
11 members have read this book
Recommended to book clubs by 7 of 7 members
From the New York Times bestselling author of Midwives and The Sandcastle Girls comes the spellbinding tale of a party gone horribly wrong: two men lie dead in a suburban living room, two women are on the run from police, and a marriage is ripping apart at the seams.

When Kristin Chapman ...
No other editions available.

Jump to
Introduction
From the New York Times bestselling author of Midwives and The Sandcastle Girls comes the spellbinding tale of a party gone horribly wrong: two men lie dead in a suburban living room, two women are on the run from police, and a marriage is ripping apart at the seams.

When Kristin Chapman agrees to let her husband, Richard, host his brother's bachelor party, she expects a certain amount of debauchery. She brings their young daughter to Manhattan for the evening, leaving her Westchester home to the men and their hired entertainment. What she does not expect is this: bacchanalian drunkenness, her husband sharing a dangerously intimate moment in the guest room, and two women stabbing and killing their Russian bodyguards before driving off into the night.

In the aftermath, Kristin and Richard's life rapidly spirals into nightmare. The police throw them out of their home, now a crime scene, Richard's investment banking firm puts him on indefinite leave, and Kristin is unsure if she can forgive her husband for the moment he shared with a dark-haired girl in the guest room. But the dark-haired girl, Alexandra, faces a much graver danger. In one breathless, violent night, she is free, running to escape the police who will arrest her and the gangsters who will kill her in a heartbeat. A captivating, chilling story about shame and scandal, The Guest Room is a riveting novel from one of our greatest storytellers.
Excerpt
Chapter One
Richard Chapman presumed there would be a stripper at his brother Philip's bachelor party. Perhaps if he had actually thought about it, he might even have expected two. Sure, in sitcoms the stripper always arrived alone, but he knew that in real life strippers often came in pairs. How else could there be a little pretend (or not pretend) girl-on-girl action on the living room carpet? Besides, he worked in mergers and acquisitions, he understood the exigencies of commerce as well as anyone: two strippers meant you could have two gentlemen squirming at once. You could have two girls hovering just above two sets of thighs—or if the girls saw the right combination of neediness and dollar signs in the men's eyes, not hovering but in fact descending upon each of the men's laps. Richard wasn't especially wild about the idea of an exotic dancer in his family's living room: there was a place for everything in his mind, even the acrobatically tensed sinews of a stripper. But that place wasn't his home. He didn't want to be a prig, however; he didn't want to be the guy who put a damper on his younger brother's bachelor party. And so he told himself the entertainment would be some girl from Sarah Lawrence or Fordham or NYU with a silly, mellifluous made?up name making a little money for tuition. He didn't completely believe this, but in some backward universe sort of way, he felt a little less reprehensible—a little less soiled—if he was getting turned on by a twenty-one-year-old sociology major with a flat stomach and a Brazilian who understood intellectually the cultural politics of stripping and viewed herself as a feminist capitalist. ...
view entire excerpt...
Discussion Questions
When his calendar permits, Chris Bohjalian is available to meet with reading groups via Skype or speakerphone. Visit http://www.chrisbohjalian.com/reading-group-center for details.
Introduction
Renowned for his spellbinding storytelling, bestselling author Chris Bohjalian now brings us a captivating novel that exposes a chilling reality, raising eye-opening questions about the nature of evil—and the power of compassion.
The Guest Room opens in the aftermath of a bachelor party gone horribly wrong. When Kristin Chapman agrees to let her husband, Richard, host his brother's celebration, everyone expected a wild night, but nothing could have prepared them for what transpires after two strippers arrive. As the debauchery escalates under the watchful eye of Sonja and Alexandra's "bodyguards," one of the girls suddenly brandishes a knife. She and her partner attack their two keepers with deadly precision and drive off into the night, making their way from the suburbs of Westchester to Manhattan. A police investigation reveals that they are teenagers from Armenia, abducted and forced into sexual slavery in Russia before being brought to New York, where their captors knew their value would skyrocket.
For Richard and his wife, Kristin, nothing is safe from the fallout of the scandal: Richard's job at an investment banking firm is now in jeopardy, and their once-stable marriage is tested in ways they could never have imagined, while their 9-year-old daughter struggles to comprehend what's happened. But Sonja and Alexandra face a much graver danger, fleeing both the police and an international network of oligarchs. Without a passport or credit cards, Alexandra realizes that the key to survival was left behind in Richard's house, where a tiny slip of paper will surely set her free.
Destined to spark important conversations about trust, truth, and the millions of modern-day slaves hidden in plain sight, The Guest Room is a riveting read that will transform the way you see the world. We hope this guide will enrich your reading group's discussion.
Questions and Topics for Discussion
1. When Anahit is forced to become Alexandra, what happens to her sense of self? How is she able to secretly retain many aspects of her true identity—particularly her sense of humor and her intellect? How does she navigate the multitude of cultures beyond her Armenian homeland? How would you fare in her situation?
2. If you were Kristin, how would you have reacted to Richard's story? If you were Nicole, would you have broken off the engagement to Philip?
3. If the bachelor party had featured strippers or prostitutes who had freely chosen their line of work, would you call the debauchery harmless? Is a career in the sex trade ever freely chosen?
4. Discuss the psychological tactics Alexandra's captors use against her. Is there anything she and her beloved grandmother could have done to see through Vasily's promises?
5. How will Melissa be affected by the aftermath of her uncle's party? How will these memories shape her understanding of a woman's role in the world, and the nature of suffering?
6. Is Spencer simply motivated by money, or does he also crave power? How much does he have in common with Kirill and Pavel?
7. At the end of chapter 5, Alexandra says she never had faith in hatred, like Sonja did. What accounts for the differences between Sonja and Alexandra? What is the source of Alexandra's resilience and her inability to become "good at hatred"?
8. Are most of the men you know similar to Richard, or are they more like his brother, Philip? Are Alexandra's images from The Bachelor totally unrealistic?
9. How were you affected by the story Alexandra tells Richard about the crates of Barbie dolls? How do her memories of the dolls compare to Melissa and Kristin's visit to FAO Schwarz?
10. As Alexandra and Richard struggled to be free of their separate turmoil, what outcomes were you envisioning for them? How did the ending compare to your predictions?
11. How did The Guest Room enhance your experience of other novels by Chris Bohjalian? What's special about the worlds he brings to life in his storylines?
12. Although it's a work of fiction, The Guest Room opens our eyes to the tragic reality of human trafficking. How can a novel spur change? How is a novelist's approach different from that of journalists?
13. What should we teach our daughters and sons about sexuality and exploitation? Does sex appeal make a woman powerful, or does it make her vulnerable?
?
To learn more and become part of the solution, visit www.castla.org, the site for the Coalition to Abolish Slavery and Trafficking. CAST is one of the many important organizations that work to assist persons trafficked for the purpose of forced labor, sexual slavery, and other instances of appalling human rights violations.
Facts About Human Trafficking and Sexual Slavery
• According to the U.S. State Department, perhaps three-quarters of a million people are trafficked across international borders every year—and then there are the millions trafficked within their own countries.
• The International Labor Organization estimates that 14.2 million people are victims of forced labor exploitation in economic activities, such as agriculture, construction, domestic work, and manufacturing. The ILO also estimates 4.5 million people were forced into sexual exploitation globally in 2014.
• About two million children every year are exploited in the global commercial sex trade.
• The National Center for Missing & Exploited Children estimates that one out of every six runaways is a likely sex trafficking victim.
If you are in an emergency situation or have a credible tip, call the CAST 24-hour hotline to speak to an emergency responder: 1 (888) KEY-2-FREEDOM.
About the Author
Chris Bohjalian is the author of eighteen books, including Close Your Eyes, Hold Hands; The Sandcastle Girls; Skeletons at the Feast; The Double Bind; and Midwives, which was a number one New York Times bestseller and a selection of Oprah's Book Club. His work has been translated into more than thirty languages, and three of his novels have become movies (Secrets of Eden, Midwives, and Past the Bleachers). He lives in Vermont with his wife and daughter. Visit him at www.chrisbohjalian.com or on Facebook.
Guide written by Amy Clements
Suggested by Members
Family members can often put us in situations where we are not comfortable but we "go along to
get along". Discuss Richard's relationship with his brother and examine the decisions Richard made to maintain
and how they impacted his family.
by Mrs.BayView
(see profile)
09/07/16
BECOME A MEMBER
it's free
Join the leading website for book clubs with over 35,000 clubs and 20,000 reading guides.
SEARCH OUR READING GUIDES
Search
JOIN OUR MAILING LIST
Get free weekly updates on top club picks, book giveaways, author events and more
Please wait...