BKMT READING GUIDES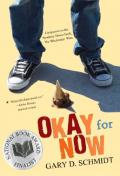 Okay for Now

by Gary D. Schmidt
Published: 2013-02-05
Paperback : 368 pages
1 member reading this now
7 clubs reading this now
1 member has read this book
Recommended to book clubs by 1 of 1 members
National Book Award Finalist "[A] stealthily powerful, unexpectedly affirming story of discovering and rescuing one's best self."—Booklist, starred reviewIn this companion novel to The Wednesday Wars, Doug struggles to be more than the "skinny thug" that some people think him to ...
No other editions available.

Jump to
Introduction
National Book Award Finalist "[A] stealthily powerful, unexpectedly affirming story of discovering and rescuing one's best self."—Booklist, starred reviewIn this companion novel to The Wednesday Wars, Doug struggles to be more than the "skinny thug" that some people think him to be. He finds an unlikely ally in Lil Spicer, who gives him the strength to endure an abusive father, the suspicions of a town, and the return of his oldest brother, forever scarred, from Vietnam. Schmidt expertly weaves multiple themes of loss and recovery in a story teeming with distinctive, unusual characters and invaluable lessons about love, creativity, and survival.
Editorial Review
Amazon Exclusive: A Q&A with Author Gary D. Schmidt
Q: Did you always want to become a writer?
A: Nope. In high school, I wanted to go to the Naval Academy at Annapolis and become a career naval officer. Then, late in high school, I wanted to be a vet—mostly because of the James Herriot books and the PBS show, I suppose. Then, in college, I decided to become a lawyer—until my senior year, when I switched to an English major to become a teacher, which I did become. Somehow becoming a writer happened along the way.
Q:
What did you read when you were a kid?
A: In my school, we were tracked—meaning that we were put into classes depending on how well we had done in testing. This happened in first grade. I had tested poorly and ended up in the pumpkin group—no kidding. We were the poorest readers, and so since I was told I wasn't any good at this, I didn't read much. Then I got taken up by Miss Kabakoff, who just liked me, and who brought me into her class and taught me how to read.
Once that happened, I read everything I could. The Freddy the Pig books, the Doctor Dolittle books, any Greek mythology I could get my hands on, and the Norse mythology that I liked better, the biographies in the Childhood of Famous Americans series, the tales of the Grimm Brothers and Hans Christian Andersen, the Herbert series and the Henry Reed series, Robinson Crusoe and The Swiss Family Robinson, Howard Pyle's The Adventures of Robin Hood and His Merry Men, Bambi (which is a lot better than most people think it is), anything by Jack London or Jules Verne or H. G. Wells, the Horatio Hornblower books, Treasure Island, and of course the Hardy Boys series and the Tom Swift series, which I collected whenever I could.
Q: How often do you write?
A: Every day I am not teaching—so two or three days a week, and sometimes at night—unless it's really cold out and the woodstove needs a lot of tending.
Q: How much do you write each day?
A: I work on three projects at a time, and they are all at different stages. One may be a first draft, one may be almost finished, and one might be in proofs—or perhaps just being conceived. I try to write about five hundred words a day on each project. Most American writers—Ernest Hemingway, John Steinbeck, Jack London—all wrote about five hundred words a day. It seems the right pace for me. It keeps me from going too fast at a project.
There are some children's book writers—like Enid Blyton—who supposedly wrote ten thousand words a day. This seems impossible to me, but even if it is true, one should not judge oneself by the absurd outlier.
Q:Where do you write?
A: I have a study in a small outbuilding away from the house. It has a desk, a lamp, more books than should be in any one room, and a woodstove. I work at a typewriter, and keep lots of scrap paper around me. This means, by the way, that if anything comes out pretty awful, I can just open the woodstove and burn it all. The feeling of relief is remarkable.
On my desk are a dictionary and a thesaurus, books by Emerson and Whittier and Longfellow and Darwin, Henry David Thoreau's journals, a collection of Churchill's war speeches, two volumes of Shaker hymns, some Tolkien, some Avi, some Katherine Paterson, some Elie Wiesel, The Giver, and a statue of a greyhound that has been in my family for four generations.
Q:You work at a typewriter?
A: You can't believe how hard it is to find typewriter ribbons for a 1953 Royal.
Q: Your books often are very serious. Shouldn't you lighten up?
A: You think life in middle school isn't serious? Are you kidding?
Living is a serious business. Funny is good, of course. We all like to laugh. But I want more than that. Much more. Nathaniel Hawthorne, in his first great book, called life "a veil of gloom and brightness." We all wish it could be brightness all the time. And maybe for some people it is. I doubt it, but maybe. But there is gloom for us all, too. And maybe books even for kids shouldn't ignore that. Geez, read Where the Wild Things Are, or Mike Mulligan and His Steam Shovel, or just about any Grimm folktale, or Crow Boy, or Bridge to Terabithia, or Nothing but the Truth, or No, David, or Octavian Nothing, or The Tale of Despereaux, or Stitches, or The Storm in the Barn, and then try to tell me that writers for kids should try not to be too serious.
Q: What is your favorite book that you have written?
A: Hmmm... If I give one title, then all the other books get sort of cranky and jealous, and they start to rearrange themselves loudly at night to push each other off the shelves. Then I have to pick them all up in the morning instead of walking the dogs and then the dogs get irritated and they take their sweet time on the walk so I get back home late and miss most of breakfast and the kids get to school after the bell has rung and the day just goes downhill from there.
Let's just say they're all my favorites.
Q:What is your favorite book that you have not written?
A: An easy question. It is The Little World of Don Camillo. There is no other book like it, so sweet, so funny, so moving, sometimes suspenseful. I wish I had written it.
Q:What book are you working on now?
A: Sorry. Writers should never talk about what they're working on next. It will be done when it's done, and then I'll be glad to talk about it. But not now.
---
Excerpt
No Excerpt Currently Available
Weblinks
There are no web links at this time.
BECOME A MEMBER
it's free
Now serving over 80,000 book clubs & ready to welcome yours. Join us and get the Top Book Club Picks of 2022 (so far).
SEARCH OUR READING GUIDES
Search
JOIN OUR MAILING LIST
Get free weekly updates on top club picks, book giveaways, author events and more
Please wait...