BKMT READING GUIDES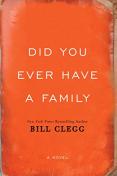 Did You Ever Have A Family

by Bill Clegg
Published: 2015-09-01
Hardcover : 304 pages
8 members reading this now
34 clubs reading this now
8 members have read this book
Recommended to book clubs by 6 of 6 members
NEW YORK TIMES BESTSELLER • LONGLISTED FOR THE NATIONAL BOOK AWARD, MAN BOOKER PRIZE, PEN/ROBERT W. BINGHAM PRIZE, AND ANDREW CARNEGIE MEDAL FOR EXCELLENCE • AN ALA NOTABLE BOOK • NAMED ONE OF THE BEST BOOKS OF THE YEAR BY Amazon • Library Journal • Booklist • NPR • Kirkus ...
No other editions available.

Jump to
Introduction
NEW YORK TIMES BESTSELLER • LONGLISTED FOR THE NATIONAL BOOK AWARD, MAN BOOKER PRIZE, PEN/ROBERT W. BINGHAM PRIZE, AND ANDREW CARNEGIE MEDAL FOR EXCELLENCE • AN ALA NOTABLE BOOK • NAMED ONE OF THE BEST BOOKS OF THE YEAR BY Amazon • Library Journal • Booklist • NPR • Kirkus Reviews • Guardian • St. Louis Post-Dispatch • Google Play • Kobo • Literary Hub • Powell's

Hailed as "masterly" by The New York Times Book Review, "a brilliantly constructed debut set in the aftermath of catastrophic loss" (2015 Man Booker Prize Judges).

The stunning debut novel from bestselling author Bill Clegg is a magnificently powerful story about a circle of people who find solace in the least likely of places as they cope with a horrific tragedy.

On the eve of her daughter's wedding, June Reid's life is completely devastated when a shocking disaster takes the lives of her daughter, her daughter's fiancé, her ex-husband, and her boyfriend, Luke—her entire family, all gone in a moment. And June is the only survivor.

Alone and directionless, June drives across the country, away from her small Connecticut town. In her wake, a community emerges, weaving a beautiful and surprising web of connections through shared heartbreak.

From the couple running a motel on the Pacific Ocean where June eventually settles into a quiet half-life, to the wedding's caterer whose bill has been forgotten, to Luke's mother, the shattered outcast of the town—everyone touched by the tragedy is changed as truths about their near and far histories finally come to light.

Elegant and heartrending, and one of the most accomplished fiction debuts of the year, Did You Ever Have a Family is an absorbing, unforgettable tale that reveals humanity at its best through forgiveness and hope. At its core is a celebration of family—the ones we are born with and the ones we create.
Editorial Review
An Amazon Best Book of September 2015: Bill Clegg's fiction debut looks at the aftereffects of a tragedy, skillfully employing alternating chapters told by a handful of characters. The night before her daughter's wedding, June Reid loses her daughter, her daughter's fiancé, her ex-husband, and her boyfriend in a house fire. It is a nearly unimaginable event, one that sends June running cross-country from her small community in Connecticut to settle in the even smaller community of Moclips, Washington. Sadness trails June, but so does a web of support that forms between members of the community she left behind, as well as the one that she has settled in. What really happened that night in Connecticut? Eventually, we find out. More importantly, we find out the meaning of the title. It is both a lament and a celebration.--Chris Schluep
Guest Interview Jenny Offill in conversation with Bill Clegg
1. The novel is paced almost like a thriller, with the pieces of the mystery coming slowly into place. Does plot come first for you when you begin a book or are you more likely to start from an image or a voice?
In this case it started with the first three lines of the second chapter: She will go. For a long time the only thing I knew about the book was that a woman named June was driving away from a small town, heavy with grief and guilt and unable to stay a minute longer. Everything after those words was an unraveling of that mystery—Who is she? What is driving her away? What happened? What is the source of her grief? What do the people in the town have to say about her?
2. You worked on the novel for many years. Do you remember how the first spark of it came to you?
The initial impulse came from wanting to write about where I'm from. I grew up in a small town two hours from Manhattan and there was a regular gust of moneyed weekend and summer residents that created both a great opportunity to imagine outside of one's life into other possibilities, but it also caused a fair bit of resentment and tension. I wanted to write about the particular experience of such a town, and so the early writing centered on that.
3. I'm so impressed by the way you carry off many different yet distinct points of view throughout your novel. It really comes together wonderfully in the end. Did you have any models for this kind of expansive narrative? Did you start out to tell the story in that manner or was it something that evolved over time?
Though I didn't consciously follow any model, Jean Stein's Edie no doubt had a strong influence as well as David Huddle's novel The Story of a Million Years. Both books get to the heart of their stories by circling them with other voices and perspectives.
4. In many ways, Did You Ever Have a Family seems like an extended meditation on grief and forgiveness. Were your previous memoirs regarding addiction and recovery a springboard into these themes?
Surely, they are, though not deliberately. In my recovery I have experienced how powerful and surprising being forgiven can be. I caused a lot of wreckage before I got sober, so if certain people were going to remain in my life I knew that I would need their forgiveness. But what I didn't expect or count on was that in being forgiven, I would learn how to forgive the people I believed had failed or harmed me. The most powerful example of this in my life is with my father. Decades-long resentments and hurt fell away when I could finally see him as a man who did his best and fell short, and him falling short was not the full measure of his character but only a piece in a longer and more complicated story. Letting all that go and allowing myself a relationship with him in his last ten years was a miracle given how estranged we'd been, and it is one of the things recovery gave me. In the novel there are a lot of people holding on to anger and guilt and they are lonely, which is something I identify with. Part of what I'm exploring in the book is how forgiveness—granting as well as receiving—can be a beginning to an end of that isolation.
5. What book or poem first made you want to be a writer?
Reading Natalie Babbitt's Tuck Everlasting was probably the first time where it occurred to me that someone actually came up with an idea and wrote it. And I believe it's the first time I thought, Damn, I wish I'd thought of that.
6. What novels have you read more than once?
I read your novel Dept. of Speculation twice! I read it when it first came out and then, when we decided to talk a few weeks ago, I picked it up again and could not put it down. Crikey, is it good. As nimble and witty as the writing is and as streaking as it is with literary and historical references and anecdotes, it also has this spellbinding effect that only the truth of something can produce. And the truth you are conveying is about marriage and how people happen in them. Reading your novel is a kind of thrill ride but it was also a great relief. But mainly I go back to the same small pile. Besides W. S. Merwin's The Vixen, The Carrier of Ladders, and The Lice (which are poetry collections, not novels), I go back to Jude the Obscure and Lewis Grassic Gibbon's A Scots Quair every now and again. Jude the Obscure because it's such an audacious story and I find something surprising each time, and Gibbon's trilogy because I read it during a time that shaped me—an optimistic and curious stretch in my junior year in college—and if I feel stuck or limited its peculiar music has the effect of making things seem more possible. I also have reread a lot of Deborah Eisenberg's short stories. Under the 82nd Airborne is one of the best collections of short stories ever. I remember reading it in my twenties in New York and being excited that she lived in Manhattan and was, somewhere in the city, alive and thinking. Before that I mostly read books by long-dead authors so the idea that I could sit next to her on the subway or a restaurant was mind-blowing. I did sit next to her at a play not long ago and I couldn't stop staring.
7. Has anything surprised you about the process of publication from the writer's side, and if so, what?
I didn't count on finding the conversation about something I'd written to be so much, um, fun. With the memoirs, the engagement with readers has been meaningful and, given the main subject matters of addiction and recovery, pretty heavy. But with the novel the exchanges so far have had a giddy pleasure on the level of gossiping about people you went to high school with. It still shocks me that anyone would know and have an opinion about the characters in Did You Ever Have a Family. They existed for so long as just a daydream that to have them named and commented on is startling, but in the best way. Talking about them is a kind of reunion.
Excerpt
No Excerpt Currently Available
Weblinks
There are no web links at this time.
BECOME A MEMBER
it's free
Join the leading website for book clubs with over 35,000 clubs and 20,000 reading guides.
SEARCH OUR READING GUIDES
Search
JOIN OUR MAILING LIST
Get free weekly updates on top club picks, book giveaways, author events and more
Please wait...