BKMT READING GUIDES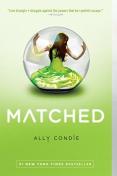 Matched

by Ally Condie
Published: 2011-09-20
Kindle Edition : 418 pages
20 members reading this now
28 clubs reading this now
15 members have read this book
Recommended to book clubs by 14 of 15 members
Cassia has always trusted the Society to make the right choices for her: what to read, what to watch, what to believe. So when Xander's face appears on-screen at her Matching ceremony, Cassia knows with complete certainty that he is her ideal mate . . . until she sees Ky Markham's face ...
No other editions available.

Jump to
Introduction
Cassia has always trusted the Society to make the right choices for her: what to read, what to watch, what to believe. So when Xander's face appears on-screen at her Matching ceremony, Cassia knows with complete certainty that he is her ideal mate . . . until she sees Ky Markham's face flash for an instant before the screen fades to black.
The Society tells her it's a glitch, a rare malfunction, and that she should focus on the happy life she's destined to lead with Xander. But Cassia can't stop thinking about Ky, and as they slowly fall in love, Cassia begins to doubt the Society's infallibility and is faced with an impossible choice: between Xander and Ky, between the only life she's known and a path that no one else has dared to follow.
Look for CROSSED, the sequel to MATCHED, in Fall 2011!
Watch a Video
Editorial Review
Amazon Best Books of the Month, December 2010
: For Cassia, nothing is left to chance--not what she will eat, the job she will have, or the man she will marry. In
Matched
, the Society Officials have determined optimal outcomes for all aspects of daily life, thereby removing the "burden" of choice. When Cassia's best friend is identified as her ideal marriage Match it confirms her belief that Society knows best, until she plugs in her Match microchip and a different boy's face flashes on the screen. This improbable mistake sets Cassia on a dangerous path to the unthinkable--rebelling against the predetermined life Society has in store for her. As author Ally Condie's unique dystopian Society takes chilling measures to maintain the status quo,
Matched
reminds readers that freedom of choice is precious, and not without sacrifice.--Seira Wilson
---
Amazon Exclusive: Author Q&A with Ally Condie
Q: What inspired you to write Matched?
A: Matched was inspired by several experiences—specific ones, like a conversation with my husband and chaperoning a high school prom—and general ones, like falling in love and becoming a parent.
Q: How do you think Matched differs from other dystopian novels?
A: I think it's different in that it's perhaps less action-oriented and more introspective. This is really the story of one girl, Cassia, learning to choose.
Q: The cover for Matched is so eye-catching and mysterious. What does the image represent to you?
A: I cannot imagine a more perfect cover for this book. To me, the image is a clear representation of Cassia, the main character, and the way she is trapped in her world. It's kind of a lovely world—the bubble is beautiful—but it's confining nonetheless. And, of course, the color green is very important to the book. I'm just so thrilled about this cover. Theresa Evangelista, the designer, and Samantha Aide, the photographer and model, are incredibly talented.
Q: In Matched, each member of the Society is not only assigned a spouse, they're also assigned a job, and Cassia, your main character, is a data sorter. If you lived in the Society, what job do you think you'd have?
A: I would definitely not be a data sorter. I am terrible with numbers and patterns. I think I would probably be a teacher or instructor. Or maybe one of the people did a mundane task, like dishwashing. I have a feeling that I wouldn't fare very well in the Society.
Q: Dylan Thomas' classic poem, "Do Not Go Gentle," is part of a theme that you've woven throughout Matched. Do you remember when you first came across this poem? What made you decide to use it in your novel?
A: I don't remember when I first read this poem, which is pretty embarrassing. But I do remember the first time I heard a recording of the author reading it. I remember feeling almost reverent, and paying close attention to how he said the words and went through the lines. This poem came to mind almost immediately when I started writing the book. It's probably the most universal poem I've ever encountered. The first line alone resonates immediately with almost everyone.
Q: What do you like about writing for teenagers?
A: Everything. I like talking with teenagers themselves about books. I like trying to capture the teenage voice. And I like writing about teenagers because they have SO MUCH happening in their lives, and they are passionate about those things.
Q: What were some of the books you loved as a teen? Did any of these books influence Matched at all?
A: I loved (and still do) Anne Tyler and Wallace Stegner. I remember being introduced to those authors in ninth grade and being floored by the beauty of their writing. I also loved anything by Agatha Christie. I think these books did influence me—not in any concrete, specific way, but in that I wanted to write a story about a character worth caring about even though/because of the fact that she is flawed and human.
Q: What would you like your readers to take away from the experience of reading Matched?
A: I hope they can take away whatever they need from the story. I hope there is something there for a reader--whether it's relating to a character or reading a scene that feels true or anything else.
Q: Will there be more books featuring Cassia, or set in the world of Matched?
A: Yes! There will be two more books in the Matched trilogy.
Excerpt
No Excerpt Currently Available
Discussion Questions
1. What makes Matched dystopian? How does the Society compare with the worlds in other dystopian novels you've read.
2. What details and events make the world Ally Condie created realistic and believable? What do think the positive qualities of the world are? What do you think the negative qualities of the world are?
3. What scene sticks with you after you've finished reading?
4. Why do you think The Society was so restrictive with the art and literature it permitted?
5. What artifact from your life would choose to pass down to other generations?
6. Cassia has a special relationship with her grandfather. Why do you think he gave her the poem even though it was so dangerous?
7. Why do think that Cassia is so inspired by Dylan Thomas' poem Do Not Go Gently Into That Good Night? How do you think her understanding of the poem changes throughout the novel?
8. Cassia is to be assigned as a data sorter. If you were to be assigned a role in The Society what would it be and why?
9. Cassia has an impossible choice. Would you make the same decision as Cassia? Why or why not?
10. Now that you've read Matched, what questions would you most like to have answered in the upcoming sequel?
Suggested by Members
Compare to isolated religious groups.
by hopewellmomschool
(see profile)
05/03/11
do you think that someone selecting your "perfect match" with would influence your feelings about that person?
by readingissexy
(see profile)
04/18/11
Discuss the implications of "sorting". Why was sorting performed by humans in the Society, rather than by computers?
Was it really a mistake that Ky was entered into the Matching Pool?
by mabook
(see profile)
03/06/11
Book Club Recommendations
Recommended to book clubs by 14 of 15 members.
Book pairing
by perez2507 (see
profile
) 06/10/16
Consider pairing it with Lois Lowry's "The Giver" (a short read) to compare and contrast them.
If you liked Hunger games or other dystopian society tales, this is the book for you! The Giver is another winner in this genre!
by bibliolover (see
profile
) 11/16/11
BECOME A MEMBER
it's free
Now serving over 80,000 book clubs & ready to welcome yours. Join us and get the Top Book Club Picks of 2022 (so far).
SEARCH OUR READING GUIDES
Search
JOIN OUR MAILING LIST
Get free weekly updates on top club picks, book giveaways, author events and more
Please wait...