BKMT READING GUIDES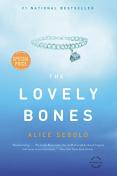 The Lovely Bones

by Alice Sebold
Published: 2015-06-09
Paperback : 368 pages
53 members reading this now
83 clubs reading this now
133 members have read this book
Recommended to book clubs by 22 of 23 members
When we first meet 14-year-old Susie Salmon, she is already in heaven. This was before milk carton photos and public service announcements, she tells us; back in 1973, when Susie mysteriously disappeared, people still believed these things didn't happen. In the sweet, untroubled voice of ...
No other editions available.

Jump to
Introduction
A BookPage Notable Title
Now in paperback comes Alice Sebold's luminous first novel--one of the most celebrated literary debuts of recent seasons--that builds out of a family's grief the most hopeful and joyful of stories.
Editorial Review
On her way home from school on a snowy December day in 1973, 14-year-old Susie Salmon ("like the fish") is lured into a makeshift underground den in a cornfield and brutally raped and murdered, the latest victim of a serial killer--the man she knew as her neighbor, Mr. Harvey.
Alice Sebold's haunting and heartbreaking debut novel, The Lovely Bones, unfolds from heaven, where "life is a perpetual yesterday" and where Susie narrates and keeps watch over her grieving family and friends, as well as her brazen killer and the sad detective working on her case. As Sebold fashions it, everyone has his or her own version of heaven. Susie's resembles the athletic fields and landscape of a suburban high school: a heaven of her "simplest dreams," where "there were no teachers.... We never had to go inside except for art class.... The boys did not pinch our backsides or tell us we smelled; our textbooks were Seventeen and Glamour and Vogue."
The Lovely Bones works as an odd yet affecting coming-of-age story. Susie struggles to accept her death while still clinging to the lost world of the living, following her family's dramas over the years like an episode of My So-Called Afterlife. Her family disintegrates in their grief: her father becomes determined to find her killer, her mother withdraws, her little brother Buckley attempts to make sense of the new hole in his family, and her younger sister Lindsey moves through the milestone events of her teenage and young adult years with Susie riding spiritual shotgun. Random acts and missed opportunities run throughout the book--Susie recalls her sole kiss with a boy on Earth as "like an accident--a beautiful gasoline rainbow." Though sentimental at times, The Lovely Bones is a moving exploration of loss and mourning that ultimately puts its faith in the living and that is made even more powerful by a cast of convincing characters. Sebold orchestrates a big finish, and though things tend to wrap up a little too well for everyone in the end, one can only imagine (or hope) that heaven is indeed a place filled with such happy endings. --Brad Thomas Parsons

Look Inside the Motion Picture The Lovely Bones (Paramount, 2010)
(Click on each image below to see a larger view)


| | |
| --- | --- |
| Saoirse Ronan as Susie Salmon | Saoirse Ronan as Susie Salmon |
| | |
| --- | --- |
| Mark Wahlberg as Jack Salmon | Saoirse Ronan as Susie Salmon and Director Peter Jackson |
Excerpt
No Excerpt Currently Available
Discussion Questions
Questions from Publisher's Reading Guide:
1. In Susie's Heaven, she is surrounded by things that bring her peace. What would your Heaven be like? Is it surprising that in Susie's inward, personal version of the hereafter there is no God or larger being that presides?
2. Why does Ruth become Susie's main connection to Earth? Was it accidental that Susie touched Ruth on her way up to Heaven, or was Ruth actually chosen to be Susie's emotional conduit?
3. Rape is one of the most alienating experiences imaginable. Susie's rape ends in murder and changes her family and friends forever. Alienation is transferred, in a sense, to Susie's parents and siblings. How do they each experience loneliness and solitude after Susie's death?
4. Why does the author include details about Mr. Harvey's childhood and his memories of his mother? By giving him a human side, does Sebold get us closer to understanding his motivation? Sebold explained in an interview about the novel that murderers "are not animals but men," and that is what makes them so frightening. Do you agree?
5. Discuss the way in which guilt manifests itself in the various characters - Jack, Abigail, Lindsay, Mr. Harvey, Len Fenerman.
6. "Pushing on the inbetween" is how Susie describes her efforts to connect with those she has left behind on Earth. Have you ever felt as though someone was trying to communicate with you from "the inbetween"?
7. Does Buckley really see Susie, or does he make up a version of his sister as a way of understanding, and not being too emotionally damaged by, her death? How do you explain tragedy to a child? Do you think Susie's parents do a good job of helping Buckley comprehend the loss of his sister?
8. Susie is killed just as she was beginning to see her mother and father as real people, not just as parents. Watching her parents' relationship change in the wake of her death, she begins to understand how they react to the world and to each other. How does this newfound understanding affect Susie?
9. Can Abigail's choice to leave her family be justified?
10. Why does Abigail leave her dead daughter's photo outside the Chicago Airport on her way back to her family?
11. Susie observes that "The living deserve attention, too." She watches her sister, Lindsay, being neglected as those around her focus all their attention on grieving for Susie. Jack refuses to allow Buckley to use Susie's clothes in his garden. When is it time to let go?
12. Susie's Heaven seems to have different stages, and climbing to the next stage of Heaven requires her to remove herself from what happens on Earth. What is this process like for Susie?
13. In The Lovely Bones, adult relationships (Abigail and Jack, Ray's parents) are dysfunctional and troubled, whereas the young relationships (Lindsay and Samuel, Ray and Susie, Ray and Ruth) all seem to have depth, maturity, and potential. What is the author saying about young love? About the trials and tribulations of married life?
14. Is Jack Salmon allowing himself to be swallowed up by his grief? Is there a point where he should have let go? How does his grief process affect his family? Is there something admirable about holding on so tightly to Susie's memory and not denying his profound sadness?
15. Ray and Susie's final physical experience (via Ruth's body) seems to act almost as an exorcism that sweeps away, if only temporarily, Susie's memory of her rape. What is the significance of this act for Susie, and does it serve to counterbalance the violent act that ended Susie's life?
16. Alice Sebold seems to be saying that out of tragedy comes healing. Susie's family fractures and comes back together, a town learns to find strength in each other. Do you agree that good can come of great trauma?
Suggested by Members
What would your heaven be? What would it smell like?
by mel29
(see profile)
08/27/12
BECOME A MEMBER
it's free
Now serving over 80,000 book clubs & ready to welcome yours. Join us and get the Top Book Club Picks of 2022 (so far).
SEARCH OUR READING GUIDES
Search
JOIN OUR MAILING LIST
Get free weekly updates on top club picks, book giveaways, author events and more
Please wait...