BKMT READING GUIDES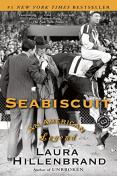 Seabiscuit: An American Legend (Ballantine Reader's Circle)

by Laura Hillenbrand
Published: 2003-07-01
Kindle Edition : 399 pages
17 members reading this now
27 clubs reading this now
26 members have read this book
Recommended to book clubs by 10 of 11 members
Laura Hillenbrand, author of the runaway phenomenon Unbroken, brilliantly re-creates a universal underdog story in this #1 New York Times bestseller.

BONUS: This edition contains a Seabiscuit discussion guide and an excerpt from Unbroken.

Seabiscuit was one of the most electrifying and ...
No other editions available.

Jump to
Introduction
In this "New York Times" bestseller now in paperback, Hillenbrand unfolds the spellbinding story of the racehorse Seabiscuit in a riveting tale of grit, grace, luck, and an underdog's stubborn determination. Photos throughout.
Editorial Review
He didn't
look
like much. With his smallish stature, knobby knees, and slightly crooked forelegs, he looked more like a cow pony than a thoroughbred. But looks aren't everything; his quality, an admirer once wrote, "was mostly in his heart." Laura Hillenbrand tells the story of the horse who became a cultural icon in
Seabiscuit: An American Legend
.
Seabiscuit rose to prominence with the help of an unlikely triumvirate: owner Charles Howard, an automobile baron who once declared that "the day of the horse is past"; trainer Tom Smith, a man who "had cultivated an almost mystical communication with horses"; and jockey Red Pollard, who was down on his luck when he charmed a then-surly horse with his calm demeanor and a sugar cube. Hillenbrand details the ups and downs of "team Seabiscuit," from early training sessions to record-breaking victories, and from serious injury to "Horse of the Year"--as well as the Biscuit's fabled rivalry with War Admiral. She also describes the world of horseracing in the 1930s, from the snobbery of Eastern journalists regarding Western horses and public fascination with the great thoroughbreds to the jockeys' torturous weight-loss regimens, including saunas in rubber suits, strong purgatives, even tapeworms.
Along the way, Hillenbrand paints wonderful images: tears in Tom Smith's eyes as his hero, legendary trainer James Fitzsimmons, asked to hold Seabiscuit's bridle while the horse was saddled; critically injured Red Pollard, whose chest was crushed in a racing accident a few weeks before, listening to the San Antonio Handicap from his hospital bed, cheering "Get going, Biscuit! Get 'em, you old devil!"; Seabiscuit happily posing for photographers for several minutes on end; other horses refusing to work out with Seabiscuit because he teased and taunted them with his blistering speed.
Though sometimes her prose takes on a distinctly purple hue ("His history had the ethereal quality of hoofprints in windblown snow"; "The California sunlight had the pewter cast of a declining season"), Hillenbrand has crafted a delightful book. Wire to wire, Seabiscuit is a winner. Highly recommended. --Sunny Delaney
Excerpt
No Excerpt Currently Available
Discussion Questions
Questions from the Publisher's Reading Guide:
1. Seabiscuit grew so popular as a cultural icon that in 1938, he commanded
more space in American newspapers than any other public
figure. Considering the temper of the times as well as the horse's
early career on the racetrack, what were the sources of The Biscuit's
enormous popularity during that benchmark period of U.S. history?
Would he be as popular if he raced today? What did the public need
that it found in this horse?
2. The Great Match Race between Seabiscuit and War Admiral in 1938
evoked heated partisan passions. These passions spilled over on
radio and into the daily prints, with each colt leading a raucous
legion of followers to the barrier at Pimlico Race Course that autumn
day. What were the differences separating these two horses, and
what did each competitor represent in the American experience that
set one apart from the other?
3. All jockeys in the 1930s endured terrible hardships and hazards,
starving themselves to make weight, then competing in an exceptionally
dangerous sport. For George Woolf and Red Pollard, there
were additional factors that compounded the difficulties and dangers
of their jobs—diabetes for the former and half-blindness for the
latter. Why, in spite of this, did they go on with their careers? What
were the allures of race riding that led them to subject themselves to
such risk and torment?
4. What was the role of the press and radio in the Seabiscuit phenomenon?
How did Howard use the media to his advantage? How did
the media help Seabiscuit's career, and how was it a hindrance?
5. Seabiscuit possessed all the qualities for which the Thoroughbred
has been prized since the English imported the breed's three foundation
sires from the Middle East three hundred years ago. What
were those qualities? What made this horse a winner?
6. Horses of Seabiscuit's stature, from Man o' War in the 1920s to
Cigar in the 1990s, have always generated a powerful gravitational
field of their own, attracting crowds of people into their immediate
orbit, shaping relationships among them, and even affecting the
personalities of those nearest them. How did Seabiscuit shape and
influence the lives of those around him?
7. Red Pollard, Tom Smith, and Charles Howard formed an unlikely
partnership. In what ways were these men different? How did their
differences serve as an asset to them?
8. What critical attribute did Howard, Smith, and Pollard share? How
did this shared attribute serve as a key to their success?
9. In what ways was each man in the Seabiscuit partnership similar, in
his own way, to Seabiscuit himself? How did these similarities help
them cultivate the horse's talents and cure his ailments and neuroses?
10. What lessons can be drawn from the successes of the Seabiscuit
team? What does their story say about the role of character in life?
Suggested by Members
Laura Hillenbrand has good questions to go with her book.
by msahm
(see profile)
12/22/15
One thing we discussed was the good fortune that the characters found their true calling. How many of us can say we have been able to use our real talents?
by lvenning7
(see profile)
06/04/10
Book Club Recommendations
Recommended to book clubs by 10 of 11 members.
youtube
by msahm (see
profile
) 12/22/15
At the end we watched on youtube the actual race between Seabiscuit and Man O'War and it was very exciting. We also watched a clip from the recent movie and that race scene was good also!
Read it first, then....
by madriver (see
profile
) 02/11/10
Watch YouTube videos of some of the races and horses mentioned in the book, as well as the PBS documentary.
BECOME A MEMBER
it's free
Join the leading website for book clubs with over 35,000 clubs and 20,000 reading guides.
SEARCH OUR READING GUIDES
Search
JOIN OUR MAILING LIST
Get free weekly updates on top club picks, book giveaways, author events and more
Please wait...