BKMT READING GUIDES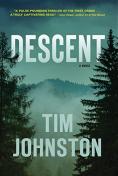 Descent: A Novel

by Tim Johnston
Published: 2015-01-06
Hardcover : 384 pages
4 members reading this now
27 clubs reading this now
1 member has read this book
Recommended to book clubs by 2 of 2 members
A Breakout NEW YORK TIMES Bestseller
A USA Today Bestseller
An Indie National Bestseller
"Outstanding . . . The days when you had to choose between a great story and a great piece of writing? Gone." —Esquire
"The story unfolds brilliantly, always surprisingly . . . The magic of his ...
No other editions available.

Jump to
Introduction
A Breakout NEW YORK TIMES Bestseller
A USA Today Bestseller
An Indie National Bestseller
"Outstanding . . . The days when you had to choose between a great story and a great piece of writing? Gone." —Esquire
"The story unfolds brilliantly, always surprisingly . . . The magic of his prose equals the horror of Johnston's story; each somehow enhances the other . . . Read this astonishing novel." —The Washington Post
"Tim Johnston's high-wire literary thriller . . . will leave you gasping." —Vanity Fair
"A riveting literary thriller of the can't-stop-turning-the-page, stay-up-all-night variety." —Alice LaPlante, author of A Circle of Wives
The Rocky Mountains have cast their spell over the Courtlands, who are taking a family vacation before their daughter leaves for college. But when Caitlin and her younger brother, Sean, go out for an early morning run and only Sean returns, the mountains become as terrifying as they are majestic. Written with a precision that captures every emotion, every moment of fear, as each member of the family searches for answers, Descent races like an avalanche toward its heart-pounding conclusion.
Excerpt
THE PHONE IN his hand was ringing. For how long? He read the screen with illogical dread.
"It's Sean," he said, and his wife said nothing.
THEY'D LEFT THE aspens and stepped into a high, intense sunlight, their shadows thrown back on the blacktop. The morning had burned away. The air was sere and smelled of weeping sap and of the brown, desiccated needles. They'd unfolded the map and tried to get their bearings. In a moment, and for the first time that day, they heard an engine, and then a gaining thump-beat of music, and above them at the curve there banked into view a truck, or a jeep, or something in between, some mountain breed they didn't know, and it was coming and Caitlin said, "Get over here," and Sean crabwalked himself and the bike into the scrub growth and wildflowers while the strange vehicle, all sunlight and bass, veered wide of them. In the window was a face, a man's jaw, yellow lenses fixing on them for a long moment before the jeep-thing passed on and, reaching the crest of the road, dropped away, body and engine and music and all. ...
view entire excerpt...
Discussion Questions
1. Descent has a very strong sense of place, in this case the Rocky Mountains of Colorado and the small towns that can be found on its slopes and in its valleys. How do you think this setting influences the mood of the novel? How does it affect each of the main characters, both directly and indirectly?
2. At the beginning of the novel, it is clear that Grant and Angela Courtland are trying to repair a rift in their marriage. Given what you learn about these two characters in the course of the narrative, do you think that had their daughter not disappeared they would have been able to work out their differences, or was the chasm between them already too deep to bridge?
3. Following Sean's accident, when his bike is hit by the jeep, do you think Caitlin makes a logical decision in agreeing to ride with the jeep's driver? Did you immediately sense that something was amiss, or did you think her trust in the driver was justified?
4. How does the death of her twin sister, Faith, affect how Angela responds to her daughter's disappearance on that first day, and how does it affect her in the months that follow? Was Angela already headed toward an emotional breakdown? Would it have happened even if Caitlin had not been abducted?
5. Following Caitlin's disappearance, the other three members of her family begin to drift away from each other, each going in his or her own direction. It is Sean, however, who seems to tie them all together. How do you view his relationship to his mother at the beginning of the story and then at the end? Do you think that his bond with his father will endure beyond the time covered in the story?
Suggested by Members
http://bookjourney.net/book-club-recommendations/descent-by-tim-johnston-discussion-questions/
http://wyso.org/post/book-nook-descent-tim-johnston
by ncvlib
(see profile)
06/02/15
Book Club Recommendations
Recommended to book clubs by 2 of 2 members.
Descent
by ncvlib (see
profile
) 06/02/15
We had a great time discussing this book. The characters, the setting, the end. Full of suspense and will written. If you love suspense you will love this book. Highly recommend it.
BECOME A MEMBER
it's free
Join the leading website for book clubs with over 35,000 clubs and 20,000 reading guides.
SEARCH OUR READING GUIDES
Search
JOIN OUR MAILING LIST
Get free weekly updates on top club picks, book giveaways, author events and more
Please wait...