BKMT READING GUIDES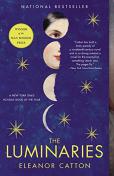 The Luminaries

by Eleanor Catton
Published: 2014-10-07
Paperback : 864 pages
5 members reading this now
17 clubs reading this now
2 members have read this book
Recommended to book clubs by 2 of 2 members
The bestselling, Man Booker Prize-winning novel hailed as "a true achievement. Catton has built a lively parody of a 19th-century novel, and in so doing created a novel for the 21st, something utterly new. The pages fly."--New York Times Book Review

It is 1866, and Walter Moody has come to ...
No other editions available.

Jump to
Introduction
The bestselling, Man Booker Prize-winning novel hailed as "a true achievement. Catton has built a lively parody of a 19th-century novel, and in so doing created a novel for the 21st, something utterly new. The pages fly."--New York Times Book Review

It is 1866, and Walter Moody has come to stake his claim in New Zealand's booming gold rush. On the stormy night of his arrival, he stumbles across a tense gathering of 12 local men who have met in secret to discuss a series of unexplained events: a wealthy man has vanished, a prostitute has tried to end her life, and an enormous cache of gold has been discovered in the home of a luckless drunk. Moody is soon drawn into a network of fates and fortunes that is as complex and exquisitely ornate as the night sky.

Richly evoking a mid-nineteenth-century world of shipping, banking, and gold rush boom and bust, THE LUMINARIES is at once a fiendishly clever ghost story, a gripping page-turner, and a thrilling novelistic achievement. It richly confirms that Eleanor Catton is one of the brightest stars in the international literary firmament.
Excerpt
MERCURY IN SAGITTARIUS
In which a stranger arrives in Hokitika; a secret council is disturbed; Walter Moody conceals his most recent memory; and Thomas Balfour begins to tell a story.
The twelve men congregated in the smoking room of the Crown Hotel gave the impression of a party accidentally met. From the variety of their comportment and dress – frock coats, tailcoats, Norfolk jackets with buttons of horn, yellow moleskin, cambric, and twill – they might have been twelve strangers on a railway car, each bound for a separate quarter of a city that possessed fog and tides enough to divide them; indeed, the studied isolation of each man as he pored over his paper, or leaned forward to tap his ashes into the grate, or placed the splay of his hand upon the baize to take his shot at billiards, conspired to form the very type of bodily silence that occurs, late in the evening, on a public railway – deadened here not by the slur and clunk of the coaches, but by the fat clatter of the rain. ...
view entire excerpt...
Discussion Questions
1. Do you believe in astrology? Do you attribute any part of your personality to your star sign? To what extent do you think the characters in The Luminaries are bound to their astrological signs?
2. In a similar vein, Eleanor Catton has given each of the twelve men the personality stereotypical to an astrological sign. Does this mean all their actions are pre-determined? And when taking into account the fact that this is a story filled with coincidences, unpredictability, and mistaken assumptions, what do you think Catton is saying about fate vs. coincidence? Does she give more clout to one concept than to the other?
3. Following the Zodiac as a guiding structure, The Luminaries is a stunning feat of construction. Some have argued that, in novels especially, high structural complexity can come at the expense of plot. In what ways does The Luminaries defy this theory?
4. Throughout the book, people are either hurting Anna or helping her. What is it about her that makes her a litmus test for other characters' morality?
5. This book is filled with stories within stories. The reader is often told multiple versions of events. For example, at the beginning of the book, do the twelve men at the secret meeting tell Walter Moody the whole truth? If not, what are their reasons for being less than truthful? Are there other times when you found yourself doubting the validity of a character's assertions?
6. Do you feel that the narrator was completely trustworthy? Like her Victorian predecessors, Catton doesn't hesitate to intersperse the narrative with moral judgments of her characters—frequently, her characters judge one another. Sometimes, the narrator "breaks the fourth wall" by addressing the audience directly. Do these techniques make the narrator more reliable than one who "feigns" neutrality? Is there ever such a thing as a narrator who is completely objective?
7. Some have interpreted The Luminaries as a philosophical meditation on time, pointing to the conflation of present and past throughout the story. Do you agree? What do you think The Luminaries is saying about time?
8. The Luminaries is set in a New Zealand that is rapidly changing as a result of the gold rush. Banking has become all-important, and the outside world is exerting its growing influence, resulting in the confluence of "the savage and civil, the old world and the new." Do any of the concerns of the people in this place and time still resonate today? Are there ways in which this story could be universal?
9. Eleanor Catton was born in Canada, lives in New Zealand, studied in the United States, and travels regularly. How do you think that her experiences as an international citizen have shaped her prose? Are there certain limitations or freedoms that Catton's nationality have on her legacy as a writer?
10. Some media outlets have asserted that The Luminaries is dominated by male characters and brings to life a male-dominated world with this story. Do you agree? If Catton were a man, do you think this issue would have surfaced? Should female writers have to take their own gender into account when writing?
Weblinks
There are no web links at this time.
BECOME A MEMBER
it's free
Join the leading website for book clubs with over 35,000 clubs and 20,000 reading guides.
SEARCH OUR READING GUIDES
Search
JOIN OUR MAILING LIST
Get free weekly updates on top club picks, book giveaways, author events and more
Please wait...