BKMT READING GUIDES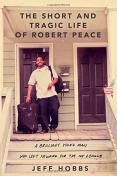 The Short and Tragic Life of Robert Peace: A Brilliant Young Man Who Left Newark for the Ivy League

by Jeff Hobbs
Published: 2014-09-23
Hardcover : 416 pages
1 member reading this now
37 clubs reading this now
6 members have read this book
Recommended to book clubs by 4 of 5 members
A heartfelt, and riveting biography of the short life of a talented young African-American man who escapes the slums of Newark for Yale University only to succumb to the dangers of the streets—and of one's own nature—when he returns home.

When author Jeff Hobbs arrived at Yale ...
No other editions available.

Jump to
Introduction
A heartfelt, and riveting biography of the short life of a talented young African-American man who escapes the slums of Newark for Yale University only to succumb to the dangers of the streets—and of one's own nature—when he returns home.

When author Jeff Hobbs arrived at Yale University, he became fast friends with the man who would be his college roommate for four years, Robert Peace. Robert's life was rough from the beginning in the crime-ridden streets of Newark in the 1980s, with his father in jail and his mother earning less than $15,000 a year. But Robert was a brilliant student, and it was supposed to get easier when he was accepted to Yale, where he studied molecular biochemistry and biophysics. But it didn't get easier. Robert carried with him the difficult dual nature of his existence, "fronting" in Yale, and at home.

Through an honest rendering of Robert's relationships—with his struggling mother, with his incarcerated father, with his teachers and friends and fellow drug dealers—The Short and Tragic Life of Robert Peace encompasses the most enduring conflicts in America: race, class, drugs, community, imprisonment, education, family, friendship, and love. It's about the collision of two fiercely insular worlds—the ivy-covered campus of Yale University and Newark, New Jersey, and the difficulty of going from one to the other and then back again. It's about poverty, the challenges of single motherhood, and the struggle to find male role models in a community where a man is more likely to go to prison than to college. It's about reaching one's greatest potential and taking responsibility for your family no matter the cost. It's about trying to live a decent life in America. But most all the story is about the tragic life of one singular brilliant young man. His end, a violent one, is heartbreaking and powerful and unforgettable.
Editorial Review
An Amazon Best Book of the Month, September 2014: To read The Short and Tragic Life of Robert Peace, a meticulous and heartfelt account of a brilliant black student from the poverty-stricken streets of Newark, is to see the best of the American dream lived and ultimately, tragically, lost. Peace's mother endured great sacrifices to ensure that her gifted son would meet his full potential. His father, until his arrest for murder when Rob was seven, dedicated himself to helping his son learn and mature. Rob was a popular, straight-A student who played on the water polo team (his mother scraped up enough money to send him to parochial school), and upon graduating he was rewarded with a scholarship to Yale. Although he continued to thrive academically in college, growing up in the second largest concentration of African-Americans living under the poverty line created barriers that even one as gifted as Robert Peace could not fully surmount. This is a riveting and heartbreaking read, as Rob Peace seems always to have been on the outside—the resented geek in the hood, and the inner city black man in the Ivy League. –Chris Schluep
Guest Review of The Short and Tragic Life of Robert Peace by Michelle Alexander
This is a book you will not forget. It will stay with you, haunt you. Strangely, it may even inspire you. You may not realize how good it is until days or weeks after you've finished it. The truth may dawn on you when you notice that you keep talking about the book with friends or family or the person sitting next to you on the bus. Perhaps you'll begin to think that the book was more than good – truly great – when you find yourself thinking about Robert Peace as you're drifting off to sleep and then find that he's still on your mind in the morning.
This book was born from grief, but it pulses with the life of an unforgettable young man. The story is deftly told by Robert Peace's white college roommate and good friend, Jeff Hobbs, someone who knew Robert well, but didn't. Written with great compassion yet unflinching honesty, the book invites you to contemplate the meaning of one man's life—a life that could've turned out so differently.
The question that will tease and torment you, but can never, ever be answered, will linger: Why? Why would an astonishingly brilliant young black man who worked so tirelessly as a teen, overcoming incredible odds to get out of the 'hood, out of crushing poverty, and off to Yale, and who excelled once he was there – academically as well as socially – why would he forfeit all of the opportunity that was now waiting for him, the shining path that lay ahead beckoning him? Why would Robert Peace toss it all away so that he could return to his 'hood, deal drugs, and try to make it on a path that was so obviously doomed? Why?
My husband read the book because I could not stop talking about it. We disagree completely on why Robert Peace chose to be drug dealer rather than a genius scientist who cures cancer or wins a Nobel Prize—possibilities that do not seem entirely fanciful given his ac-ademic prowess and his passion for science. My husband views Robert as a tragic Greek fig-ure, someone who was on the brink of greatness but whose personal flaws and weaknesses ulti-mately got the best of him. Some of the people who knew Robert best apparently have a similar view; they think that he couldn't shake his dream of being "the Man," making it big without the hard work and discipline that is required of a more traditional path.
None of those views sit right with me. Robert Peace was about as hard-working and disciplined as they come. And he showed no great interest in wealth or "bling." He sold mari-juana for pragmatic reasons—to make money to pay for school, support his mother, buy stuff he thought he needed, save for the future, and fund legitimate business ventures. I cannot pretend to know why Robert Peace chose the path he did, and it is entirely possible that he, himself, would not have been able to answer the "why" question even if he had been asked moments before he was killed. But I suspect the why had more to do with his virtues than his vices.
Yet Robert did not want to leave anyone behind. Above all things, he was loyal. He was loyal to his father who was serving time in prison for murder. He was loyal to his family, to his friends, to his neighborhood. He did not want to go on ahead. He wanted to make it with them, and be one of them. If he was going to make it big, he wanted it to make it with the people he loved.
But we, as a society, will not allow for that. Only a chosen few are allowed to escape from the 'hood, and when they have their chance to make a break for it, they're supposed to do it alone. They're supposed to run away from their old neighborhood, away from their old friends, and become someone new—someone who likes socializing with other Ivy Leaguers and chatting about vacation destinations, private schools, and career paths. But that wasn't Robert. Robert preferred to eat with the cafeteria workers rather than with his classmates at Yale. He felt he belonged to them. He didn't respect or admire the over-privileged, spoiled kids at Yale; he resented them. He did not want to become them. He was open-hearted and able to make friends with anyone – and he did make many friends at Yale – but who he really loved, who he really cared about, could be found in his old neighborhood. He knew who he was when he came home; everything else was foreign, everywhere else he was fronting.
If there was some path to great "success" that could've included his old friends and his old world – one that did not require him to abandon his core identity and all that mattered most – I believe Robert would be alive today. I cannot prove this. And I will confess that my views are influenced by the young people that I have mentored over the years, young folks that I've tried to persuade to leave the 'hood but wouldn't or couldn't. I remember once talking with other mentors about how frustrated we were that so many kids "kept returning to the block" or "kept running with the same crowd" when opportunity existed elsewhere. But now I see that the impulse to return and to leave no one behind – not childhood friends, not aunts or cousins or un-cles – may reflect more virtue than vice. It might be love. That is not to say that Robert did not have major flaws. We all do. But something more than character flaws killed him.
This is a beautifully simple book. It does not preach; it offers no answers. But it raises many questions I believe we should be asking ourselves, including why we afford only a tiny number of young people in certain communities defined by race and class an opportunity to live their dreams, and require, as the price for their ticket, leaving behind the very people and places and identities that have given their lives meaning.
Robert's friend Oswaldo lost his mind—literally—as he struggled to make the transi-tion from his segregated, ghettoized community to the halls of Yale. This story ends with Os-waldo surviving his institutionalization in a mental ward and going on to be a "success," while Robert is shot and killed in a house with his best friends, all of whom were scheming and dreaming of making it together somehow. Read this extraordinary book and decide for yourself who or what killed Robert Peace. I am fairly certain that more of us are to blame than Robert and the man who pulled the trigger.
Excerpt
No Excerpt Currently Available
Weblinks
There are no web links at this time.
BECOME A MEMBER
it's free
Now serving over 80,000 book clubs & ready to welcome yours. Join us and get the Top Book Club Picks of 2022 (so far).
SEARCH OUR READING GUIDES
Search
JOIN OUR MAILING LIST
Get free weekly updates on top club picks, book giveaways, author events and more
Please wait...