BKMT READING GUIDES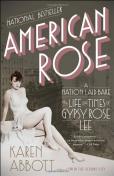 American Rose: A Nation Laid Bare: The Life and Times of Gypsy Rose Lee

by Karen Abbott
Published: 2012-03-13
Paperback : 448 pages
6 members reading this now
3 clubs reading this now
1 member has read this book
Recommended to book clubs by 1 of 1 members
NEW YORK TIMES BESTSELLER

America was flying high in the Roaring Twenties. Then, almost overnight, the Great Depression brought it crashing down. When the dust settled, people were primed for a star who could distract them from reality. Enter Gypsy Rose Lee, a strutting, bawdy, erudite ...
No other editions available.

Jump to
Introduction
NEW YORK TIMES BESTSELLER

America was flying high in the Roaring Twenties. Then, almost overnight, the Great Depression brought it crashing down. When the dust settled, people were primed for a star who could distract them from reality. Enter Gypsy Rose Lee, a strutting, bawdy, erudite stripper who possessed a gift for delivering exactly what America needed. With her superb narrative skills and eye for detail, Karen Abbott brings to life an era of ambition, glamour, struggle, and survival. Using exclusive interviews and never-before-published material, she vividly delves into Gypsy's world, including her intense triangle relationship with her sister, actress June Havoc, and their formidable mother, Rose, a petite but ferocious woman who literally killed to get her daughters on the stage. Weaving in the compelling saga of the Minskys—four scrappy brothers from New York City who would pave the way for Gypsy Rose Lee's brand of burlesque and transform the entertainment landscape—Karen Abbott creates a rich account of a legend whose sensational tale of tragedy and triumph embodies the American Dream.
Editorial Review
A Letter from Author Karen Abbott
My grandmother used to tell me stories about growing up during the Great Depression, and she once related a tale about a cousin who saw Gypsy Rose Lee perform in 1935. â??She took a full fifteen minutes to peel off a single glove,â?? the cousin said, â??and she was so damned good at it I wouldâ??ve gladly given her fifteen more.â?? This story got me thinking: who
was
Gypsy Rose Lee? And how did an awkward girl named Louise Hovick become her? I spent three years researching the answer, research that included connecting with Gypsyâ??s late sister, the actress June Havoc; I was the last person to interview her. When I arrived at Juneâ??s Connecticut farm I found her lying in bed, her hair done up in pert white pigtails. She was ninety-four years old, give or take, and the legs that once danced on stages across the country were now motionless, two nearly imperceptible bumps tucked beneath crisp white sheets. Her eyes were a bold shade of blue and painfully sensitive to light. She told me the musical
Gypsy
distorted her childhood so thoroughly it was as if â??I didnâ??t own me anymore.â?? She realized her sister was â??screwing me out in public,â?? and that, in the end, there was no stopping either
Gypsy
or Gypsy; the play was both her sisterâ??s monument and her best chance for monumental revisionism. It took another visit for June to share more personal memories: money was Gypsyâ??s â??god,â?? and she would do anything to anybody, including June, to make more of it. Gypsy did in fact do things, not only to June but also to herselfâ??â??terribleâ?? and â??awfulâ?? and â??shockingâ?? things, things beneath her sisterâ??s formidable intellect and keen wit, things that made June believe, to that day, that love (even love fraught with competition and jealousy) never existed between them at all. I asked and listened, for as much time as June gave me. I asked until her patience wore thin and her eyes watered with the effort to stay open. â??I hope I didnâ??t upset you today,â?? I whispered. â??Thatâ??s not my intention.â?? â??I know,â?? June said. Those startling eyes found their focus, settling on mine. â??Iâ??m sorry I couldnâ??t be more open about some thingsâ?¦ Iâ??m still ashamed for her. I wish they hadnâ??t happened.â?? â??Would Gypsy wish the same?â?? I asked. â??She had no shame.â?? A pause, and I said, feebly, â??You were a good sister to her.â?? A hand tunneled out from the sheet. She coiled long, blade-thin fingers around my wrist. â??I was no sister,â?? June said. â??I was a knot in her life. I was nothing.â?? She retracted her hand, gave her eyes permission to close. I kissed her cheek and crept out the bedroom door. I was grateful she let me insideâ??even on the periphery, even briefly¬â??and I suspected she was saving her own questions for the day she reunited with the sister she did profess to love, the one she still called Louise.
Excerpt
No Excerpt Currently Available
Discussion Questions
1. Karen Abbott has said in interviews that she structured American Rose like a striptease: revealing a bit, retreating, then revealing more, moving back and forth through time, until the entire narrative is revealed. Did you think this was the most effective and entertaining way to tell a sweeping story like Gypsy's? Did you find the book more challenging because of the structure?
2. Gypsy's mother, Rose Hovick, is widely considered the original "Stage Mother," desperate to achieve fame and fortune through her children, at any cost. Do you think her actions were at all justified? Did you sympathize with her at any point? What modern-day mothers might you compare to Rose?
3. The Minsky brothers considered burlesque to be a viable art form, as culturally important as other American inventions like baseball or jazz. Do you agree that there's a difference between burlesque and what goes on inside strip clubs? Where you do personally draw the line between art and pornography? The line between promoting female performers and exploiting them?
4. Gypsy's rise to fame coincided with the worst economic time in American history. Why did burlesque thrive during the Great Depression? Would you have gone as far as Gypsy did to survive? Do you know any stories about your own family's circumstances during the Great Depression?
5. What satisfaction can be derived from a nonfiction book like American Rose that can't be from a novel? In what ways does the book read like a novel?
6. One of the overarching themes in American Rose is the question of identity: Rose tampers with her daughters' names and ages; the Minsky patriarch changes his name to escape Russia; Gypsy sheds "Louise Hovick" when she becomes a star. How did these incidents affect each character and inform the way they lived their lives?
7. Abbott has called vaudeville "the reality TV of the 1920s." Would you agree with this assessment? Which act in described in the book would you most like to see? If you had been in vaudeville, what would've been your "talent"?
8. The Minsky brothers griped that the showgirls working for "legitimate" Broadway producers such as Florenz Ziegfeld showed just as much skin as Minskys' stripteasers, yet critics and law enforcement treated them differently: Ziegfeld shows were "art" while Minsky shows were "indecent." Why do you think there was such a disparity in the way they were viewed? Did you agree with Mayor Fiorello LaGuardia's decision to shut the Minskys down, or do you think the brothers were victims of censorship?
9. American Rose explores the idea of sibling rivalry. How did Rose's treatment of her daughters influence their interactions and relationship? Do you think the sisters were fair to one another? Who did you sympathize with more?
10. Abbott makes a clear distinction between the girl who was born Louise Hovick and the woman who became Gypsy Rose Lee. How did Gypsy the person view Gypsy Rose Lee, the creation? What did Gypsy like about her creation, and what did she struggle with? How did one affect the other? Do you think Gypsy was ultimately proud of what she'd become?
11. Gypsy's story begins at the turn of the 20th century and ends in 1970, unfolding simultaneously with several major events in American history. How did Gypsy affect the times, and how did they affect her? Abbott has called Gypsy "the secret love child of Dorothy Parker and Lady Gaga." What current personalities would you compare to Gypsy Rose Lee? Why has she captured American's imagination for so long?
12. Gypsy obviously had a very complicated relationship with her mother. Do you believe they loved each other? Do you believe either of them was capable of love at all? June called Rose "a beautiful little ornament that was damaged." Do you think Rose Hovick was merely eccentric, or was she mentally ill?
13. What was your personal opinion of Gypsy? Did you like her? Find her intimidating? Admire her? Did your feelings toward her shift along the way?
Suggested by Members
Gypsy's relationship with her Mother, sister and the men in her life.
by riggosmom
(see profile)
03/09/12
Book Club Recommendations
Recommended to book clubs by 1 of 1 members.
Our refreshments were cookies and cupcakes etc that started arounf the time period in the book.
by riggosmom (see
profile
) 03/09/12
BECOME A MEMBER
it's free
Now serving over 80,000 book clubs & ready to welcome yours. Join us and get the Top Book Club Picks of 2022 (so far).
SEARCH OUR READING GUIDES
Search
JOIN OUR MAILING LIST
Get free weekly updates on top club picks, book giveaways, author events and more
Please wait...