BKMT READING GUIDES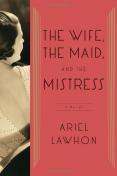 The Wife, the Maid, and the Mistress: A Novel

by Ariel Lawhon
Published: 2014-01-28
Hardcover : 320 pages
5 members reading this now
5 clubs reading this now
3 members have read this book
Recommended to book clubs by 4 of 4 members
"Inspired by a real-life unsolved mystery, this mesmerizing novel features characters that make a lasting impression."--PEOPLE MAGAZINE

"More meticulously choreographed than a chorus line. It all pays off."--THE NEW YORK TIMES BOOK REVIEW


They say behind every great man, there's a ...
No other editions available.

Jump to
Introduction
"Inspired by a real-life unsolved mystery, this mesmerizing novel features characters that make a lasting impression."--PEOPLE MAGAZINE

"More meticulously choreographed than a chorus line. It all pays off."--THE NEW YORK TIMES BOOK REVIEW


They say behind every great man, there's a woman. In this case, there are three. Stella Crater, the judge's wife, is the picture of propriety draped in long pearls and the latest Chanel. Ritzi, a leggy showgirl with Broadway aspirations, thinks moonlighting in the judge's bed is the quickest way off the chorus line. Maria Simon, the dutiful maid, has the judge to thank for her husband's recent promotion to detective in the NYPD. Meanwhile, Crater is equally indebted to Tammany Hall leaders and the city's most notorious gangster, Owney "The Killer" Madden.

On a sultry summer night, as rumors circulate about the judge's involvement in wide-scale political corruption, the Honorable Joseph Crater steps into a cab and disappears without a trace. Or does he?

After 39 years of necessary duplicity, Stella Crater is finally ready to reveal what she knows. Sliding into a plush leather banquette at Club Abbey, the site of many absinthe-soaked affairs and the judge's favorite watering hole back in the day, Stella orders two whiskeys on the rocks—one for her and one in honor of her missing husband. Stirring the ice cubes in the lowball glass, Stella begins to tell a tale—of greed, lust, and deceit. As the novel unfolds and the women slyly break out of their prescribed roles, it becomes clear that each knows more than she has initially let on.

With a layered intensity and prose as effervescent as the bubbly that flows every night, The Wife, the Maid, and the Mistress is a wickedly entertaining historical mystery that will transport readers to a bygone era with tipsy spins through subterranean jazz clubs and backstage dressing rooms. But beneath the Art Deco skyline and amid the intoxicating smell of smoke and whiskey, the question of why Judge Crater disappeared lingers seductively until a twist in the very last pages.
Editorial Review
Joshilyn Jackson
Ariel Lawhon
Joshilyn Jackson interviews Ariel Lawhon, author of The Wife, the Maid, and the Mistress: A Novel
Joshilyn: Your novel revisits an unsolved mystery of Old New York. How did you first find it? What about it made you want to use the truth as a vehicle to drive your own story?
Ariel: Iâ??d never heard of Joseph Crater until I read an article about him in The New York Post nine years ago. I didnâ??t know that his disappearance was the biggest missing personâ??s case of the twentieth century or that he was a household name for almost fifty years. It was fascinating. But in all of that, what intrigued me most was his wife Stella, and her strange yearly ritual. Starting on the first anniversary of her husbandâ??s disappearance, she would go to a bar in Greenwich Village and order two drinks. Sheâ??d raise one in salute, â??Good luck, Joe, wherever you are!â?? Then sheâ??d drink it and walk out of the bar, leaving the other untouched on the table. She did this every year for thirty-nine years. After reading that article Stella Crater took up permanent residence in my mind. Iâ??d close my eyes and sheâ??d be there, in that corner booth, a glass of whiskey in her hand, practically daring me to tell her story. So I did.
Joshilyn: You have blended actual historical events so seamlessly into your fiction that I canâ??t tell where truth ends and your imagination takes over. How did you create this world?
Ariel: The real Crater mystery is filled with all these fascinating but seemingly disconnected details: mysterious cash-filled envelopes, theater tickets, grand jury investigations, random injuries, missing wills, bribery allegations. I wanted to take all the peripheral details that are often nothing more than footnotes in the historical record and make them integral to the story. But this could only be done when put in contrast with the real people involved: crooked politicians, seedy gangsters, an uncooperative wife, ambitious dancing girls, theater moguls, police officers, nosey reporters. It was all there for the taking but there were gaps. Big questions no one could answer with any certainty, not the least of which is what actually happened to Judge Crater. So I took the details I could verify (hello research you are my drug) and then arranged the blank spaces to fit my own theories. In the end, it became a portrait of what could have happened.
Joshilyn: You have three narrators - which of them is least like you? And did that distance make it easier or harder to write her?
Ariel: Donâ??t be like me. Donâ??t write three different stories centered on the same missing man and then try to weave them together into a cohesive whole. You will feel like youâ??re sewing up a bag of cats. And you will, inevitably, find that one character is easier to write than the others (Ritzi). You will like her best even though you arenâ??t supposed to play favorites. This will do strange things to your moral compass, because you like the mistress best. One of the characters will be cold and elusive and you will have nothing in common with her (Stella). She will scare you a little bit and make you doubt your own ability at every turn. Her name will become an expletive. And then there will be one that surprises you (Maria). She will be both devout and sensual. You will make her do things that cause you unreasonable guilt given her imaginary status. You will lose sleep. In the end she will break your heart.
Joshilyn: Where do you do your writing?
Ariel: Anywhere. Everywhere. The first flat surface I can find that isnâ??t littered with Legos or used Band Aids. The better question would probably be when do you write (answer: whenever white space shows up on the calendar). Apparently there is this thing called biology. And it WORKS. So thanks to biology I have four children. All of them boys. All of them highly intelligent and off-the-charts active. We call them The Wild Rumpus. And we will not buy nice things until they grow up and leave home. So the when and where of writing is a daily tightrope walk for me. Itâ??s probably not the best way to write books but itâ??s the only way I know how and it seems to be working well so far.
Excerpt
Club Abbey, Greenwich Village, August 6, 1969
WE BEGIN IN A BAR. We will end here as well but that is more than you need to know at the moment. For now, a woman sits in a corner booth waiting to give her confession. But her party is late, and without an audience she looks small and alone, like an invalid in an over-sized church pew. It's not so easy for her, this truth telling, and she strains against it. A single strand of pearls—brittle and yellowed with age—rests against the flat plane of her chest. She rolls them between her fingers as though counting the beads on a rosary. Stella Crater has avoided this confession for thirty-nine years. The same number of years she has been coming to this bar. ...
view entire excerpt...
Discussion Questions
1. Many of the scandals depicted in The Wife, the Maid, and the Mistress could easily be on the cover of People magazine today. We often tend to romanticize bygone eras like the 1930s. Did this novel open your eyes to the fact that the more things change the more they stay the same?
2. What did you think when Maria returned to Judge Crater's room and took the envelope her husband had planted there? Gutsy move or foolish?
3. There is a very unusual bond that develops between Maria, Ritzi and Stella. How is their connection different from female friendships today? Are there similarities?
4. The three women actually exert a tremendous amount of influence over the men in their lives, but it's all done in a very surreptitious way. What does this say about the dynamic between men and women in the 1930s?
5. "Only fools underestimate the strength of Stella Crater." Were you surprised at Stella's evolution from seemingly "good wife" to ultimate power player?
6. There are some interesting counterpoints going on in the novel: Jude and Maria's happy marriage compared with Judge Crater and Stella's marriage of convenience; Maria's inability to have a child and Ritzi's unwanted child. How did these juxtapositions enhance your enjoyment of the novel?
7. Did you find the contents of Ritzi's letter to Stella surprising? What about Maria's role?
8. There are many real people and events woven into the storyline. Were you inspired to find out more about people like Judge Crater, Owney Madden, William Klein, and Ritzi? Who was the person who intrigued you the most?
9. Who would you cast as Stella, Maria, and Ritzi if the book were to be made into a movie?
10. Judge Crater's disappearance remains a mystery to this day. What do you think happened to him?
BECOME A MEMBER
it's free
Now serving over 80,000 book clubs & ready to welcome yours. Join us and get the Top Book Club Picks of 2022 (so far).
SEARCH OUR READING GUIDES
Search
JOIN OUR MAILING LIST
Get free weekly updates on top club picks, book giveaways, author events and more
Please wait...