BKMT READING GUIDES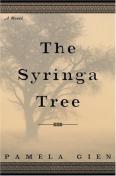 The Syringa Tree: A Novel

by Pamela Gien
Published: 2006-06-27
Hardcover : 262 pages
8 members reading this now
1 club reading this now
1 member has read this book
In this heartrending and inspiring novel set against the gorgeous, vast landscape of South Africa under apartheid, award-winning playwright Pamela Gien tells the story of two families–one black, one white–separated by racism, connected by love.

Even at the age of six, lively, ...
No other editions available.

Jump to
Introduction
In this heartrending and inspiring novel set against the gorgeous, vast landscape of South Africa under apartheid, award-winning playwright Pamela Gien tells the story of two families–one black, one white–separated by racism, connected by love.

Even at the age of six, lively, inquisitive Elizabeth Grace senses she's a child of privilege, "a lucky fish." Soothing her worries by raiding the sugar box, she scampers up into the sheltering arms of the lilac-blooming syringa tree growing behind the family's suburban Johannesburg home.

Lizzie's closest ally and greatest love is her Xhosa nanny, Salamina. Deeper and more elemental than any traditional friendship, their fierce devotion to each other is charged and complicated by Lizzie's mother, who suffers from creeping melancholy, by the stresses of her father's medical practice, which is segregated by law, and by the violence, injustice, and intoxicating beauty of their country.

In the social and racial upheavals of the 1960s, Lizzie's eyes open to the terror and inhumanity that paralyze all the nation's cultures–Xhosa, Zulu, Jew, English, Boer. Pass laws requiring blacks to carry permission papers for white areas and stringent curfews have briefly created an orderly state–but an anxious one. Yet Lizzie's home harbors its own set of rules, with hushed midnight gatherings, clandestine transactions, and the girl's special task of protecting Salamina's newborn child–a secret that, because of the new rules, must never be mentioned outside the walls of the house.

As the months pass, the contagious spirit of change sends those once underground into the streets to challenge the ruling authority. And when this unrest reaches a social and personal climax, the unthinkable will happen and forever change Lizzie's view of the world.

When The Syringa Tree opened off-Broadway in 2001, theater critics and audiences alike embraced the play, and it won many awards. Pamela Gien has superbly deepened the story in this new novel, giving a personal voice to the horrors and hopes of her homeland. Written with lyricism, passion, and life-affirming redemption, this compelling story shows the healing of the heart of a young woman and the soul of a sundered nation.

Praise:
A gripping first novel in the tradition of such great southern African writers as Nadine Gordimer and Doris Lessing. Spare beautiful prose builds to an unforgettable climax. 
--BOOKLIST, starred review
 
           
Pamela Gien's novel is impressively affecting. She is a wonder. The Syringa Tree as a play was uniquely moving, but Gien has taken it beyond its walls, and given us remarkable writing that stands freely as a deeply affecting and fresh telling of this classic story. -—Lillian Ross
 
The story of a young girl and her cherished caretaker is the
story of a heartbroken country. Pamela Gien brings South Africa to vivid life, illuminating how the bonds of love are stronger than the forces of history. I read the end of the book through tears.
-–Amanda Eyre Ward, author of How to Be Lost

This book plunges us inside the skin of humanity and is suffused with a rare understanding. The Syringa Tree reminds us that every life can be a drop–and a great deal more–in the sea of history.
-–Scott Simon, NPR, author of Pretty Birds and Home and Away

Evocative and impassioned. Gien captures perfectly the voice of the child Elizabeth and the grown woman she becomes. --Baltimore Sun, Summer List    

Highly recommended...Gien here illuminates the shameful history of a country, by highlighting the juxtaposition of race, anti-Semitism, and class privilege. -Library Journal                                                                                                                     
A spare, yet poetic account that steadily works its magic on the reader as both a portrait of individuals, and a country, in the tumultuous time of apartheid. --Seattle Post-Intelligencer

Gien...renders South Africa...as a virtual paradise, which
painfully contrasts with the blood spilled on its soil. She's an expressive, fluent writer whose best passages are lyrical yet intimate, bringing you right into the room. --Seattle Weekly

A gorgeous, hopeful, heartrending novel. . . . This uncommonly moving, deeply humane novel nearly dances in a reader's hands with the rhythms and the colors, the complicatedness and the inimitability of southern Africa."--O The Oprah Magazine
Excerpt
No Excerpt Currently Available
Discussion Questions
1. The novel is set in South Africa during the time leading up to apartheid. The story is told from the point of view of a six-year-old girl for most of the novel. How does this affect the way you perceive the situation in South Africa?
2. Lizzy thinks, even before Moliseng is born, that it is her dire responsibility to protect and save her loved ones. She literally thinks her mother is "kept alive by her exceedingly good behaviour." Why has she come to believe that her actions and thoughts will direct the fates of others?
3. Both Eugenie and Salamina are maternal with Lizzy. How are Lizzy's relationships with them similar, and how are they different?
4. Family is a major force in Pamela Gien's story. How does Lizzy understand and how does she feel about her mother, her father, and her grandfather? How does she understand/feel about Salamina and Moliseng? Does Lizzy perceive them to be equal members of the family? Is she aware of any differences?
5. Lizzy is raised by an atheist parent. How do you think this helps or hinders her in her chaotic environment? What of her credo: "Oh no nothing will happen God won't let anything happen"?
6. Compare Lizzy's two 'siblings.' Moliseng plays a large role at the beginning while John comes to fruition as a character much later in the story. Why do you think this is? Is it significant that she refers to Moliseng as "the speck" and to John by his real name?
7. Why do Lizzy's parents choose to risk so much by allowing "the speck" to stay at their house?
8. What is the role of Moliseng's character in the story? Think about her relationship to Lizzy, her social position, and her status in the world. What about Loeska? What is her role in the story? Do Moliseng and Loeska symbolize anything beyond their individual characters?
9. Why does Lizzy want to be friends with Loeska so desperately?
10. Why is the book named after a tree in the Grace family's back yard? Think about its description in the novel, physical and otherwise, and about trees as symbols in general. Think about what goes on in and around this tree, and the spirituality it evokes.
11. Dr. Milton Bird tells Dr. Isaac Grace that Eugenie's depression is "unrelated to circumstance." Do you agree?
12. Why does Lizzy bludgeon the chameleon in her backyard?
13. Why was Grandpa George murdered? Why did the murderer steal Grandpa George's medals?
14. Why do you think Salamina leaves? Why does she do it secretly, in the night, and not say goodbye?
15. Why does Lizzy finally return to Africa?
16. How does the book's tone change throughout the novel? What factors provoke the change?
17. The themes of displacement and disappearance surface over and over again in the novel, both on personal and cultural levels. Who really is lost and who is gone? Who is trying to forget and who is forgotten?
BECOME A MEMBER
it's free
Now serving over 80,000 book clubs & ready to welcome yours. Join us and get the Top Book Club Picks of 2022 (so far).
SEARCH OUR READING GUIDES
Search
JOIN OUR MAILING LIST
Get free weekly updates on top club picks, book giveaways, author events and more
Please wait...