BKMT READING GUIDES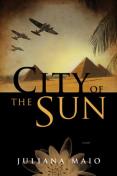 City of the Sun

by Juliana Maio
Published: 2014-03-11
Paperback : 384 pages
6 members reading this now
2 clubs reading this now
3 members have read this book
Recommended to book clubs by 7 of 8 members
Espionage, love, and power play upon the shifting sands of wartime Cairo
CAIRO, EGYPT 1941. As the Second World War rages, the city known as ''Paris on the Nile'' plays host to an international set who seem more interested in polo matches and swanky nightclubs than the Germans' ...
No other editions available.

Jump to
Introduction
Espionage, love, and power play upon the shifting sands of wartime Cairo
CAIRO, EGYPT 1941. As the Second World War rages, the city known as ''Paris on the Nile'' plays host to an international set who seem more interested in polo matches and swanky nightclubs than the Germans' unrelenting advance across North Africa. Meanwhile, as refugees, soldiers, and spies stream into the city, the Nazis conspire with the emerging Muslim Brotherhood to fuel the Egyptian people's seething resentment against their British overlords.
Ambitious American journalist Mickey Connolly has come to Cairo to report on the true state of the war. Facing expulsion by the British for not playing by their rules, he accepts a deal from the U.S. embassy that allows him to remain in the country. His covert mission: to infiltrate the city's thriving Jewish community and locate a refugee nuclear scientist who could be key to America's new weapons program. But Mickey is not the only one looking for the elusive scientist. A Nazi spy is also desperate to find him--and the race is on. Into this mix an enigmatic young woman appears, a refugee herself. Her fate becomes intertwined with Mickey's, giving rise to a story of passion, entangled commitments, and half-truths.
Deftly blending the romantic noir of the classic film Casablanca with a riveting, suspenseful narrative and vivid historical detail, City of the Sun offers a stunning portrayal of a time and place that was not only pivotal for the war, but also sowed much of the turbulence in today's Middle East.
Excerpt
CHAPTER 1
Libyan Desert September 1941
"He says it's true. Hitler is a Muslim, a good one. He goes to the mosque and prays five times a day," Mickey's Egyptian interpreter assured him, as he hurriedly translated the comments of the ragtag group of Bedouins who'd gathered around their Jeep. The men were tripping over each other's sentences in their eagerness to share their stories about the war with an American reporter. ...
view entire excerpt...
Discussion Questions
1. Of Maya Blumenthal, Juliana Maio writes: "She loved the sun and had always felt a powerful kinship with it, reveling in its warm glow and healing rays. She would drink it in, believing God was caressing her and filling her body with light. Perhaps this was so, for people often said she gave off sunlight when she smiled—at least that's what they used to say." Discuss the sun as a theme of the novel.
2. Does the mutually growing attraction between Maya and Mickey Connolly help or harm Mickey's mission to bring Erik Blumenthal over to the American side?
3. Based on the description of the Egyptian Jewish community in City of the Sun, as well as the political situation in the region, is Cairo a place you would want to live if you were a European Jewish refugee in 1941?
4. What is the likely future of the relationship between Mickey and Maya?
5. To what extent are Heinrich Kesner's actions motivated by anti-Semitism, and to what extent are they motivated by the simple desire for career advancement?
6. Does King Farouk, as portrayed in City of the Sun, have any redeeming qualities as a statesman?
7. Anwar Sadat, who plays a pivotal role in City of the Sun, later became president of Egypt and signed an historic peace agreement with Israel (for which he was assassinated). Do his actions in the novel foreshadow his eventual willingness to compromise with Israel?
8. Do Ambassador Kirk and the other American authorities seem to have genuine concern for the well-being of Erik Blumenthal, or do they just see him as someone who can help them achieve their own goals?
Book Club Recommendations
Recommended to book clubs by 7 of 8 members.
Book Club with the Husbands
by Nanasan (see
profile
) 06/17/14
We had our husbands read this and invited them to the meeting. It was a good book to share with them.
BECOME A MEMBER
it's free
Join the leading website for book clubs with over 35,000 clubs and 20,000 reading guides.
SEARCH OUR READING GUIDES
Search
JOIN OUR MAILING LIST
Get free weekly updates on top club picks, book giveaways, author events and more
Please wait...