BKMT READING GUIDES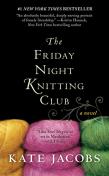 The Friday Night Knitting Club

by Kate Jacobs
Published: 2012-12-04
Mass Market Paperback : 400 pages
23 members reading this now
42 clubs reading this now
37 members have read this book
Recommended to book clubs by 10 of 14 members
THE #1 NEW YORK TIMES BESTSELLER

Once a week, an eclectic group of women comes together at a New York City yarn shop to work on their latest projects—and share the stories of their lives...

At the center of Walker and Daughter is the shop's owner, Georgia, who is overwhelmed with ...
No other editions available.

Jump to
Introduction
THE #1 NEW YORK TIMES BESTSELLER

Once a week, an eclectic group of women comes together at a New York City yarn shop to work on their latest projects—and share the stories of their lives...

At the center of Walker and Daughter is the shop's owner, Georgia, who is overwhelmed with juggling the store and single-handedly raising her teenage daughter. Happy to escape the demands of her life, she looks forward to her Friday Night Knitting Club, where she and her friends—Anita, Peri, Darwin, Lucie, and KC—exchange knitting tips, jokes, and their deepest secrets. But when the man who once broke Georgia's heart suddenly shows up, demanding a role in their daughter's life, her world is shattered.

Luckily, Georgia's friends are there for encouragement, sharing their own tales of intimacy, heartbreak, and miracle-making. And when the unthinkable happens, these women will discover that what they've created isn't just a knitting club: it's a sisterhood.
Excerpt
No Excerpt Currently Available
Discussion Questions
1. Why does Georgia reject her parents' offer to house her and Dakota?
2. The role of friendships among women is a central theme of The Friday Night Knitting Club. Some friendships develop easily, like K.C. and Georgia's, while others begin on unsure footing, like Darwin and Lucie's. Cat's insecurities create conflicted feelings about drawing Georgia closer. Discuss the emotional baggage and issues of class that challenge trust between various women in the knitting club.
3. Georgia has a history of being burned by the people closest to her. Cat's decision to attend Dartmouth meant breaking a pact of friendship, and James abandoned her for another woman. Leading up to forgiveness, do you think there are moments when her defenses against intimacy and protectiveness of Dakota are excessive?
4. What does Anita see in Georgia that gives her the confidence to invest? Why does Georgia trust Anita, given her past relationships that went awry?
5. Lucie's decision to become pregnant without telling the man she conceives with is a choice that flies in the face of social convention and her mother's expectations, to say nothing of her Catholic upbringing. What factors led to her choice? How does the whole of Georgia's experience as a single mother support or undermine her decision?
6. Entrepreneurs, single moms, and a seventy-something undergoing a sexual reawakening—the women of the knitting club are hardly traditional, although a highly traditional woman's craft is what brings them together each Friday. Eventually Darwin decides to write her thesis about the positive impact of knitting in the lives of modern women rather than criticizing it as a "throwback" that prevents women from focusing their energy on professional success. In your opinion, which is the more feminist interpretation?
7. Georgia gets defensive when James asserts that he has things to teach Dakota about race that Georgia could never teach her. Is her indignation totally justified in light of James's delinquency as a father, or is there some truth to his claim?
8. How does Dakota's major act of rebellion (her attempt to go to Baltimore) alter Georgia and James's playing field? Do you agree with Georgia's decision on an initial trip to Scotland over a trip to Baltimore?
9. Before Georgia gives James a second chance, she claims to harbor "hatred lite" toward him, reasoning that she'd always heard the opposite of love is hate. When Cat's lawyer informs her that Adam wants to settle and be done with her, she's unexpectedly hurt because he's letting her walk away without a fight. Given Cat's reaction, how does indifference factor into the love/hate equation?
10. When Cat responds to Georgia's sincere questions about her college experience at Dartmouth by saying, "It wasn't like you think," what does she mean?
11. Things get interesting in Scotland when Georgia's Gran offers her loving but firm analysis of the women's lives. She points out that Cat is capable of handling stress but hasn't tried, and that Georgia's spent too much time ruminating on the past. Her advice: mistakes are made; the important thing is to decide how to react to what people offer, because you can't make them change. How do the women accept this advice in each of their lives?
12. If Georgia had opened the letters she received from James in a timely fashion, how might things have been different?
13. While James and Dakota are in Baltimore visiting his parents, Georgia decides to tell the club that she has cancer. Why does she share her news with the knitting club before she tells her immediate family?
14. When Georgia gets diagnosed, she worries that a show of weakness will be unacceptable to Dakota, James, and others who know and love her as a pillar of strength. How do her loved ones prove her wrong?
15. In your opinion what is the main lesson of The Friday Night Knitting Club?
Suggested by Members
Do you feel that the the same story could have been written with out the offensive language?
Discuss the need for gender friendship.
If the book were to be made into a movie who do you feel should play Georgia, James, Anita, K.C., Cat, Marty, and Dakota?
by cherylwilliams5
(see profile)
06/26/16
More personal information on the author, Kate Jacobs.
by sisters4
(see profile)
01/07/16
Book Club Recommendations
Recommended to book clubs by 10 of 14 members.
The Friday Night Knitting Club
by cherylwilliams5 (see
profile
) 06/26/16
muffins, tea, decorate with yarn and yarn items.
New ideas for meetings
by actmccarthy (see
profile
) 03/07/13
We are going to start going out to lunch in a group after our monthly meetings and also visiting some of the places we read about, i.e. Cape Cod, Salem, MA, NYC
BECOME A MEMBER
it's free
Now serving over 80,000 book clubs & ready to welcome yours. Join us and get the Top Book Club Picks of 2022 (so far).
SEARCH OUR READING GUIDES
Search
JOIN OUR MAILING LIST
Get free weekly updates on top club picks, book giveaways, author events and more
Please wait...