BKMT READING GUIDES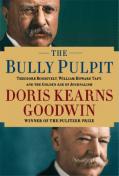 The Bully Pulpit: Theodore Roosevelt, William Howard Taft, and the Golden Age of Journalism

by Doris Kearns Goodwin
Published: 2013-11-05
Hardcover : 928 pages
2 members reading this now
1 club reading this now
3 members have read this book
One of the Best Books of the Year as chosen by The New York Times, The Washington Post, The Economist, Time, USA TODAY, Christian Science Monitor, and more. "A tale so gripping that one questions the need for fiction when real life is so plump with drama and intrigue" (Associated ...
No other editions available.

Jump to
Introduction
One of the Best Books of the Year as chosen by The New York Times, The Washington Post, The Economist, Time, USA TODAY, Christian Science Monitor, and more. "A tale so gripping that one questions the need for fiction when real life is so plump with drama and intrigue" (Associated Press).

The gap between rich and poor has never been wider…legislative stalemate paralyzes the country…corporations resist federal regulations…spectacular mergers produce giant companies…the influence of money in politics deepens…bombs explode in crowded streets…small wars proliferate far from our shores…a dizzying array of inventions speeds the pace of daily life.

These unnervingly familiar headlines serve as the backdrop for Doris Kearns Goodwin's highly anticipated The Bully Pulpit—a dynamic history of the first decade of the Progressive era, that tumultuous time when the nation was coming unseamed and reform was in the air.

The story is told through the intense friendship of Theodore Roosevelt and William Howard Taft—a close relationship that strengthens both men before it ruptures in 1912, when they engage in a brutal fight for the presidential nomination that divides their wives, their children, and their closest friends, while crippling the progressive wing of the Republican Party, causing Democrat Woodrow Wilson to be elected, and changing the country's history.

The Bully Pulpit is also the story of the muckraking press, which arouses the spirit of reform that helps Roosevelt push the government to shed its laissez-faire attitude toward robber barons, corrupt politicians, and corporate exploiters of our natural resources. The muckrakers are portrayed through the greatest group of journalists ever assembled at one magazine—Ida Tarbell, Ray Stannard Baker, Lincoln Steffens, and William Allen White—teamed under the mercurial genius of publisher S. S. McClure.

Goodwin's narrative is founded upon a wealth of primary materials. The correspondence of more than four hundred letters between Roosevelt and Taft begins in their early thirties and ends only months before Roosevelt's death. Edith Roosevelt and Nellie Taft kept diaries. The muckrakers wrote hundreds of letters to one another, kept journals, and wrote their memoirs. The letters of Captain Archie Butt, who served as a personal aide to both Roosevelt and Taft, provide an intimate view of both men.

The Bully Pulpit, like Goodwin's brilliant chronicles of the Civil War and World War II, exquisitely demonstrates her distinctive ability to combine scholarly rigor with accessibility. It is a major work of history—an examination of leadership in a rare moment of activism and reform that brought the country closer to its founding ideals.
Editorial Review
An Amazon Best Book of the Month, November 2013:
In an era when cooperation between the national media and the US government seems laughable, Pulitzer Prize-winning historian Doris Kearns Goodwinâ??s timely 100-year look backward explores the origins of the type of muckraking journalism that helped make America a better country. Focusing on the presidencies of Theodore Roosevelt and his successor, William Howard Taft
--
one-time colleagues and friends who later became sworn foes--Goodwin chronicles the birth of an activist press, which occurred when five of the nationâ??s best-ever journalists converged at McClureâ??s magazine and helped usher in the Progressive era. At times slow and overly meticulous, with a lot of backstory and historical minutiae, this is nonetheless a lush, lively, and surprisingly urgent story--a series of entwined stories, actually, with headstrong and irascible characters who had me pining for journalismâ??s earlier days. Itâ??s a big book that cries out for a weekend in a cabin, a book to get fully lost in, to hole up with and ignore the modern world, to experience the days when newsmen and women were our heroes. --
Neal Thompson
Excerpt
The Bully Pulpit CHAPTER ONE The Hunter ReturnsTheodore Roosevelt receives a hero's welcome in New York on June 18, 1910, following his expedition to Africa.
ROOSEVELT IS COMING HOME, HOORAY! Exultant headlines in mid-June 1910 trumpeted the daily progress of the Kaiserin, the luxury liner returning the former president, Theodore Roosevelt, to American shores after his year's safari in Africa. ...
view entire excerpt...
Discussion Questions
The Christian Science Monitor: "Goodwin spent eight years working on 'The Bully Pulpit' and the effort shows, much to the reader's benefit and delight. She keeps the story clipping along, chooses enlightening anecdotes…and has the narrative and historical acumen to weave her theme through 900 pages. At 70, let's hope she has at least a couple more biographies in mind…For now, savor 'The Bully Pulpit.' It is a command performance of popular history. Now it's up to Spielberg, whose DreamWorks has already optioned 'The Bully Pulpit'… to see whether he can match Goodwin's fine history with a movie of the same quality. In this instance, no one wants to be a trust-buster."
BECOME A MEMBER
it's free
Now serving over 80,000 book clubs & ready to welcome yours. Join us and get the Top Book Club Picks of 2022 (so far).
SEARCH OUR READING GUIDES
Search
JOIN OUR MAILING LIST
Get free weekly updates on top club picks, book giveaways, author events and more
Please wait...