BKMT READING GUIDES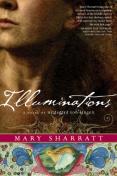 Illuminations: A Novel of Hildegard von Bingen

by Mary Sharratt
Published: 2013-10-15
Paperback : 288 pages
6 members reading this now
2 clubs reading this now
6 members have read this book
Recommended to book clubs by 3 of 4 members
Title: Illuminations( A Novel of Hildegard Von Bingen) Binding: Paperback Author: MarySharratt Publisher: ...
No other editions available.

Jump to
Introduction
Title: Illuminations( A Novel of Hildegard Von Bingen) <>Binding: Paperback <>Author: MarySharratt <>Publisher: MarinerBooks
Excerpt
She is so bright and glorious that you cannot look at her face or her garments for the splendor with which she shines. For she is terrible with the terror of the avenging lightning, and gentle with the goodness of the bright sun; and both her terror and her gentleness are incomprehensible to humans. . . . But she is with everyone and in everyone, and so beautiful is her secret that no person can know the sweetness with which she sustains people, and spares them in inscrutable mercy. ...
view entire excerpt...
Discussion Questions
1. In our contemporary culture, we can little fathom walling a child into a small space as a spiritual offering--a living sacrifice. How did this kind of isolation and austerity effect Hildegard's character and later life? How much of her "genius" might have had its genesis in learning to preserve her sanity in such inauspicious surroundings?
2. Hildegard's magistra and spiritual mother, Jutta von Sponheim, embraced a spiritual path that involved extreme asceticism in the form of fasting and self-flagellation. How was Hildegard able to forge such a different spiritual path for herself, one that embraced the sacred in the natural world and a vision of overpowering divine love?
3. From earliest childhood, Hildegard experienced radiant visions. If she were a modern child, how do you think people would view her? What kind of "diagnosis" would experts pin on her? Do you think her visions were triggered by a neurological disorder?
4. Hildegard was deeply shaped by the relationships in her life: with Jutta, Volmar, and later Richardis. What ultimate "gift" did each of these relationships give her.
5. After reading of Hildegard's many struggles, torments, and triumphs, what would you conclude is her greatest lesson for us today? 1. Hildegard's mother Mechthild offers eight-year-old Hildegard as a tithe to the Church and allows her to be entombed for life with the fourteen-year-old anchorite, Jutta von Sponheim. What do you think Mechthild's motives were? Do you think it was an easy decision for her? In our secular age, do some parents still make such drastic and irreversible choices for their young children?
2. Eight year old Hildegard is bricked into an anchorage to serve Jutta, who starves and beats herself in the pursuit of holiness. What enables Hildegard to survive in such an environment without being dragged down into Jutta's madness? What makes Hildegard so resillient that she is eventually able to break free of her prison with her mind and spirit still intact?
3. Hildegard experiences luminous visions of the feminine divine. Why do you think the divine appears to her in feminine form? How do the experiences of women mystics such as Hildegard and Julian of Norwich, who called God Mother, differ from that of their male counterparts?
Book Club Recommendations
Recommended to book clubs by 3 of 4 members.
Food
by pattiwan (see
profile
) 05/08/14
We went to a German restaurant to discuss this book.l
BECOME A MEMBER
it's free
Join the leading website for book clubs with over 35,000 clubs and 20,000 reading guides.
SEARCH OUR READING GUIDES
Search
JOIN OUR MAILING LIST
Get free weekly updates on top club picks, book giveaways, author events and more
Please wait...