BKMT READING GUIDES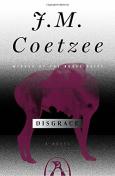 Disgrace

by J. M. Coetzee
Published: 2000-11-01
Paperback : 220 pages
2 members reading this now
14 clubs reading this now
8 members have read this book
Recommended to book clubs by 1 of 1 members
From the Winner of the Nobel Prize in Literature. J.M. Coetzee's latest novel, The Schooldays of Jesus, is now available from Viking. Late Essays: 2006-2016 will be available January 2018. 

"Compulsively readable... A novel that not only works its spell but makes it impossible for us ...
No other editions available.

Jump to
Introduction
Set in post-apartheid Cape Town, Professor David Laurie attempts to relate to his daughter, Lucy, and to a society with new racial complexities. But that is disrupted by an afternoon of violence that changes him and his daughter in ways he could never have foreseen. Coetzee is the only writer awarded the Booker Prize twice, and this work is a finalist for the National Book Critic Circle Awards.
Editorial Review
David Lurie is hardly the hero of his own life, or anyone else's. At 52, the protagonist of
Disgrace
is at the end of his professional and romantic game, and seems to be deliberately courting disaster. Long a professor of modern languages at Cape Town University College, he has recently been relegated to adjunct professor of communications at the same institution, now pointedly renamed Cape Technical University:
Although he devotes hours of each day to his new discipline, he finds its first premise, as enunciated in the Communications 101 handbook, preposterous: "Human society has created language in order that we may communicate our thoughts, feelings and intentions to each other." His own opinion, which he does not air, is that the origins of speech lie in song, and the origins of song in the need to fill out with sound the overlarge and rather empty human soul.
Twice married and twice divorced, his magnetic looks on the wane, David rather cruelly seduces one of his students, and his conduct unbecoming is soon uncovered. In his eighth novel, J.M. Coetzee might have been content to write a searching academic satire. But in
Disgrace
he is intent on much more, and his art is as uncompromising as his main character, though infinitely more complex. Refusing to play the public-repentance game, David gets himself fired--a final gesture of contempt. Now, he thinks, he will write something on Byron's last years. Not empty, unread criticism, "prose measured by the yard," but a libretto. To do so, he heads for the Eastern Cape and his daughter's farm. In her mid-20s, Lucy has turned her back on city sophistications: with five hectares, she makes her living by growing flowers and produce and boarding dogs. "Nothing," David thinks, "could be more simple." But nothing, in fact, is more complicated--or, in the new South Africa, more dangerous. Far from being the refuge he has sought, little is safe in Salem. Just as David has settled into his temporary role as farmworker and unenthusiastic animal-shelter volunteer, he and Lucy are attacked by three black men. Unable to protect his daughter, David's disgrace is complete. Hers, however, is far worse.
There is much more to be explored in Coetzee's painful novel, and few consolations. It would be easy to pick up on his title and view Disgrace as a complicated working-out of personal and political shame and responsibility. But the author is concerned with his country's history, brutalities, and betrayals. Coetzee is also intent on what measure of soul and rights we allow animals. After the attack, David takes his role at the shelter more seriously, at last achieving an unlikely home and some measure of love. In Coetzee's recent Princeton lectures, The Lives of Animals, an aging novelist tells her audience that the question that occupies all lab and zoo creatures is, "Where is home, and how do I get there?" David, though still all-powerful compared to those he helps dispose of, is equally trapped, equally lost.
Disgrace is almost willfully plain. Yet it possesses its own lean, heartbreaking lyricism, most of all in its descriptions of unwanted animals. At the start of the novel, David tells his student that poetry either speaks instantly to the reader--"a flash of revelation and a flash of response"--or not at all. Coetzee's book speaks differently, its layers and sadnesses endlessly unfolding. --Kerry Fried
Excerpt
No Excerpt Currently Available
Discussion Questions
Questions from the Publisher's Reading Guide:
1. The novel begins by telling us that "For a man his age, fifty-two, divorced, he has, to his mind, solved the problem of sex rather well." What can you infer about David Lurie's character from this sentence? In what ways is it significant, particularly in relation to the events that follow, that he views sex as a "problem" and that his "solution" depends upon a prostitute?
2. Lurie describes sexual intercourse with the prostitute Soraya as being like the copulation of snakes, "lengthy, absorbed, but rather abstract, rather dry, even at its hottest." When he decides to seduce his student, Melanie, they are passing through the college gardens. After their affair has been discovered Melanie's father says that he never thought he was sending his daughter into "a nest of vipers." Lurie has also written a book about Faust and Mephistopheles and explicates for his class a poem by Byron about the fallen angel, Lucifer, whom Lurie describes as being "condemned to solitude." What do you think Coetzee is trying to suggest through this confluence of details? How clearly does Lurie himself understand his behavior? How does his reading of the Byron poem prefigure his own fate?
3. When Lurie shows up unexpectedly at Melanie's flat, "she is too surprised to resist the intruder who thrusts himself upon her." Later, he tells himself that it was "not rape, not quite that, but undesired nevertheless, undesired to the core." How do you view what happens in this scene? Is it rape?
4. How would you characterize Lurie's attitude before the academic committee investigating the charges of harassment brought against him? Is the committee justified in asking for more than an admission of guilt? Why does Lurie refuse to assent to the fairly simple demands that would save his job? What consequences, practical and spiritual, follow from this refusal?
5. Lurie claims that in his relationship with Melanie, he was "a servant of Eros" and that his case rests on the rights of desire. On the God who makes even the small birds quiver." Is this an acceptable explanation of his actions? Do you think it is sincere?
6. What parallels do you see between the attack on Lurie and his daughter Lucy and Lurie's own treatment of Melanie and Melanie's father? To what extent do you think Coetzee wants us to see Lucy's rape as a punishment for Lurie's undesired sexual encounter with Melanie? Is this an instance of the sins of the father being visited upon the child?
7. In the course of the attack, Lurie is burned and blinded, temporarily, in one eye. What symbolic value might attach to these events? In what other ways has Lurie been blind? What significance does fire have for him?
8. Why does Lucy refuse to report her rape? How is her decision related to the changed relations between blacks and whites in post-apartheid South Africa? Why does she accept Petrus' protection even after he has been implicated in the attack?
9. How do you feel about Lucy's neighbor Petrus? To what extent do you think he was involved in the attack? What are his motives? What are the motives of the attackers? In what ways does Petrus embody the transition South Africa is making between apartheid and democracy? In what sense will Lucy's child also represent that transition?
10. During a heated argument about whether animals have souls and how they should be treated, Lurie tells his daughter: "As for the animals, by all means let us be kind to them. But let us not lose perspective. We are of a different order of creation from the animals. Not higher necessarily, just different. So if we are going to be kind, let it be out of simple generosity, not because we feel guilty or fear retribution." In what ways does this speech echo the logic of racial oppression and apartheid?
11. Throughout Disgrace, Lurie contemplates writing an opera based on Byron's last years in Italy. Why is he so drawn to Byron? How does Byron's situation in Italy resemble Lurie's own? What ironies do you see in the fact that Lurie composes the music for his opera on a banjo and that he considers including a part for a dog?
12. From virtually the first page to the last, David Lurie suffers one devastating humiliation after another. He loses his job and his reputation. He is forced to flee Cape Town to live with his daughter on her smallholding in the country. There he is beaten and burned and trapped helplessly in the bathroom while his daughter is raped. Finally, he ends up ferrying dead dogs to the incinerator. Is there a meaning or purpose in his suffering? Is he in some way better off at the end of the novel than he was at the beginning? How has he changed?
13. Disgrace is narrated in the present tense, largely through David Lurie's consciousness, though not in the first person. What effect does this method of narration have on how the story unfolds? How would the novel differ if told in the past tense? At what points do you sense a divergence between Lurie's view of himself and the narrator's view of him?
14. In what ways can the events dramatized in Disgrace be seen as a result of South Africa's long history of racial oppression? What does the novel imply about the larger themes of retribution and forgiveness and reversals of fortune? About the relation between the powerful and the powerless?
BECOME A MEMBER
it's free
Join the leading website for book clubs with over 35,000 clubs and 20,000 reading guides.
SEARCH OUR READING GUIDES
Search
JOIN OUR MAILING LIST
Get free weekly updates on top club picks, book giveaways, author events and more
Please wait...