BKMT READING GUIDES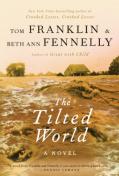 The Tilted World: A Novel

by Tom Franklin, Beth Ann Fennelly
Published: 2013-10-01
Hardcover : 320 pages
0 members reading this now
12 clubs reading this now
2 members have read this book
Recommended to book clubs by 2 of 2 members
Set against the backdrop of the historic flooding of the Mississippi River, The Tilted World is an extraordinary tale of murder and moonshine, sandbagging and saboteurs, and a man and a woman who find unexpected love, from Tom Franklin, the acclaimed author of the New York Times ...
No other editions available.

Jump to
Introduction
Set against the backdrop of the historic flooding of the Mississippi River, The Tilted World is an extraordinary tale of murder and moonshine, sandbagging and saboteurs, and a man and a woman who find unexpected love, from Tom Franklin, the acclaimed author of the New York Times bestseller Crooked Letter, Crooked Letter, and award-winning poet Beth Ann Fennelly
The year is 1927. As rains swell the Mississippi, the mighty river threatens to burst its banks and engulf everything in its path, including federal revenue agent Ted Ingersoll and his partner, Ham Johnson. Arriving in the tiny hamlet of Hobnob, Mississippi, to investigate the disappearance of two fellow agents who'd been on the trail of a local bootlegger, they are astonished to find a baby boy abandoned in the middle of a crime scene.
Ingersoll, an orphan raised by nuns, is determined to find the infant a home, and his search leads him to Dixie Clay Holliver. A strong woman married too young to a philandering charmer, Dixie Clay has lost a child to illness and is powerless to resist this second chance at motherhood. From the moment they meet, Ingersoll and Dixie Clay are drawn to each other. He has no idea that she's the best bootlegger in the county and may be connected to the agents' disappearance. And while he seems kind and gentle, Dixie Clay knows full well that he is an enemy who can never be trusted.
When Ingersoll learns that a saboteur might be among them, planning a catastrophe along the river that would wreak havoc in Hobnob, he knows that he and Dixie Clay will face challenges and choices that they will be fortunate to survive. Written with extraordinary insight and tenderness, The Tilted World is that rarest of creations, a story of seemingly ordinary people who find hope and deliverance where they least expect it—in each other.
Editorial Review
Author One-on-One: Joshilyn Jackson and Beth Ann Fennelly and Tom Franklin
Joshilyn Jackson is the best-selling author of six novels, including Gods in Alabama and A Grown-Up Kind of Pretty. She lives in Decatur, Georgia, with her husband and their two children.
Joshilyn Jackson: Dixie Clayâ??s relationship with the orphan who falls into her care captures the visceral experience of Baby Love. My own kids are 11 and 16 now, but reading those passages, I had an almost physical response, a wave of something stronger than nostalgia. Can you talk about how you created this relationship?
Beth Ann Fennelly: Short version: I got knocked up. Tommy and I enjoyed a romantic trip to Provence, and I came home with food poisoning. After three weeks of not shaking the bug, it dawned on usâ??my â??food poisoningâ?? was a fetus. Sweet baby Nolan re-immersed us into the joys of the hands-on, every minute parenting of an infant (by then our â??bigsâ?? were turning ten and six). The physical rituals of feeding and bathing and diapering him synced me with Dixie Clayâ??s bodily rhythms. Mothers, I think, are hungry to see motherhood portrayed accurately in books. I know I am. And writing about a baby gave me an excuse to do what I really wanted to do anywayâ??study the marvelous creature that weâ??d somehow created.
JJ: The Tilted World is set against the dynamic backdrop of The Great Mississippi Flood of 1927. Iâ??d never heard of it until I read your book. Why do you think itâ??s such a lost part of our history? How did you find it?
BAF: I think because so many of the people affected were poor Southernersâ??many of them black sharecroppersâ??the scale of the tragedy wasnâ??t registered by those who write history. But folks still talk about it here, and after Katrina, it was on a lot of peopleâ??s minds. Thereâ??s also an amazing nonfiction book about the flood called Rising Tide, by John M. Barry.
JJ: Music, especially blues and jazz, plays an important role in The Tilted World. How important is music in your own lives?
Tom Franklin: We both love music of all kinds (we recently saw Willie Nelson and Snoop Dogg perform in the same month), but especially enjoy Mississippi blues. During the flood, the blues was more than entertainmentâ??it was soul-affirming. So many people were thrown together on the levee with nothing to do besides stare at the waterâ??blues gave them a way to grieve and dream.
JJ: A married coupleâ??both successful writers with very different visions and distinct voicesâ??decides to write a novel together. It sounds like a recipe for divorce, disaster, or both. Yet here you are, youâ??re still best friends, and the book is wonderful. How did the collaboration come about?
TF:When my cousin heard we were writing a book together, he said, â??High stakes poker, Tom.â??
But it wasnâ??t. Instead, it turned out to be one of the best writing experiences of our lives. What happened was weâ??d written a collaborative short story, and after it was published, our agent, Nat Sobel, saw the story in a magazine and called me. â??You should expand this story for your next novel,â?? he told me. â??And you two should write it together.â?? Beth Ann took some convincing. As a poet, sheâ??d always joked that fiction was a â??lower art,â?? but after enough wheedling she decided to try it. It was fun to write together, fun to inhabit that world with her. We were almost sad when the book was finished. Now I have to see if I can convince her to write another.
Excerpt
No Excerpt Currently Available
Weblinks
There are no web links at this time.
Book Club Recommendations
Recommended to book clubs by 2 of 2 members.
Show a youtube video of the flood of 1927
by ncvlib (see
profile
) 04/09/14
Videos are available online of videos from the 1927 flood which shows the devastation.
BECOME A MEMBER
it's free
Join the leading website for book clubs with over 35,000 clubs and 20,000 reading guides.
SEARCH OUR READING GUIDES
Search
JOIN OUR MAILING LIST
Get free weekly updates on top club picks, book giveaways, author events and more
Please wait...