BKMT READING GUIDES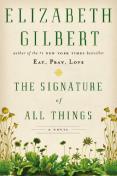 The Signature of All Things: A Novel

by Elizabeth Gilbert
Published: 2013-10-01
Hardcover : 512 pages
30 members reading this now
57 clubs reading this now
21 members have read this book
Recommended to book clubs by 9 of 10 members
A glorious, sweeping novel of desire, ambition, and the thirst for knowledge, from the # 1 New York Times bestselling author of Eat, Pray, Love and Committed

In The Signature of All Things, Elizabeth Gilbert returns to fiction, inserting her inimitable voice into an enthralling ...
No other editions available.

Jump to
Introduction
A glorious, sweeping novel of desire, ambition, and the thirst for knowledge, from the # 1 New York Times bestselling author of Eat, Pray, Love and Committed

In The Signature of All Things, Elizabeth Gilbert returns to fiction, inserting her inimitable voice into an enthralling story of love, adventure and discovery. Spanning much of the eighteenth and nineteenth centuries, the novel follows the fortunes of the extraordinary Whittaker family as led by the enterprising Henry Whittaker?a poor-born Englishman who makes a great fortune in the South American quinine trade, eventually becoming the richest man in Philadelphia. Born in 1800, Henry's brilliant daughter, Alma (who inherits both her father's money and his mind), ultimately becomes a botanist of considerable gifts herself. As Alma's research takes her deeper into the mysteries of evolution, she falls in love with a man named Ambrose Pike who makes incomparable paintings of orchids and who draws her in the exact opposite direction?into the realm of the spiritual, the divine, and the magical. Alma is a clear-minded scientist; Ambrose a utopian artist?but what unites this unlikely couple is a desperate need to understand the workings of this world and the mechanisms behind all life.

Exquisitely researched and told at a galloping pace, The Signature of All Things soars across the globe?from London to Peru to Philadelphia to Tahiti to Amsterdam, and beyond. Along the way, the story is peopled with unforgettable characters: missionaries, abolitionists, adventurers, astronomers, sea captains, geniuses, and the quite mad. But most memorable of all, it is the story of Alma Whittaker, who?born in the Age of Enlightenment, but living well into the Industrial Revolution?bears witness to that extraordinary moment in human history when all the old assumptions about science, religion, commerce, and class were exploding into dangerous new ideas. Written in the bold, questing spirit of that singular time, Gilbert's wise, deep, and spellbinding tale is certain to capture the hearts and minds of readers.
 
Editorial Review
An Amazon Best Book of the Month, October 2013:
As a small girl, Elizabeth Gilbert scrawled her name in the most extraordinary book in her house: an original illustrated folio of Captain Cookâ??s voyages. Decades later, her parents discovered her signature and gave her the book, reigniting her passion for scientific exploration in the century leading up to Darwinâ??s theory of evolution. She became fascinated with the womenâ??always wives or daughters of scientistsâ??who made their own discoveries, in spite of the cultural constraints that kept them from true exploration. Her invented heroine, the insatiably curious Alma Whittaker, daughter of a scrappy botanical baron, spends most of her life confined to her family estate in Philadelphia, yearning for a life of greater passion and liberty. She channels her desires into botany, thrilling to the miniature universe of moss in the forests surrounding her house, developing a new taxonomy that becomes a theory encompassing all living things, parallel to Darwinâ??s. When she finally turns herself loose on the world, itâ??s to claim her place in a lineage of explorers. An earthy, elegant, deeply sensual novel of daring breadth and imagination,
The Signature of All Things
gives us the cosmos in the life of one woman, in her worlds within worlds.
â??Mari Malcolm
Excerpt
Prologue
Alma Whittaker, born with the century, slid into our world on the fifth of January, 1800.
Swiftly—nearly immediately—opinions began to form around her.
Alma's mother, upon viewing the infant for the first time, felt quite satis­fied with the outcome. Beatrix Whittaker had suffered poor luck thus far generating an heir. Her first three attempts at conception had vanished in sad rivulets before they'd ever quickened. Her most recent attempt—a per­fectly formed son—had come right to the brink of life, but had then changed his mind about it on the very morning he was meant to be born, and arrived already departed. After such losses, any child who survives is a satisfactory child. ...
view entire excerpt...
Discussion Questions
The Signature of All Things takes as its first focus not the book's heroine, Alma Whittaker, but her rough-and-tumble father, Henry. Why do you think Elizabeth Gilbert made this choice in her narration, and why are the first fifty pages essential to the rest of the novel?
Alma Whittaker grows up in the richest family in Philadelphia. In what ways does her father's fortune set her free? In what ways is it a prison?
How does Alma resemble her father? In what crucial ways do they differ?
What role is played in the novel by the Whittakers' servant Hanneke de Groot? In what ways is her perspective essential to the story?
Alma postulates that there exist a variety of times, ranging from Human Time to Divine Time, with Geological Time and Moss Time as points in between (pp. 170-71). How might these different notions of time help to relate the world of science to the world of miracles? Is the miracle of creation just a natural process that took a very long time?
Gilbert plays with perspective, not only as it relates to time, but also as it relates to space. During the course of the novel, Alma must adapt to dealing with microscopic space as well as global space. At one point, when she plays the part of a comet in a tableau of the solar system, she even becomes figuratively a part of outer space. How do Gilbert's manipulations of space enrich the experience of reading the novel?
Instead of representing Prudence's abolitionist husband, Arthur Dixon, as an unambiguous hero, Gilbert presents him as a somewhat cracked fanatic, who impoverishes and even endangers his family in the name of an idea. What do you think of Gilbert's decision to place the cause of abolitionism, which modern thinkers usually find almost impossible to criticize, in the hands of an asocial, self-denying oddball?
One of the more unsettling themes of The Signature of All Things is Alma's habitual masturbation. How does her autoeroticism fit into the rest of the novel, and is the book strengthened or weakened by its presence?
Alma's decision to devote her life to studying mosses is compared to a "religious conversion" (p. 163). In The Signature of All Things, science and religion often intertwine. Are they ever finally reconciled? If so, how? If not, why not?
Alma's husband, Ambrose Pike, offers her a marriage filled with deep respect, spiritual love, intellectual adventure-and positively no sex. Should she have been contented with this arrangement?
On pages 319-20, Alma takes "an honest accounting" of her life thus far. At this point in her life, is she a success or a failure? What are the arguments on either side of the question? What are your own criteria for a life well lived?
As Alma sails toward Tahiti, the whaler that carries her is nearly sunk by a storm. She feels that this brush with violent death was "the happiest experience of her life" (p. 336). Why might she think this, and what does it tell us about her character?
Ambrose's spirituality eventually destroys him, whereas that of the Reverend Welles, the Tahitian missionary, enables him to cope with isolation and professional failure. What is the difference between the two men's spiritual understandings? Why is one vision destructive and the other saving?
Alma claims at the end of the novel, "I have never felt a need to invent a world beyond this world. . . . All I ever wanted to know was this world" (p. 497). How has this limitation to her curiosity helped her? Has it harmed her?
BECOME A MEMBER
it's free
Now serving over 80,000 book clubs & ready to welcome yours. Join us and get the Top Book Club Picks of 2022 (so far).
SEARCH OUR READING GUIDES
Search
JOIN OUR MAILING LIST
Get free weekly updates on top club picks, book giveaways, author events and more
Please wait...