BKMT READING GUIDES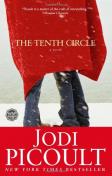 The Tenth Circle: A Novel

by Jodi Picoult
Published: 2006-03-07
Kindle Edition : 416 pages
8 members reading this now
28 clubs reading this now
13 members have read this book
Recommended to book clubs by 2 of 2 members
Jodi Picoult, the New York Times bestselling author of Vanishing Acts, offers her most powerful chronicle yet of an American family with a story that probes the unbreakable bond between parent and child -- and the dangerous repercussions of trying to play the hero.

Trixie Stone is ...
No other editions available.

Jump to
Introduction
Jodi Picoult, the New York Times bestselling author of Vanishing Acts, offers her most powerful chronicle yet of an American family with a story that probes the unbreakable bond between parent and child -- and the dangerous repercussions of trying to play the hero.

Trixie Stone is fourteen years old and in love for the first time. She's also the light of her father's life -- a straight-A student; a freshman in high school who is pretty and popular; a girl who's always looked up to Daniel Stone as a hero. Until, that is, her world is turned upside down with a single act of violence...and suddenly everything Trixie has believed about her family -- and herself -- seems to be a lie.

For fifteen years, Daniel Stone has been an even-tempered, mild-mannered man: a stay-at-home dad to Trixie and a husband who has put his own career as a comic book artist behind that of his wife, Laura, who teaches Dante's Inferno at a local college. But years ago, he was completely different: growing up as the only white boy in an Eskimo village, he was teased mercilessly for the color of his skin. He learned to fight back: stealing, drinking, robbing, and cheating his way out of the Alaskan bush. To become part of a family, he reinvented himself, channeling his rage onto the page and burying his past completely...until now. Could the young boy who once made Trixie's face fill with light when he came to the door have been the one to end her childhood forever? She says that he is, and that is all it takes to make Daniel, a man with a history he has hidden even from his family, venture to hell and back in order to protect his daughter.

The Tenth Circle looks at that delicate moment when a child learns that her parents don't know all of the answers and when being a good parent means letting go of your child. It asks whether you can reinvent yourself in the course of a lifetime or if your mistakes are carried forever -- if life is, as in any good comic book, a struggle to control good and evil, or if good and evil control you.
Editorial Review
Bestselling author Jodi Picoult's
The Tenth Circle
is a metaphorical journey through Dante's
Inferno
, told through the eyes of a small Maine family whose hidden demons haunt every aspect of their seemingly peaceful existence. Woven throughout the novel are a series of dramatic illustrations that pay homage to the family's patriarch (comic book artist Daniel Stone), and add a unique twist to this gripping, yet somewhat rhetorical tale.
Trixie Stone is an imaginative, perceptive 14 year old whose life begins to unravel when Jason Underhill, Bethel High's star hockey player, breaks up with her, leaving a void that can only be filled by the blood spilled during shameful self-mutilations in the girls' bathroom. While Trixie's dad Daniel notices his daughter's recent change in demeanor, he turns a blind eye, just as he does to the obvious affair his wife Laura, a college professor, is barely trying to conceal. When Trixie gets raped at a friend's party, Daniel and Laura are forced to deal not only with the consequences of their daughter's physical and emotional trauma, but with their own transgressions as well. For Daniel, that means reflecting on a childhood spent as the only white kid in a native Alaskan village, where isolation and loneliness turned him into a recluse, only to be born again after falling in love with his wife. Laura, who blames her family's unraveling on her selfish affair, must decide how to reconcile her personal desires with her loved ones' needs.
The Tenth Circle is chock full of symbolism and allegory that at times can seem oppresive. Still, Picoult's fans will welcome this skillfully told story of betrayal and its many negative, and positive consequences. --Gisele Toueg
Excerpt
No Excerpt Currently Available
Discussion Questions
1. In Chapter One, Laura says "God, according to Dante, was all about motion and energy, so the ultimate punishment for Lucifer is to not be able to move at all." (p. 16) How do you feel about this concept of hell as the inability to take action? What do you take from this? How does this theory translate into modern-day life?
2. Why does Daniel find villains interesting? Daniel describes Duncan as "a forty-something father who knew that getting old was hell. Who wanted to keep his family safe; whose powers controlled him, instead of the other way around." If "power always involved a loss of humanity," then how does this comic book character maintain his humanity? Compare and contrast Daniel with the character he creates in his comic strip.
3. Early on, Daniel and Trixie seem to have the ideal father-daughter relationship. During Trixie's examination, Daniel reflects that he and Trixie would play the alphabet game with superhero powers. What superhero powers did Daniel wish he had? Why do you think these were so important to him? What does that reveal about his character? Trixie's?
4. It is said that a rape victim is revictimized by the initial examination. Do you think this is true for Trixie? Why do you think the police detective doubts her accusation against Jason?
5. In popular culture, the husband is more often portrayed as the cheater, and the wife typically as the one who makes career sacrifices for the family. Does Daniel as a character seem emasculated by the way these roles are reversed in The Tenth Circle? Why are stay-at-home fathers seen differently by society than mothers who raise their children full time?
6. In Chapter Four, regarding trauma, Picoult writes, "It was a catch-22: If you didn't put the trauma behind you, you couldn't move on. But if you did put the trauma behind you, you willingly gave up your claim to the person you were before it happened." Which characters would agree with this statement and why?
7. Trixie is consistently revictimized at school, and her own best friend doesn't believe that she was raped. If Trixie's school was a kind of hell for her, then what would Dante say about her situation and the best way to get out of it?
8. Discuss reality versus perception, intention versus action. Why are Trixie's and Jason's versions of what happened so different? Whose do you believe is the truth? Do you think there IS a definitive truth?
9. After Laura and Daniel have a romantic episode, Daniel continues to express his resentment for her infidelity. In that moment his sexual urge is not to make love to her but to "take her back." How does his urge compare to Jason's urge in raping Trixie?
10. Throughout the story Trixie is struggling to get back to her life prior to the rape, and similarly Daniel and Laura are trying to return to a place in their marriage prior to Laura's infidelity. What does this story say about whether or not we can recapture our past? How does Daniel's childhood figure into this theme?
11. Does a victim get justice when the perpetrator takes his or her own life? When Daniel abuses Jason, is he helping or hurting Trixie? When Trixie runs away, did you believe that she killed Jason? What did you think about this surprise ending? How can you map the breakdown in trust between these relationships: Trixie and Jason, Laura and Daniel, Daniel and Trixie, Trixie and Zephyr. How has this breakdown contributed to the demise of all parties?
12. How did Daniel's artwork, embedded inside The Tenth Circle, affect your reading experience? In what ways does reading the graphic novel give you insight into Daniel's behavior during the narrative part of the novel?
13. In the story there is a thread of control -- characters losing and gaining control over their lives and their environments. Discuss what control means to each character.
14. After Daniel takes his revenge, does he believe he is more of a superhero? Does he really think he has avenged Trixie? What is the story saying about retribution?
15. Why is snow symbolic in the story? What other symbols are there?
16. Trixie is haunted by Jason's ghost. Is this a figment of her imagination or a manifestation of guilt?
Book Club Recommendations
Recommended to book clubs by 2 of 2 members.
Not Picoult's best
by joleen (see
profile
) 07/02/10
Overall, the consensus was that this book was not Picoult's best book.
BECOME A MEMBER
it's free
Now serving over 80,000 book clubs & ready to welcome yours. Join us and get the Top Book Club Picks of 2022 (so far).
SEARCH OUR READING GUIDES
Search
JOIN OUR MAILING LIST
Get free weekly updates on top club picks, book giveaways, author events and more
Please wait...