BKMT READING GUIDES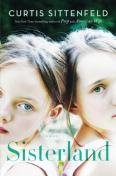 Sisterland: A Novel

by Curtis Sittenfeld
Published: 2013-06-25
Hardcover : 416 pages
20 members reading this now
7 clubs reading this now
13 members have read this book
Recommended to book clubs by 5 of 10 members
NEW YORK TIMES BESTSELLER

NAMED ONE OF THE BEST NOVELS OF THE YEAR BY
Slate • Daily Candy • St. Louis Post-Dispatch • The Guardian (U.K.)

"Novelists get called master storytellers all the time, but Sittenfeld really is one. . . . What might be most strikingly excellent about ...
No other editions available.

Jump to
Introduction
NEW YORK TIMES BESTSELLER

NAMED ONE OF THE BEST NOVELS OF THE YEAR BY
Slate • Daily Candy • St. Louis Post-Dispatch • The Guardian (U.K.)

"Novelists get called master storytellers all the time, but Sittenfeld really is one. . . . What might be most strikingly excellent about Sisterland is the way Sittenfeld depicts domesticity and motherhood."—Maggie Shipstead, The Washington Post
 
"Psychologically vivid . . . Sisterland is a testament to [Curtis Sittenfeld's] growing depth and assurance as a writer."—Michiko Kakutani, The New York Times
 
"[Sittenfeld's] gifts are in full effect with this novel, and she uses them to create a genuinely engrossing sense of uncertainty and suspense."—Sloane Crosley, NPR's All Things Considered

Curtis Sittenfeld, author of American Wife and Prep, returns with a mesmerizing novel of family and identity, loyalty and deception, and the delicate line between truth and belief.
 
From an early age, Kate and her identical twin sister, Violet, knew that they were unlike everyone else. Kate and Vi were born with peculiar "senses"—innate psychic abilities concerning future events and other people's secrets. Though Vi embraced her visions, Kate did her best to hide them.
 
Now, years later, their different paths have led them both back to their hometown of St. Louis. Vi has pursued an eccentric career as a psychic medium, while Kate, a devoted wife and mother, has settled down in the suburbs to raise her two young children. But when a minor earthquake hits in the middle of the night, the normal life Kate has always wished for begins to shift. After Vi goes on television to share a premonition that another, more devastating earthquake will soon hit the St. Louis area, Kate is mortified. Equally troubling, however, is her fear that Vi may be right. As the date of the predicted earthquake quickly approaches, Kate is forced to reconcile her fraught relationship with her sister and to face truths about herself she's long tried to deny.
 
Funny, haunting, and thought-provoking, Sisterland is a beautifully written novel of the obligation we have toward others, and the responsibility we take for ourselves. With her deep empathy, keen wisdom, and unerring talent for finding the extraordinary moments in our everyday lives, Curtis Sittenfeld is one of the most exceptional voices in literary fiction today.

Praise for Sisterland
 
"What's most captivating about Sisterland is the intimate, intense portrayal of identical twin sisters. . . . [The novel] unfolds like a good prophecy—inevitable and shocking."—San Francisco Chronicle

"The accomplished Sittenfeld . . . is as skillful as ever at developing an intriguing premise and likable characters. . . . Sittenfeld's affectionate take on sibling rivalry is spot-on."—People
 
"The power of [Sittenfeld's] writing and the force of her vision challenge the notion that great fiction must be hard to read. She is a master of dramatic irony, creating fully realized social worlds before laying waste to her heroines' understanding of them. . . . Her prose [is] a rich delight."—The Boston Globe
 
"Wise and often wickedly entertaining . . . Readers who have siblings—especially women with sisters—will likely come away feeling as if the author really is psychic."—USA Today
Editorial Review
An Amazon Best Book of the Month, July 2013:
After tackling east coast prep school and the life of a first lady in previous works, writing about twin sisters with ESP might seem like a strange move for Curtis Sittenfeld. But
Sisterland
is not a book about what it means to live with psychic powers. Rather, itâ??s a deeply emotional study of two closely-linked siblings who share many similarities but ultimately choose different paths in life. Having grown up with a mild form of ESPâ??what they call â??sensesâ??â??the twins are confronted with how to deal with their powers. One chooses to â??go straightâ?? and become a suburban housewife and mother, while the other sister drops out of college to become a medium. The ESP part is not overplayed, and the story bears all the hallmarks of Sittenfeldâ??s other novels: an exploration of adolescence and the choices that people make, expertly drawn inner monologues, an artistâ??s complete grasp of the little moments in life. This is a uniqueâ??and at times pitch perfectâ??take on family, loyalty, and how people deal with the vapor trails left by childhood.
-- Chris Schluep
Excerpt
Chapter 1
September 2009 St. Louis, Missouri
The shaking started around three in the morning, and it happened that I was already awake because I'd nursed Owen at two and then, instead of going back to sleep, I'd lain there brooding about the fight I'd had at lunch with my sister, Vi. I'd driven with Owen and Rosie in the backseat to pick up Vi, and the four of us had gone to Hacienda. We'd finished eating and I was collecting Rosie's stray food from the tabletop—once I had imagined I wouldn't be the kind of mother who ordered chicken tenders for her child off the menu at a Mexican restaurant—when Vi said, "So I have a date tomorrow." ...
view entire excerpt...
Discussion Questions
1. What and where is Sisterland? If you have a sister, do you see any of your own relationship with her reflected in the relationship between Kate and Vi?
2. The novel opens with a description of the 1811 earthquake in New Madrid, although everything that follows is set in the near-present. Why do you think the novel begins in this way? How does the historical context change how we see Kate's story?
3. Do you believe that people can have psychic powers? Have you ever experienced strong intuitions about events that happened later?
4. Do you understand why Kate tries to escape her powers? Would you prefer, like Kate, to be normal, or to be special, like Vi?
5. Kate transforms herself from Daisy Shramm to Kate Tucker. How do names define and shape us?
6. Near the end of the novel, Kate and Vi make an important discovery about their "senses" that upsets everything they thought they knew. Were you as surprised by this revelation as the twins? How do you think it might change their understanding of their childhood?
7.Do Kate and Jeremy have a good marriage?
8. Were you surprised by Kate's choices at the end? How will her family's life in the future be different from what it was in the past? Do you think it's plausible that she can continue to conceal her secret indefinitely?
9. Twins are intriguing to many people. Do you think the interest they elicit is justified? Have you known twins in your own life? If you are a twin, did Sittenfeld's portrayal of them strike you as realistic?
10. Have you read any of Curtis Sittenfeld's other novels? If so, do you think this one is like or unlike her earlier work?
BECOME A MEMBER
it's free
Now serving over 80,000 book clubs & ready to welcome yours. Join us and get the Top Book Club Picks of 2022 (so far).
SEARCH OUR READING GUIDES
Search
JOIN OUR MAILING LIST
Get free weekly updates on top club picks, book giveaways, author events and more
Please wait...