BKMT READING GUIDES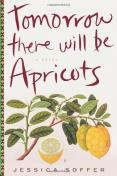 Tomorrow There Will Be Apricots

by Jessica Soffer
Published: 2013-04-16
Hardcover : 336 pages
6 members reading this now
8 clubs reading this now
1 member has read this book
Recommended to book clubs by 2 of 3 members
"Elegant, sensual, surprising, and rich, Tomorrow There Will Be Apricots delivers a world to us, populated with indelible characters whose fates, as they become entwined, spur us to read fast, faster, except to do so would be to miss the beauty of Soffer's language, which is to be ...
No other editions available.

Jump to
Introduction
"Elegant, sensual, surprising, and rich, Tomorrow There Will Be Apricots delivers a world to us, populated with indelible characters whose fates, as they become entwined, spur us to read fast, faster, except to do so would be to miss the beauty of Soffer's language, which is to be savored." — Dani Shapiro, author of Family History

This is a story about accepting the people we love—the people we have to love and the people we choose to love, the families we're given and the families we make. It's the story of two women adrift in New York, a widow and an almost-orphan, each searching for someone she's lost. It's the story of how, even in moments of grief and darkness, there are joys waiting nearby.

Lorca spends her life poring over cookbooks, making croissants and chocolat chaud, seeking out rare ingredients, all to earn the love of her distracted chef of a mother, who is now packing her off to boarding school. In one last effort to prove herself indispensable, Lorca resolves to track down the recipe for her mother's ideal meal, an obscure Middle Eastern dish called masgouf.

Victoria, grappling with her husband's death, has been dreaming of the daughter they gave up forty years ago. An Iraqi Jewish immigrant who used to run a restaurant, she starts teaching cooking lessons; Lorca signs up.

Together, they make cardamom pistachio cookies, baklava, kubba with squash. They also begin to suspect they are connected by more than their love of food. Soon, though, they must reckon with the past, the future, and the truth—whatever it might be. Bukra fil mish mish, the Arabic saying goes. Tomorrow, apricots may bloom.

Editorial Review
Amazon Exclusive: Author One-on-One with Jessica Soffer and Saïd Sayrafiezadeh
Saïd Sayrafiezadeh is an American playwright and author. His short stories and personal essays have appeared in The New Yorker, The Paris Review, Granta, McSweeney's, and The New York Times Magazine among other publications. In 2010, Saïd won a 2010 Whiting Writers' Award for his memoir, When Skateboards Will Be Free: A Memoir of a Political Childhood. He lives in New York City with his wife and teaches creative writing at New York University.
Saïd Sayrafiezadeh: In 2009 you wrote an electrifying piece for Granta.com, which garnered a lot of attention. In the span of a just a few hundred words you track the relationship between a husband and wife from birth to death. It packs an astounding emotional punch, all the more since it's written in the second person from the man's point of view. Being so young, how did you imagine yourself so convincingly in a different gender and age?
Jessica Soffer: The structure of "Beginning End" was a bit of a fluke. I struggle with plot and so I gave myself an exercise: write a piece in which every line's purpose is to make things happen. The bones of what I wrote were—and still are—the very typical but processive movements between birth and death: being born, going to school, falling in love, working, falling out of love, growing old, growing sick, dying. Everything built around those core points was an attempt to justify and contextualize them—and make them matter.
I've found that I gravitate towards nostalgic characters perhaps because nostalgia is such a familiar sentiment. Death and grief and regret are themes that I keep coming back to. I feel at home writing in the voice of someone much older than me because it affords me the opportunity to explore those themes nostalgically, and without being constrained by my own limited experience. Through fiction, I can make everything bigger, better, than me.
SS: Your father, Sasson Soffer, was an accomplished Iraqi Jewish abstract painter and sculptor who died in 2009. (You write about him in the February 2013 issue of Vogue.) Your mother is Stella Sands, editor, author, playwright. It's easy, of course, to track the connection between your mother's craft and yours, but how does your father's art play into your work?
JS: Perhaps the most explicit connection I can draw has to do with lifestyle. Both my parents were/are great proponents of creativity, which was distinctly evident in my childhood: art and drafts and maquettes and red pens and paint splatter and books everywhere, except for coloring books which were banned. They believed in finding ways to pursue a creative life: my father was a landlord so that he could be an artist, my mother an editor so she could write. Once my love for words, for reading and writing, became apparent, it didn't feel far-fetched to imagine how I might route that into a career (far-fetched would have been a career in finance or medicine)—I just had to find a way, as they did, to make it work.
SS: Your novel has food and cooking as one of its central themes. Where did the inspiration for this come from? Do you spend time cooking in your personal life?
JS: Apricots focuses particularly on the cuisine of my father's culture: Iraqi Jewish. His memories of his homeland were deeply rooted in food and I've always wanted to honor that in some way. His sister is an incredible cook and visiting her home as a child, eating her delicious stews and almond milks and cookies, directly inspired this book: all the scents and flavors. I love to cook. It's a useful counterpart to writing: chopping, stirring, focusing on the consistent whir of the food processor. But I never write on a full stomach. It makes me sluggish, and the narrative follows suit.
SS: You teach creative writing at Connecticut College. As a young writer yourself, you no doubt serve as something of an inspiration for your students. What advice might you give to those who aspire to create a career in writing?
JS: Read. Read. Read. Find voices that inspire you. Don't show work to the light too soon. Grammar is not underrated. Read. Read. Read. Nathan Englander says that writing is a moral act. It is. You are delivering something brand-new into the world. Let the gravity of that inspire and motivate you. And read. Read. Read.
Photo Jessica Soffer ©Beowulf Sheehan
From the Kitchen of Jessica Soffer: Recipes from the Book
Click here for recipes of dishes from the book [PDF]
Excerpt
No Excerpt Currently Available
BECOME A MEMBER
it's free
Join the leading website for book clubs with over 35,000 clubs and 20,000 reading guides.
SEARCH OUR READING GUIDES
Search
JOIN OUR MAILING LIST
Get free weekly updates on top club picks, book giveaways, author events and more
Please wait...