BKMT READING GUIDES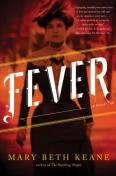 Fever: A Novel

by Mary Beth Keane
Published: 2013-03-12
Hardcover : 320 pages
4 members reading this now
28 clubs reading this now
6 members have read this book
Recommended to book clubs by 2 of 2 members
Mary Beth Keane, named one of the 5 Under 35 by the National Book Foundation, has written a spectacularly bold and intriguing novel about the woman known as "Typhoid Mary," the first person in America identified as a healthy carrier of Typhoid Fever.

On the eve of the twentieth ...
No other editions available.

Jump to
Introduction
Mary Beth Keane, named one of the 5 Under 35 by the National Book Foundation, has written a spectacularly bold and intriguing novel about the woman known as "Typhoid Mary," the first person in America identified as a healthy carrier of Typhoid Fever.

On the eve of the twentieth century, Mary Mallon emigrated from Ireland at age fifteen to make her way in New York City. Brave, headstrong, and dreaming of being a cook, she fought to climb up from the lowest rung of the domestic-service ladder. Canny and enterprising, she worked her way to the kitchen, and discovered in herself the true talent of a chef. Sought after by New York aristocracy, and with an independence rare for a woman of the time, she seemed to have achieved the life she'd aimed for when she arrived in Castle Garden. Then one determined "medical engineer" noticed that she left a trail of disease wherever she cooked, and identified her as an "asymptomatic carrier" of Typhoid Fever. With this seemingly preposterous theory, he made Mallon a hunted woman.

The Department of Health sent Mallon to North Brother Island, where she was kept in isolation from 1907 to 1910, then released under the condition that she never work as a cook again. Yet for Mary—proud of her former status and passionate about cooking—the alternatives were abhorrent. She defied the edict.

Bringing early-twentieth-century New York alive—the neighborhoods, the bars, the park carved out of upper Manhattan, the boat traffic, the mansions and sweatshops and emerging skyscrapers—Fever is an ambitious retelling of a forgotten life. In the imagination of Mary Beth Keane, Mary Mallon becomes a fiercely compelling, dramatic, vexing, sympathetic, uncompromising, and unforgettable heroine.
Editorial Review
Julia Glass on Fever by Mary Beth Keane
How I Almost Missed Out on a New Favorite Author
Every so often, youâ??ll come across a book that burns so hot and bright itâ??ll sear a shadow on your vision. For a while afterwards, everything you look at will have the bookâ??s imprint on it; your world will be colored in the bookâ??s tones, and you will glimpse the bookâ??s characters on the street and feel your heart knocking in your chest for a few blocks, as if youâ??d escaped a close call.
I did not deliberately choose to read Mary Beth Keaneâ??s first novel, The Walking People. It came to me in a blizzard of books I read as one of three judges for a literary prize back in 2010. I took my responsibility seriously, even primly; one thing that worried me was how strongly my personal biases would influence my choices. (Was I supposed to be impartial? Of course not. But any passionately written book deserves enormous respect.)
So here is where I admit that I was barely a few pages into The Walking People when my heart sank. I recognized it as a story involving Irish immigrants to America. Just then, I happened to be weary of immigrant stories in general, nor did it help that I had recently, belatedly, read the incomparable Angelaâ??s Ashes. Andâ??second confessionâ??I was raised by a mother with Scots-Presbyterian roots who had tainted my generally egalitarian self with her lifelong grudge against Irish Catholics. As I knew all too well, the most traumatic bullying sheâ??d experienced as a child came from Catholic schoolmatesâ??who taunted the Protestants as destined for hell because they couldnâ??t go to confession. But I digress.
I had vowed to read at least 50 pages of every book I was to judge, so I took The Walking People with me on an overnight trip I made alone, to give a talk. Perhaps the only way to keep my promise to this book would be to hold myself hostage to it in a hotelâ??with nothing for diversion but the bedside Bible and the cable listings. That night, I went to bed without reading, exhausted; in the morning, I decided to hang out with the dreaded book until 9:00 a.m. or so, just to avoid rush-hour traffic. Sighing, I opened it. When I next looked up at the clock, it was 11:15, past checkout time. I had lost not only my connection to real time but very nearly an extra night in hotel fees.
I drove home, stashed my suitcase, and plunged back into the book. Every so often Iâ??d flip to the end and look at the authorâ??s photo. How on earth did this fresh-faced young womanâ??from my middle-aged perspective, this girlâ??know so damn much about so many things? Iâ??ll skip all the exquisite historic and cultural details of that novel. What Mary Beth Keane knows best, and most remarkably, is how the human heart grows, changes, and endures. She seems to know intimately every stage of life, from childhood through sexual awakening, through long marriages and parenthood, through working lives filled with compromise, through the mental dwindlings of old age.
Out of more than a hundred accompished books, I and my fellow judges named The Walking People one of the top five contenders for the PEN/Hemingway Prize. At the ceremony, I met Mary Beth, and I asked what her next act would be. Later, I paused to wonder: Wait. Did she really say, â??A novel about Typhoid Maryâ??? (Okay, so maybe my hearing is starting to go. The room was awfully crowded.)
Last year, finally, I read Fever. And you might say I read it in a feverâ??the fever of emotional suspense that makes all the best books so essential. Does it involve Irish immigrants? Yes. Did I give a hoot? No. Mary Mallon is a show-stopping, strong-willed, heartbreaking heroine, and the New York in which she lived a hundred years ago comes stunningly alive as the backdrop for the story of her long and rich but star-crossed life.
Hereâ??s something I know firsthand: second novels that follow prizewinning firsts are tough. Theyâ??re tough to write, tough to send out into the world. But Fever is even more ambitious, beguiling, and moving than The Walking People. Mary Beth has outdone herself. And now, of course, I have to find out what in the world sheâ??ll conjure up next. This time Iâ??ll trust my hearing. Already I canâ??t wait to read it.
Excerpt
No Excerpt Currently Available
Weblinks
There are no web links at this time.
BECOME A MEMBER
it's free
Now serving over 80,000 book clubs & ready to welcome yours. Join us and get the Top Book Club Picks of 2022 (so far).
SEARCH OUR READING GUIDES
Search
JOIN OUR MAILING LIST
Get free weekly updates on top club picks, book giveaways, author events and more
Please wait...