BKMT READING GUIDES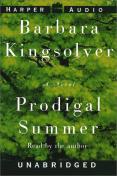 Prodigal Summer

by Barbara Kingsolver
Published: 2000-10-17
Audio Cassette : 0 pages
9 members reading this now
21 clubs reading this now
28 members have read this book
Recommended to book clubs by 7 of 7 members
Triumphing once again, Barbara Kingsolver has written a beautiful new novel: a hymn to wildness that celebrates the prodigal spirit of human nature, and of nature itself
Prodigal Summer weaves together three stories of human love within a larger tapestry of lives in southern Appalachia. At ...
No other editions available.

Jump to
Introduction
Triumphing once again, Barbara Kingsolver has written a beautiful new novel: a hymn to wildness that celebrates the prodigal spirit of human nature, and of nature itself
Prodigal Summer weaves together three stories of human love within a larger tapestry of lives in southern Appalachia. At the heart of these intertwined narratives is a den of coyotes that have recently migrated into the region. Deanna Wolfe, a reclusive wildlife biologist, watches them from an isolated mountain cabin where she is caught off-guard by Eddie Bondo, a young hunter who comes to invade her most private spaces and her solitary life. Down the mountain, another web of lives unfolds as Lusa Maluf Landowski, a bookish city girl turned farmer's wife, finds herself in a strange place where she must declare or lose her attachment to the land that has become her own. And a few more miles down the road, a pair of elderly, feuding neighbors tend their respective farms and wrangle about God, pesticides, and the possibilities the future holds.
Over the course of one long summer, these characters find connections to one another, and to the land, and the final, urgent truth that humans are only one piece of life on earth.
Read by the author.
Editorial Review
There is no one in contemporary literature quite like Barbara Kingsolver. Her dialogue sparkles with sassy wit and earthy poetry; her descriptions are rooted in daily life but are also on familiar terms with the eternal. With
Prodigal Summer
, she returns from the Congo to a "wrinkle on the map that lies between farms and wildness." And there, in an isolated pocket of southern Appalachia, she recounts not one but three intricate stories.
Exuberant, lush, riotous--the summer of the novel is "the season of extravagant procreation" in which bullfrogs carelessly lay their jellied masses of eggs in the grass, "apparently confident that their tadpoles would be able to swim through the lawn like little sperms," and in which a woman may learn to "tell time with her skin." It is also the summer in which a family of coyotes moves into the mountains above Zebulon Valley:
The ghost of a creature long extinct was coming in on silent footprints, returning to the place it had once held in the complex anatomy of this forest like a beating heart returned to its body. This is what she believed she would see, if she watched, at this magical juncture: a restoration.
The "she" is Deanna Wolfe, a wildlife biologist observing the coyotes from her isolated aerie--isolated, that is, until the arrival of a young hunter who makes her even more aware of the truth that humans are only an infinitesimal portion in the ecological balance. This truth forms the axis around which the other two narratives revolve: the story of a city girl, entomologist, and new widow and her efforts to find a place for herself; and the story of Garnett Walker and Nannie Rawley, who seem bent on thrashing out the countless intimate lessons of biology as only an irascible traditional farmer and a devotee of organic agriculture can. As Nannie lectures Garnett, "Everything alive is connected to every other by fine, invisible threads. Things you don't see can help you plenty, and things you try to control will often rear back and bite you, and that's the moral of the story."
Structurally, that gossamer web is the story: images, phrases, and events link the narratives, and these echoes are rarely obvious, always serendipitous. Kingsolver is one of those authors for whom the terrifying elegance of nature is both aesthetic wonder and source of a fierce and abiding moral vision. She may have inherited Thoreau's mantle, but she piles up riches of her own making, blending her extravagant narrative gift with benevolent concise humor. She treads the line between the sentimental and the glorious like nobody else in American literature. --Kelly Flynn
Excerpt
No Excerpt Currently Available
Discussion Questions
From the Publisher:
1. Why do you think this book is entitled Prodigal Summer? In what ways do all of the characters display "prodigal" characteristics? Who, or what, welcomes them home from their journeys?
2. Deanna is the self-appointed protector of coyotes and all predators. Is she disturbing nature's own ways of dealing with upsets? What about Garnett and his quest for a blight-free chestnut tree -- is this "good" for nature?
3. How does the relationship between Deanna and Eddie Bondo change them both? Should Deanna have told Eddie about the pregnancy? Do you think he already knew and that was one of the reasons he left when he did?
4. When Nannie and Garnett hug, a huge barrier between them drops and they both gain a basic understanding of each other's humanness and vulnerability. Do you think a romantic relationship between them will ensue? How much does Garnett's unrecognized longing for love and human contact account for the shift in his perception of Nannie and the greater world around him? What else influences the shift in Garnett? Does Nannie change as well?
5. The three major story lines are named "Predators," "Moth Love," and "Old Chestnuts." Why, besides acknowledging her respect for coyotes, spiders and other predatory creatures, are Deanna's chapters named "Predators?" Does her love of predators make her the "natural" lover of Eddie Bondo? How does Lusa's life mirror the life cycle of her beloved moths? How does her love of insects lead to her emergence from her cocoon of grief (i.e. her relationship to Crystal)? How do Garnett and Nannie remind you of "old chestnuts?" Are they extinct? Are they the few lone trees left alive after a blight?
Suggested by Members
What was your favorite of the 3 story lines? Why?
What was the significance of each of the chapter titles? How do they relate to the characters in each?
by kamj3
(see profile)
08/20/09
BECOME A MEMBER
it's free
Now serving over 80,000 book clubs & ready to welcome yours. Join us and get the Top Book Club Picks of 2022 (so far).
SEARCH OUR READING GUIDES
Search
JOIN OUR MAILING LIST
Get free weekly updates on top club picks, book giveaways, author events and more
Please wait...