BKMT READING GUIDES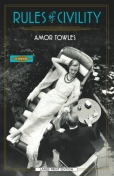 Rules of Civility

by Amor Towles
Published: 2012-08-07
Paperback : 577 pages
5 members reading this now
13 clubs reading this now
8 members have read this book
Recommended to book clubs by 5 of 6 members
WHAT THEY SAID about RULES OF CIVILITY: 'Everything about this novel, set in 1930s New York, is achingly stylish - from the author's name to the slinky jacket design. Katey Kontent, daughter of Russian immigrants, and Evie Ross, from the sleepy midwest, are an ambitious, wisecracking pair who, ...
No other editions available.

Jump to
Introduction
WHAT THEY SAID about RULES OF CIVILITY: 'Everything about this novel, set in 1930s New York, is achingly stylish - from the author's name to the slinky jacket design. Katey Kontent, daughter of Russian immigrants, and Evie Ross, from the sleepy midwest, are an ambitious, wisecracking pair who, despite lack of money and connections, aim to set the city alight. A fortuitous meeting with the apparently wealthy Tinker Grey on New Year's Eve, 1937, will change the course of both their lives.' - Guardian 'If you want shopping at Bendel's, gin martinis at a debutante's mansion and jazz bands playing until 3am, RULES OF CIVILITY has it all and more ...While you're lost in the whirl of silk stockings, furs and hip flasks, all you care about is what Katey Kontent does next. Another one bartender, please.' - Observer 'Irresistible ...A cross between Dorothy Parker and Holly Golightly, Katey Kontent is a priceless narrator in her own right - the brains of a bluestocking with the legs of a flapper and the mores of Carrie Bradshaw.' - Telegraph 'Towles creates a narrative that sparkles with sentences so beautiful you'll stop and re-read them. A delicious and memorable novel that will leave you wistful ...and desperate for a martini.' - Stylist 'My book of the year. If the unthinkable happened and I could never read another new work of fiction in 2011, I'd simply re-read this sparkling, stylish book, with yet another round of martinis as dry as the author's wit.' - Herald
Editorial Review
Amazon Best Books of the Month, August 2011
Set during the hazy, enchanting, and martini-filled world of New York City circa 1938,
Rules of Civility
follows three friends--Katey, Eve, and Tinker--from their chance meeting at a jazz club on New Year's Eve through a year of enlightening and occasionally tragic adventures. Tinker orbits in the world of the wealthy; Katey and Eve stretch their few dollars out each evening on the town. While all three are complex characters, Katey is the story's shining star. She is a fully realized heroine, unique in her strong sense of self amidst her life's continual fluctuations. Towles' writing also paints an inviting picture of New York City, without forgetting its sharp edges. Reminiscent of Fitzgerald,
Rules of Civility
is full of delicious sentences you can sit back and savor (most appropriately with a martini or two).
--Caley Anderson
A sophisticated and entertaining debut novel about an irresistible young woman with an uncommon sense of purpose.
Set in New York City in 1938,
Rules of Civility
tells the story of a watershed year in the life of an uncompromising twenty-five-year- old named Katey Kontent. Armed with little more than a formidable intellect, a bracing wit, and her own brand of cool nerve, Katey embarks on a journey from a Wall Street secretarial pool through the upper echelons of New York society in search of a brighter future.
The story opens on New Year's Eve in a Greenwich Village jazz bar, where Katey and her boardinghouse roommate Eve happen to meet Tinker Grey, a handsome banker with royal blue eyes and a ready smile. This chance encounter and its startling consequences cast Katey off her current course, but end up providing her unexpected access to the rarified offices of Conde Nast and a glittering new social circle. Befriended in turn by a shy, principled multimillionaire, an Upper East Side ne'er-do-well, and a single-minded widow who is ahead of her times, Katey has the chance to experience first hand the poise secured by wealth and station, but also the aspirations, envy, disloyalty, and desires that reside just below the surface. Even as she waits for circumstances to bring Tinker back into her orbit, she will learn how individual choices become the means by which life crystallizes loss.
Elegant and captivating,
Rules of Civility
turns a Jamesian eye on how spur of the moment decisions define life for decades to come. A love letter to a great American city at the end of the Depression, readers will quickly fall under its spell of crisp writing, sparkling atmosphere and breathtaking revelations, as Towles evokes the ghosts of Fitzgerald, Capote, and McCarthy.
Amor Towles's Rules of Civility Playlist
You can listen to the playlist here.
While jazz is not central to the narrative of Rules of Civility, the music and its various formulations are an important component of the bookâ??s backdrop.
On the night of January 16, 1938, Benny Goodman assembled a bi-racial orchestra to play jazz to a sold-out Carnegie Hall--the first jazz performance in the hallowed hall and one which is now famous for bringing jazz (and black performers) to a wider audience. I am not a jazz historian, but for me the concert marks something of a turning point in jazz itself--from the big-band, swing-era sound that dominated the 1930s (and which the orchestra emphasized on stage that night) towards the more introspective, smaller group styles that would soon spawn bebop and its smoky aftereffects (ultimately reaching an apogee with Miles Davisâ??s Kind of Blue in 1957). For it is also in 1938 that Coleman Hawkins recorded the bebop antecedent "Body & Soul" and Mintonâ??s Playhouse, one of the key bebop gathering spots, opened in Harlem. By 1939, Blue Note Records was recording, and Dizzy Gillespie, Charlie Parker and Thelonious Monk were all congregating in New York City. From 1935-1939, Goodman himself was stepping out of the big-band limelight to make more intimate improvisational recordings with a quartet including Gene Krupa and Lionel Hampton.
My assertion of this as a turning point (like most such assertions) is rough, inexact and misleading, but it helps give shape to an evolution and bring into relief two ends of a jazz spectrum. On the big-band front, the power of the music naturally springs from the collective and orchestration. In numbers like "Sing, Sing, Sing," the carefully layered, precisely timed waning and waxing of rhythm and instrumentation towards moments of unified musical ecstasy simply demand that the audience collaborate through dance, cheers, and other outward expressions of joy. While in the smaller groups of bebop and beyond, the expressive power springs more from the soloist and his personal exploration of the music, his instrument, and his emotional state at that precise moment in time. This inevitably inspires in the listener a cigarette, a scotch, and a little more introspection. In a sense, the two ends of this jazz spectrum are like the public/private paradox of Walker Evansâ??s subway photographs (and of life in the metropolis itself.)
If you are interested, I have created an playlist of music from roughly 1935-1945 that spans this transition. The playlist is not meant to be comprehensive or exact. Among other items, it includes swinging live performances from Goodmanâ??s Carnegie Hall Concert as well as examples of his smaller group work; there are precursors to bebop like Coleman Hawkins and some early Charlie Parker. As a strange historical footnote, there was a strike in 1942â??1944 by the American Federation of Musicians, during which no official recordings were made. As such, this period at the onset of bebop was virtually undocumented and thus the records of 1945 reflect something of a culmination of early bebop rather than its starting point. The playlist also reflects the influence of the great American songbook giants (Cole Porter, Duke Ellington, Irving Berlin, Rodgers & Hart, the Gershwins), many of whom were at the height of their powers in the 1930s. --Amor Towles
Listen to the playlist
Excerpt
No Excerpt Currently Available
Weblinks
There are no web links at this time.
BECOME A MEMBER
it's free
Now serving over 80,000 book clubs & ready to welcome yours. Join us and get the Top Book Club Picks of 2022 (so far).
SEARCH OUR READING GUIDES
Search
JOIN OUR MAILING LIST
Get free weekly updates on top club picks, book giveaways, author events and more
Please wait...