BKMT READING GUIDES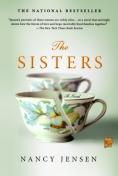 The Sisters: A Novel

by Nancy Jensen
Published: 2012-10-02
Paperback : 352 pages
27 members reading this now
6 clubs reading this now
3 members have read this book
Recommended to book clubs by 1 of 1 members
Family secrets reverberate for generations in one of the "Best Novels of 2011" (
Kirkus Reviews)
Growing up without a mother in hardscrabble Kentucky in the 1920s, Bertie Fischer and her older sister, Mabel, have only each other—with perhaps a sweetheart for Bertie waiting in the ...
No other editions available.

Jump to
Introduction
Family secrets reverberate for generations in one of the "Best Novels of 2011" (Kirkus Reviews)
Growing up without a mother in hardscrabble Kentucky in the 1920s, Bertie Fischer and her older sister, Mabel, have only each other—with perhaps a sweetheart for Bertie waiting in the wings. But on the day that Bertie graduates from eighth grade, good intentions go terribly wrong, setting off a chain of misunderstandings that will change the lives of the next three generations.
What happens when nothing turns out as you planned? From the Depression through the second world war and Vietnam, and smaller events both tragic and joyful, Bertie and Mabel forge unexpected identities that are shaped by a past that no one ever talks about. Gorgeously written, with extraordinary insight and emotional truth, Nancy Jensen's brilliant first novel, The Sisters, illuminates the far-reaching power of family and family secrets.
Excerpt
ONE
Commencement
June 1927
Juniper, Kentucky
BERTIE
It was a lovely dress, soft and pink as a cloud at dawn. Bertie admired the way the chiffon draped from her neck in long, light, curving folds, seeming to narrow her square shoulders, and it pleased her to imagine how the skirt would swish around her calves when she walked to the stage to get her eighth-grade diploma, but she was most fond of the two buttons, small silver roses, that fastened the sleeve bands just below each elbow. Two months Mabel had worked for the dress, going into Kendall's an hour early every day, fixing it with Mrs. Kendall so, come commencement week, Bertie could choose any one she wanted. Bertie twirled before the mirror, then lifted her hair to see how it would look pinned up, and, yes, suddenly she was taller, almost elegant. She couldn't remember feeling pretty before. In this dress, she did, and it was wonderful. She even felt a little sorry for Mabel. Her sister had always been beautiful—slim and doll-like, with big eyes and glistening bobbed hair, Juniper's Clara Bow—so Mabel couldn't appreciate the wonder of suddenly feeling transformed, caterpillar to butterfly. ...
view entire excerpt...
Discussion Questions
1. There are many secrets in The Sisters, beginning with Mabel's decision not to tell Bertie about Jim Butcher. In trying to understand her sister's behavior, fourteen-year-old Bertie wonders if "the things she didn't know were what kept her safe." What secrets do other characters keep, and how do you think the secrets ultimately help or hurt their loved ones?
2. How does the era in which each woman comes of age affect her experience and shape her outlook on what is possible?
3. How do the main characters perceive loyalty? Betrayal? What do you think of their perceptions?
4. How do Bertie's girlhood losses affect her daughters' and granddaughters' relationships with men?
5. Bertie, Alma, and Lynn are accused by other characters of being hard and cold. How do you see them? To what extent do you think they change in the course of the novel?
6. At the end of her life, Bertie struggles to cry out to Rainey and Lynn, Forgive. Forgive. Why do you believe some characters are able to forgive and others not? Do you believe everything can or should be forgiven?
7. What does the novel suggest about whether families are born or made?
8. When Daisy expresses her concern that Mabel is setting herself up for emotional pain by photograph-ing young men bound for Vietnam, Mabel tells Daisy, "You can't protect yourself from loss." Do you think this is true? What happens to the characters in the novel, and to people in your experience, when they try?
9. In her interview with Ed Bradley, Mabel says, "I don't think any real war [is ever over]—large, small, between countries, between people. Even the wars inside ourselves. Something always remains." Do you agree—in the novel and/or in real life?
10. The Sisters is structured as a series of chronologi¬cal, interlocking narratives, sometimes with strik-ingly different perspectives of the same events. In what ways does this structure reflect the experi¬ence of an individual within a family?
11. Bertie tells Grace, "Something can happen to change your life so sudden, you can't get over it fast enough ...and that changes things for them too, all in a line." Do you think that happens in most people's lives at one time or another? If so, is the chain reaction inevitable, or can someone choose to break the chain?
12. How were you affected when Bertie wrote Deceased on the letter from Mabel, and Mabel later decided not to follow up on Nick's possible lead about Bertie's whereabouts? Can you imag¬ine either of them acting differently? Did you find the conclusion satisfying?
Book Club Recommendations
Recommended to book clubs by 1 of 1 members.
Plenty of topics for discussion
by ncvlib (see
profile
) 10/03/12
The author Nancy Jensen agreed to speak with our group via speaker phone chat. Her imput provided great insight into the decisions and lives of the Sisters and their families.
BECOME A MEMBER
it's free
Join the leading website for book clubs with over 35,000 clubs and 20,000 reading guides.
SEARCH OUR READING GUIDES
Search
JOIN OUR MAILING LIST
Get free weekly updates on top club picks, book giveaways, author events and more
Please wait...