BKMT READING GUIDES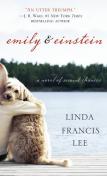 Emily and Einstein

by Linda Francis Lee
Published: 2013-01-29
Mass Market Paperback : 464 pages
1 member reading this now
7 clubs reading this now
1 member has read this book
Recommended to book clubs by 4 of 4 members
Emily and Einstein


Linda Francis Lee

Emily Portman is an up-and-coming New York City editor whose life is everything she imagined it would be. She has a job she loves and a beautiful Upper West Side apartment with her husband, Sandy. But everything changes in one night when Sandy dies in a ...
No other editions available.

Jump to
Introduction
Emily and Einstein


Linda Francis Lee

Emily Portman is an up-and-coming New York City editor whose life is everything she imagined it would be. She has a job she loves and a beautiful Upper West Side apartment with her husband, Sandy. But everything changes in one night when Sandy dies in a tragic accident, and soon Emily is stunned to discover that her marriage was made up of lies. Haunted by distorting memories of the man she lost, Emily's only comfort is a mysterious, scruffy dog named Einstein, who comes into her life at just the right moment--and stands by her side as she confronts her own past, and embarks on finding new and true love.
Editorial Review
Product Description
He was a man who didnâ??t deserve a second chance. But he needed oneâ?¦
Emily and her husband Sandy Portman seemed to live a gracious if busy life in an old-world, Upper West Side apartment in the famous Dakota building. But one night on the way to meet Emily, Sandy dies in a tragic accident. The funeral isn't even over before Emily learns she is on the verge of being evicted from their apartment. But worse than the possibility of losing her home, Emily is stunned when she discovers that her marriage was made up of lies.Â
Suddenly Emily is forced on a journey to find out who her husband really was . . . all the while feeling that somehow he isn't really gone. Angry, hurt, and sometimes betrayed by loving memories of the man she lost, Emily finds comfort in a scruffy dog named Einstein. But is Einstein's seemingly odd determination that she save herself enough to make Emily confront her own past? Can he help her find a futureâ??even after she meets a new man?Â
---
Amazon Exclusive: A Q&A with Author Linda Francis Lee
Q: What made you write a book about an unfaithful husband?
A: My primary goal wasn't to write about an unfaithful husband, it was to write about a man who lived a lie--and he didn't just live a lie to the world, he lied to himself. I wanted to tell a story about someone who found it easier to blame others for what was wrong in his life rather than take responsibility and attempt to help make it right. No life is perfect, but frequently it's easier to blame others or external circumstances than take responsibility.
Q: Why did you decide to write a book with a dog as the main character? Are you yourself a "dog person"?
A: At the time I was plotting the book, I had been thinking a lot about our dog Sophie who had passed away several years ago. For so long just thinking about her broke my heart. But a shift had started to happen and the memories started making me smile or even laugh. Sophie had so much personality. If she was mad at me, she ignored me. If I was sad about something, she leaned up against me until I felt better. I know it sounds crazy, but she felt like a little person, a sometimes crotchety person! So with all this thinking about Sophie, one day when I came through a tunnel in Central Park and saw the statue of Balto the dog, the pieces came together. A dog has to be a character in this book, and not just any dog, a wonderful but crotchety dog...and Einstein came fully to life!
Q: At certain points throughout the story, Einstein's animal instincts kick in, both confusing and inconveniencing Sandy. Was there a reason to keep this animal influence involved in Sandy's transformation?
A: I had become obsessed with Cesar Millan's THE DOG WHISPERER and to paraphrase Cesar, The problem is with the humans, not with the dogs. In watching the show I was always amazed at how owners learn to be better humans by learning how to deal with their dogs. As a result, between my memories of Sophie, and seeing Balto, then add in Cesar, I realized it had to be through Einstein the dog's instincts that Sandy Portman learns how to be a true man.
Q: Throughout the book the theme of "second chances" comes up again and again. What do second chances mean to you? Why did you want to explore this idea?
A: I think most of us have moments in our lives that we would like to do over. While we can't get an actual "do over", I love the idea that we can get another chance to make things right, or find another chance to achieve a dream. Second chances are all about having hope, and it's hope that gets us out of bed in the morning.
Q: As Emily turns her life around, she goes through several changes, from finding new love and beginning to exercise, to taking risks at work and attempting to discover more about her family and her own upbringing. Is there one aspect of her reawakening that you find to be the most important or groundbreaking?
A: I think everyone has a vision of who they want to be, or who they think they are. Generally the image we hold of ourselves is an appealing version. The fact is, who can afford to live with an unappealing vision of themselves. What I liked most about Emily was that she was willing to look at who she was, and when the truth started to unravel her, she held on, fought against falling apart, then moved forward in an attempt to be someone better. And through that (in addition to through Einstein) her husband sees an example of someone trying to be their best. It both helps him and makes him angry.
Q: Once Emily stops running from the things in life that scare her, what did this represent to the storyline as a whole?
A: I think any time we do something that is difficult--something that we think we can't do--it strengthens us. It gives us a foundation on which to reflect back when the next challenge hits. A sort of: Err, this new challenge is impossible! But I did accomplish the other thing, so maybe I can do this too. Growing up I was never particularly serious about anything. But when I turned twenty, I realized life was passing me by. I started doing anything I didn't think I could do. I focused on school. I took probability and statistic courses, geology courses. I mountain climbed, I repelled, I set out to run a marathon. I even started to write. All these years later, I still push myself to do things that are out of my comfort zone. And every morning I get up and I go into the park to run because making it to the top of Heartbreak Hill, or finishing a run when I am surrounded by snow, reminds me that I can get to the top of a hill and nothing but fear holds me back. Emily learns who she really is by pushing herself beyond what she believes are her own limits.
Excerpt
No Excerpt Currently Available
Discussion Questions
Suggested by Members
Emily and Jordan are opposites; Jordan was their mother's favorite, and Emily always knew this. Does your personality in some way balance or counter balance your sibling's personal- ity? Your parent's? While being the less favorite child can be difficult,
Sandy Portman was a dog of a man while he was living, and he had to become a dog in order to learn how to be a true man. Do you agree with Sandy's ultimate fate at the end of the book? Do you think Einstein/Sandy changes gradually over the course of book,
Emily says: "[Althea], like my mother, gave up pieces of herself in an attempt to fit into a world that didn't accept her as she was. . . ." Both Sandy's and Emily's mothers came of age during the birth of modern feminism, and each tried to lead a life th
by bwolfer
(see profile)
09/29/14
Weblinks
There are no web links at this time.
Book Club Recommendations
Recommended to book clubs by 4 of 4 members.
Informal discussion and great food
by kjthompson (see
profile
) 10/02/12
Our hostess served appetizers. Smoked salmon, olives, meatballs, dips,cracker,chocolate covered strawberries, and more. It was wonderful:)
BECOME A MEMBER
it's free
Join the leading website for book clubs with over 35,000 clubs and 20,000 reading guides.
SEARCH OUR READING GUIDES
Search
JOIN OUR MAILING LIST
Get free weekly updates on top club picks, book giveaways, author events and more
Please wait...