BKMT READING GUIDES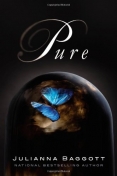 Pure

by Julianna Baggott
Published: 2012-02-08
Hardcover : 448 pages
1 member reading this now
0 club reading this now
1 member has read this book
Recommended to book clubs by 1 of 1 members
We know you are here, our brothers and sisters . . .
Pressia barely remembers the Detonations or much about life during the Before. In her sleeping cabinet behind the rubble of an old barbershop where she lives with her grandfather, she thinks about what is lost-how the world went from ...
No other editions available.

Jump to
Introduction
We know you are here, our brothers and sisters . . .
Pressia barely remembers the Detonations or much about life during the Before. In her sleeping cabinet behind the rubble of an old barbershop where she lives with her grandfather, she thinks about what is lost-how the world went from amusement parks, movie theaters, birthday parties, fathers and mothers . . . to ash and dust, scars, permanent burns, and fused, damaged bodies. And now, at an age when everyone is required to turn themselves over to the militia to either be trained as a soldier or, if they are too damaged and weak, to be used as live targets, Pressia can no longer pretend to be small. Pressia is on the run.

Burn a Pure and Breathe the Ash . . .
There are those who escaped the apocalypse unmarked. Pures. They are tucked safely inside the Dome that protects their healthy, superior bodies. Yet Partridge, whose father is one of the most influential men in the Dome, feels isolated and lonely. Different. He thinks about loss-maybe just because his family is broken; his father is emotionally distant; his brother killed himself; and his mother never made it inside their shelter. Or maybe it's his claustrophobia: his feeling that this Dome has become a swaddling of intensely rigid order. So when a slipped phrase suggests his mother might still be alive, Partridge risks his life to leave the Dome to find her.

When Pressia meets Partridge, their worlds shatter all over again.



A Q&A Between Justin Cronin and Julianna Baggott


Justin Cronin is the author of The Passage.
Justin Cronin: As Pure opens up we meet a girl named Pressia, who has a doll-head fused to one hand and a crescent-shaped burn around one eye.  Where did this image and character come from?
Julianna Baggott: The doll-head fist first appeared in a series of strange, otherworldly short stories. At the same time, I wanted to write something really ambitious, large in scope with cinematic world-building. Not thinking of either of these things, I sat down one day and started writing a dreamy stream of consciousness from the perspective of a 16-year-old girl, hiding in an ashen cabinet in the back of a burnt-out barbershop. I then realized that this girl had a doll-head fused to her fist and that the landscape outside of this barbershop was that ambitious cinematic landscape I'd been longing to write. The two things knit together, and Pressia found her true home.
Justin Cronin: Pure presents a dystopian future after the "Detonations."  What is it about post-apocalyptic fiction that attracted you as a writer and strikes a particular chord with readers today?
Julianna Baggott: Pressia is someone who finds small moments of beauty even amid all of the destruction of this post-apocalyptic world. That was one of the challenges--creating a character who's capable of seeing beauty, who's resilient and tough, and still has hope. I think that our world right now feels precarious--economically and politically--and therefore readers might be drawn to fiction that reflects the necessary toughness that so many people are relying on to survive. But, too, readers might be drawn Pure because the teen years can feel post-apocalyptic, and, on that level, Pure reflects a kind of emotional honesty that feels real.  
Justin Cronin: In the world of Pure, who are the Pures and who are the Wretches?
Julianna Baggott: The novel opens with Pressia who has survived the Detonations and is therefore a Wretch. But we also get the perspective of Partridge who's survived the Detonations inside of a protective Dome; he's a Pure. He's always believed that his mother died a saint while trying to save people during the Detonations. When he finds that this might not be true, he escapes the Dome to find her. The two characters' lives are set on a collision course and become entwined in many twisted ways that make this book a thriller.
Justin Cronin: The cover of Pure includes a striking image of a blue butterfly. What does the butterfly symbolize?
Julianna Baggott: The novel will hopefully force readers to think about what it means to be truly pure--pure of heart. The blue butterfly can represent the Pures who, like Partridge, live in the protective Dome, much like the bell jar on the cover. But it can also represent a more personal purity--like that of Pressia and some of the wretches who struggle to live with their dignity and humanity intact. In the second book in the trilogy, the blue butterfly takes on a more literal meaning as well. Also, check out the back cover of the book. There you'll find a mechanical butterfly created by the artist Mike Libby, well known in steampunk circles. The mechanical butterfly exists in Pure as one of Pressia's creations.
Justin Cronin: What can you tell us about what's coming next for Pressia, Bradwell, and Partridge in the next installment, Fuse?
Julianna Baggott: I broaden the ravaged landscape. Some of the characters travel great distances. There are new creatures to contend with, as well as plot twists and turns within the Dome. (I absolutely love the new characters that we meet within the Dome--as well as the development of characters that readers only met briefly in Pure.)  In addition to a new mystery to be unraveled and power struggles, there are two love stories in Fuse that really take hold, go deep, and become much more complex.
Excerpt
No Excerpt Currently Available
Weblinks
There are no web links at this time.
BECOME A MEMBER
it's free
Join the leading website for book clubs with over 35,000 clubs and 20,000 reading guides.
SEARCH OUR READING GUIDES
Search
JOIN OUR MAILING LIST
Get free weekly updates on top club picks, book giveaways, author events and more
Please wait...