BKMT READING GUIDES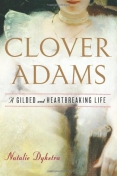 Clover Adams: A Gilded and Heartbreaking Life

by Natalie Dykstra
Published: 2012-02-08
Hardcover : 336 pages
1 member reading this now
2 clubs reading this now
3 members have read this book
The hidden story of one of the most fascinating women of the Gilded Age

Clover Adams, a fiercely intelligent Boston Brahmin, married at twenty-eight the soon-to-be-eminent American historian Henry Adams. She thrived in her role as an intimate of power brokers in Gilded ...
No other editions available.

Jump to
Introduction
The hidden story of one of the most fascinating women of the Gilded Age

Clover Adams, a fiercely intelligent Boston Brahmin, married at twenty-eight the soon-to-be-eminent American historian Henry Adams. She thrived in her role as an intimate of power brokers in Gilded Age Washington, where she was admired for her wit and taste by such luminaries as Henry James, H. H. Richardson, and General William Tecumseh Sherman. Clover so clearly possessed, as one friend wrote, ?all she wanted, all this world could give.?

Yet at the center of her story is a haunting mystery. Why did Clover, having begun in the spring of 1883 to capture her world vividly through photography, end her life less than three years later by drinking a chemical developer she used in the darkroom? The key to the mystery lies, as Natalie Dykstra?s searching account makes clear, in Clover?s photographs themselves.

The aftermath of Clover?s death is equally compelling. Dykstra probes Clover?s enduring reputation as a woman betrayed. And, most movingly, she untangles the complex, poignant ? and universal ? truths of her shining and impossible marriage.
www.nataliedykstra.com


Editorial Review
Amazon Exclusive: A Q&A with Author Natalie Dykstra
Q: What was it about Clover that first drew you in?

A: I?d heard about Clover on the margins of other lives?her husband, Henry Adams, of course, but also Alice James, Henry James, Isabella Stewart Gardner, and others. Clover had long fascinated people?she was married to a famous man, led a privileged life in Boston and Washington, D.C., and at forty-two years old she committed suicide. She?s a mysterious figure and the mystery is only deepened by the haunting statue, sculpted by Augustus Saint-Gaudens, that marks her grave in Rock Creek Cemetery in Washington, D.C. When I read about how Eleanor Roosevelt would take a horse and carriage and sit in front of Clover?s memorial, I got curious about this woman who so fascinated Mrs. Roosevelt. Knowing Clover had been a serious amateur photographer, I began to wonder if answers about her life and what had happened might be found in her photographs. When I went to the Massachusetts Historical Society for the first time to look at her photograph collection, it was as if a past world unfolded in front of my eyes. What I saw was exactly what she?d seen herself. There was visual evidence that letters don?t provide, opening up hidden pathways to her inner life. When I discovered a notebook in which Clover kept a detailed record of her photographs, I realized that she?d paid close attention to how she put her photographs into her albums. She wanted her photographs to be viewed in a particular way because she was telling a story?her story.
Q: Tell us about your sources. What were your best finds?
A: Besides her photographs and her notebook, what made it possible to see the whole arc of Clover?s life was the discovery of family papers still in private hands, most of which have never been seen before. Suddenly, I could understand the world she?d been born into, the ways her family members talked to one another, the love between her father and mother. Also in this private collection is an unknown, heartrending letter written by William James in 1901 to comfort one of Clover?s nieces. This letter gave me a new and important way to think about Clover?s death and its aftermath.
Q: Clover led such a glamorous life in Gilded Age Washington. What are a couple of your favorite images or stories from that time in her life?
A: Clover and Henry were at the center of the political and cultural life of Washington. Politicians, scientists, artists, writers?they all gathered at the Adams? home on Lafayette Square for some of Clover?s Russian tea and her equally delicious gossip. I love to think of the evening-long talks with the Five of Hearts, a select group consisting of Clover, Henry, Clarence King, and John and Clara Hay, and how they?d sit close together in low-slung red-leather chairs around a blazing fire. As Clover said, it was always a "good deal of good talk." I often think of Clover and Henry, bundled up on a cold winter night, walking over for dinner at the White House. They were never very impressed by the presidents during their years in Washington, but Clover enjoyed the drama of those evenings. Gen. William Tecumseh Sherman always tried to sit next to Clover at dinner parties?he once recreated his "march to the sea" by placing all the dinnerware in the middle of the table and then, in the heat of action, sweeping the table clean, with forks and knives flying everywhere. There was almost nothing Clover enjoyed more than these kinds of moments. But, as glamorous as their lives were in Washington, Clover kept a wary eye on the scene?she was no unthinking social butterfly. She craved real friendships. And she was too smart to be completely swept up in what she called the "society rabble."
Q: Other than Clover herself, who are your favorite characters in Clover Adams?
A: There are so many. I remember looking forward to spending time with H. H. Richardson, architect of Boston?s Trinity Church, whom Henry and Clover hired to build their new house in Washington. Richardson was outrageously talented, brimming with life. He was an absolute extrovert?and a relief for me after days spent with Henry Adams, who was very much not an extrovert. I was moved by what a good friend John Hay was to the Adamses?his letters shine with his generosity. Henry James is such a large figure that he can stride into one?s narrative and take over in no time. But he taught me a lot about the restraint of that era, of what to say and what not to say, and his relationship with Clover was revealing?they liked each other, but they were both eagle-eyed portraitists of the other.
Of course, there?s Clover?s father, Dr. Hooper, and Lizzie Cameron, a complicated beauty, a rival for Henry?s attentions, damaged, and a "dangerously fascinating" woman, as someone put it. But I think a favorite character was Clover?s mother, Ellen Sturgis Hooper, about whom we knew very little until I found a stash of her letters in the family papers. She was a talented poet, friend of Emerson and Margaret Fuller, and an expressive, loving mother. She adored Clover. I could hardly bear to write of her death of tuberculosis at the age of thirty-six, when Clover was just six years old. Knowing her more fully, having a sense of her voice in her letters, helped me take full measure of what her loss meant to Clover. In some way, her absence haunts the story.
Q: Clover Adams is the story of a woman beginning to become an artist; it?s the story of a marriage; and it?s also a kind of mystery story. Did you know these would all be strands of your story from the start of your work on Clover?
A: Early on, I started to think of the story as a ghost story because it helped me stay away from making arguments about Clover or proving points?I could stay clear of preconceived ideas and focus instead on finding clues to the mystery.
Clover was known for her marriage and for committing suicide. The last act of her life had defined her, and she?d become no more than an emblem of loss and suffering. This seemed so unfair. To counter the way memory of her had become so stuck in stereotypes, I tried to stay close to her words and her photographs and to understand these sources as fully as possible. Once I was sure I wouldn?t get blown off track, I turned to Henry Adams, because I knew that to understand Clover, I had to enter into their marriage. Henry Adams said when he was writing a biography: "a great mass of material is almost as troublesome to a biography as a short allowance." How true. Books both by and about Henry fill the shelves. But I didn?t want his Pulitzer Prize?winning voice from his autobiography, The Education of Henry Adams, to take over Clover?s story. I had to inch my way toward him. It was finally seeing him as a teacher at Harvard, the same years in which Clover fell in love with him, that enabled me to imagine their relationship and what he brought her. His students adored him. He had an extraordinarily creative mind. Clover couldn?t go to college, but Henry opened up what was possible for her to know. They would read together until all hours of night, from French literature and German philosophy to current science and the latest by American authors. What became clear is how compatible they were and how much they loved each other. Henry loved her sense of adventure, her wit. There?s a scene of him at dinner, waving his napkin up and down, doubled over with laughter at one of Clover?s stories.
All of this only deepens the mystery of what went wrong. Something does shift in their marriage?it?s almost imperceptible at first. Henry?s flirtation with a beautiful younger woman, Clover?s growing anxiety about not having children, his increasing introversion, and her turn towards photography. The drift in their marriage becomes a chasm they can?t bridge. But this happens in the years when Henry was writing a second novel about a woman, this time a "failed artist." And Clover is taking photographs of him and their life together. So he?s writing about her, while she?s documenting her side of things, and they?re doing so in these wonderfully rich and roundabout ways. The clues had been there all along.
Q: The haunting Saint-Gaudens statue in Rock Creek Cemetery at Clover?s grave has drawn many, women especially, over time. Could you tell us a little about that?
A: Clover?s story resonates. She was a gifted woman who enjoyed enormous privilege?in many ways she lived the kind of life not available to most women. And yet, her determination to find a way to express herself, her worries in her marriage, her need for family, her struggle with painful feelings, her deep longing for connection and meaning?well, it?s a human story, isn?t it? It?s our story. And I think what the statue most communicates is that no matter what we suffer, we?re not defined by our suffering. I think that?s why it?s been a source of such comfort over the years.
---
Excerpt
No Excerpt Currently Available
BECOME A MEMBER
it's free
Join the leading website for book clubs with over 35,000 clubs and 20,000 reading guides.
SEARCH OUR READING GUIDES
Search
JOIN OUR MAILING LIST
Get free weekly updates on top club picks, book giveaways, author events and more
Please wait...