BKMT READING GUIDES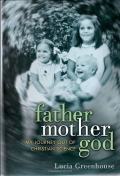 fathermothergod: My Journey Out of Christian Science

by Lucia Greenhouse
Published: 2011-08-09
Hardcover : 320 pages
3 members reading this now
5 clubs reading this now
3 members have read this book
Recommended to book clubs by 2 of 2 members
Lucia Ewing had what looked like an all-American childhood. She lived with her mother, father, sister, and brother in an affluent suburb of Minneapolis, where they enjoyed private schools, sleep-away camps, a country club membership, and skiing vacations. Surrounded by a tight-knit ...
No other editions available.

Jump to
Introduction
Lucia Ewing had what looked like an all-American childhood. She lived with her mother, father, sister, and brother in an affluent suburb of Minneapolis, where they enjoyed private schools, sleep-away camps, a country club membership, and skiing vacations. Surrounded by a tight-knit extended family, and doted upon by her parents, Lucia had no doubt she was loved and cared for. But when it came to accidents and illnesses, Lucia's parents didn't take their kids to the doctor's office--they prayed, and called a Christian Science practitioner. 
 
fathermothergod is Lucia Greenhouse's story about growing up in Christian Science, in a house where you could not be sick, because you were perfect; where no medicine, even aspirin, was allowed. As a teenager, her visit to an ophthalmologist created a family crisis. She was a sophomore in college before she had her first annual physical. And in December 1985, when Lucia and her siblings, by then young adults, discovered that their mother was sick, they came face-to-face with the reality that they had few--if any--options to save her. Powerless as they watched their mother's agonizing suffering, Lucia and her siblings struggled with their own grief, anger, and confusion, facing scrutiny from the doctors to whom their parents finally allowed them to turn, and stinging rebuke from relatives who didn?t share their parents? religious values. 
 
In this haunting, beautifully written book, Lucia pulls back the curtain on the Christian Science faith and chronicles its complicated legacy for her family.  At once an essentially American coming-of-age story and a glimpse into the practices of a religion few really understand, fathermothergod is an unflinching exploration of personal loss and the boundaries of family and faith.  
 

Lee Woodruff Reviews fathermothergod
As co-author of the best-selling In an Instant, Lee Woodruff garnered critical acclaim for the compelling chronicle of her family's journey to recovery following her husband Bob's roadside bomb injury in Iraq. She recently published her second book, Perfectly Imperfect: A Life in Progress. Her first novel will be published in summer 2012. At present, Woodruff lives in Westchester County, New York, with her husband and four children.
Some of the most compelling memoirs make their marks because they allow us access to what we know is the ugly, dysfunctional side of being in a family, no matter how brightly scrubbed and polished its exterior might be.
So when someone you know writes a memoir, there is an extra dimension of interest (full disclosure, Greenhouse is a friend). Not only do you become privy to information they might not share in a prison cell, but it's a personal invitation to look inside someone's psyche and under the beds where all the dirty laundry and family secrets are whispering.
Ten pages into Lucia Greenhouse's fathermothergod, I knew that this book would deliver. It was much more than a person's disillusionment with her religion; it was a soul-searching, sometimes jaw-dropping read about how dogmatic religion can splinter a family. And it is a beautifully written account of how one woman set out to heal after walking away from the wreckage of her childhood.
I knew very little about Christian Science, and in fact, more of the religion's history that I wanted came later in the book. Other than the famous news items and a few horror stories I?d heard in childhood about people refusing to go to the hospital, in the sixties the Christian Scientist religion seemed to me to lurk semi-shamefully in the background, its interior rituals shrouded like today's Scientology.
A lot of what Greenhouse has to say will, I?m sure, anger the church. And she never presents the tale as anything other than her version of events. But she writes searingly about coming of age at a time when father knew best. Raised by a dominant Christian Scientist ?healer? father and a compliant mother, Greenhouse writes absorbingly about her family's inability to take aspirin or even get eyeglasses, due to their beliefs. The reader wants to scoop her up and hug her, scold the parents for their inattention and blind devotion to doctrine at the expense of bloodlines and relationships.
Greenhouse aptly sets the stage for her life--the many moves, the well-heeled trust-fund background that presumably supports them, the private schools and lifestyle (although I found myself wanting to know more about this)--so that when her mother becomes ill and is isolated by Lucia's father, you want to rail and weep at such unnecessary waste, the careless squandering of filial love.
What haunted me about fathermothergod long after I?d flown through the pages was the thought-provoking conundrum in which religion had bound the children. What if you didn?t speak up? What if your age, those precarious years between the teens and adulthood, made you second-guess your loyalties? What if a lifetime of parental obedience was in direct conflict with the horrors that unspooled before your eyes? Greenhouse chronicles all of this in engrossing detail and the book reverberates with honesty, regret, pain, love, and then the resilience of a person determined, in the aftermath of tragedy, to write her own life's next chapter. I heartily recommend this read.
---
Excerpt
No Excerpt Currently Available
Weblinks
There are no web links at this time.
BECOME A MEMBER
it's free
Join the leading website for book clubs with over 35,000 clubs and 20,000 reading guides.
SEARCH OUR READING GUIDES
Search
JOIN OUR MAILING LIST
Get free weekly updates on top club picks, book giveaways, author events and more
Please wait...