BKMT READING GUIDES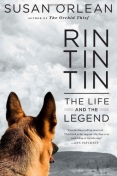 Rin Tin Tin: The Life and the Legend

by Susan Orlean
Published: 2011-09-27
Hardcover : 336 pages
1 member reading this now
6 clubs reading this now
3 members have read this book
Recommended to book clubs by 1 of 1 members
He believed the dog was immortal.

So begins Susan Orlean's sweeping, powerfully moving account of Rin Tin Tin's journey from orphaned puppy to movie star and international icon. Orlean, a staff writer at The New Yorker who has been hailed as "a national treasure" by The Washington ...
No other editions available.

Jump to
Introduction
He believed the dog was immortal.

So begins Susan Orlean's sweeping, powerfully moving account of Rin Tin Tin's journey from orphaned puppy to movie star and international icon. Orlean, a staff writer at The New Yorker who has been hailed as "a national treasure" by The Washington Post, spent nearly ten years researching and reporting her most captivating book to date: the story of a dog who was born in 1918 and never died.

It begins on a battlefield in France during World War I, when a young American soldier, Lee Duncan, discovered a newborn German shepherd in the ruins of a bombed-out dog kennel. To Duncan, who came of age in an orphanage, the dog's survival was a miracle. He saw something in Rin Tin Tin that he felt compelled to share with the world. Duncan brought Rinty home to California, where the dog's athleticism and acting ability drew the attention of Warner Bros. Over the next ten years, Rinty starred in twenty-three blockbuster silent films that saved the studio from bankruptcy and made him the most famous dog in the world. At the height of his popularity, Rin Tin Tin was Hollywood's number one box office star.

During the decades that followed, Rinty and his descendants rose and fell with the times, making a tumultuous journey from silent films to talkies, from black-and-white to color, from radio programs to one of the most popular television shows of the baby boom era, The Adventures of Rin-Tin-Tin. The canine hero's legacy was cemented by Duncan and a small group of others—including Bert Leonard, the producer of the TV series, and Daphne Hereford, the owner of the current Rin Tin Tin—who have dedicated their lives to making sure the dog's legend will never die.

At its core, Rin Tin Tin is a poignant exploration of the enduring bond between humans and animals. It is also a richly textured history of twentieth-century entertainment and entrepreneurship. It spans ninety years and explores everything from the shift in status of dogs from working farmhands to beloved family members, from the birth of obedience training to the evolution of dog breeding, from the rise of Hollywood to the past and present of dogs in war. Filled with humor and heart and moments that will move you to tears, Susan Orlean's first original book since The Orchid Thief is an irresistible blend of history, human interest, and masterful storytelling—a dazzling celebration of a great American dog by one of our most gifted writers.
Editorial Review
---
Amazon Exclusive: Garth Stein Reviews Rin Tin Tin
Garth Stein is the author of The Art of Racing in the Rain and How Evan Broke His Head and Other Secrets .
I have no cultural or historical reason to be interested in Rin Tin Tin: I was not born in the 1920's when Rinty was a silent film star; I was not swept up in the dog obedience training craze of the 50's; as a child, I was warned that German shepherds were a mean and violent sort and I should stay away from them; while I spent a lot of time watching television when I was a kid in the 60's (most of it on a black &;amp white Zenith with rabbit ears and a knob you would use to change the channel--remember knobs?), I am still non-plused by the fact that I never--not even once--saw an episode of the Rin Tin Tin television show. Why then did I find this book utterly engaging?
I remember my Calculus teacher raising a question in class one day many years ago: is math something that is created, or is it discovered? As a teenager, I found the question quite provocative. And I couldn't help but ponder the question again--though in a different context--as I read the absolutely fascinating history of Rin Tin Tin, as told by Susan Orlean. Is a hero, an icon, a star, a cultural phenomenon created, or discovered?
Surely, Lee Duncan "found" the first Rin Tin Tin. And he set about training his dog, and he made the rounds in Hollywood with Rinty, knocking on doors, looking to be discovered. But he did so with such determination, one wonders if it were the idea of Rin Tin Tin or the dog, himself, that inspired Duncan. In other words, was the concept of Rin Tin Tin bigger than the dog from the very beginning?
As the story of Rinty unfolds, we realize that his history is a clear reflection of the history of film in the 20th Century, as well as the history of popular culture during the same period. From the beginnings of the moving picture, silent films, talkies, the advent of color, and then the innovation called television, Rinty was reimagined to adapt to the changing media, and continued to find his way into the hearts of Americans.
What I find most interesting is that Rin Tin Tin's biggest champions, Lee Duncan and Bert Leonard, pursued the Rin Dynasty (there were many, many generations of Rin Tin Tins), at great personal cost. And while they got paid, to be sure, their compensation was never commensurate with their efforts. Rather, they both felt a greater duty to disseminate the message of Rin Tin Tin; personal gain was a secondary consideration. They felt that what they were doing was a service to society. That the story of Rin, and, then again, the stories Rin told, were life-affirming, healing, and inspiring, and that is what a damaged world needed.
Though Lee Duncan proclaimed Rin Tin Tin to be immortal, his downfall did come, and with it, the downfall of Duncan, and later of Leonard and others who tried to keep the dynasty alive. Did we, as a society, simply outgrow Rin Tin Tin? Was he undone by computer graphics technology, short attention spans, loss of ability to suspend disbelief, and a skeptical inability to anthropomorphize? Or did we simply heal the wounds inflicted by world wars and atrocities of the last century? Did Rin Tin Tin, who was found on the battlefield in World War I, come to the aid of an ailing society, and, having provided solace to the people, simply serve his purpose and move on? One can argue either point, but I like to think the latter is more fitting. And I like to think that the love and devotion of a dog named Rin Tin Tin helped us greatly in our healing.
There were many Rin Tin Tins, and sometimes dogs who weren't even Rintys played Rinty on television and in the movies. Because Rin Tin Tin, the hero, is larger than any one dog.
Was the hero discovered or was he invented? I think a little of both. For certainly it was good fortune that Lee Duncan stumbled upon the dog, Rin Tin Tin, in France. But it was hard work, clever marketing, and sensitivity and understanding of the larger issues with which our society struggled that made the dog a hero. Having the key to the door is not enough; one must know to unlock the door and step through.
Rin Tin Tin is a wonderful, compelling book that will have you thinking long after you've set it down. Susan Orlean has created a fascinating history of a dog, yes, but she has also opened a discussion of many larger issues, which are highly relevant and provocative. This is a truly terrific book! --Garth Stein
---
Excerpt
No Excerpt Currently Available
Weblinks
There are no web links at this time.
BECOME A MEMBER
it's free
Join the leading website for book clubs with over 35,000 clubs and 20,000 reading guides.
SEARCH OUR READING GUIDES
Search
JOIN OUR MAILING LIST
Get free weekly updates on top club picks, book giveaways, author events and more
Please wait...