BKMT READING GUIDES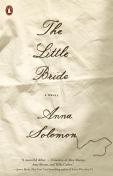 The Little Bride

by Anna Solomon
Published: 2011-09-06
Paperback : 336 pages
1 member reading this now
3 clubs reading this now
1 member has read this book
No other editions available.

Jump to
Editorial Review
When 16-year-old Minna Losk journeys from Odessa to America as a mail-order bride, she dreams of a young, wealthy husband, a handsome townhouse, and freedom from physical labor and pogroms. But her husband Max turns out to be twice her age, rigidly Orthodox, and living in a one-room sod hut in South Dakota with his two teenage sons. The country is desolate, the work treacherous. Most troubling, Minna finds herself increasingly attracted to her older stepson. As a brutal winter closes in, the family's limits are tested, and Minna, drawing on strengths she barely knows she has, is forced to confront her despair, as well as her desire.
Author One-on-One: Anna Solomon and Jenna Blum
In this Amazon.com exclusive, Anna Solomon is interviewed by author Jenna Blum about The Little Bride, her influences, and the challenges of writing historical fiction.
Jenna Blum: Congratulations on the publication of your debut novel, The Little Bride. Most first novels are presumed to be largely autobiographical, but I like to do everything backwards, so my debut novel, Those Who Save Us, is not. (And you wouldn't believe the number of readers who are surprised when I show up at events and I'm not an 80-something German woman or a 50-something German history professor with an attitude problem.) One assumes you are not a mail-order emigrant from Odessa who homesteaded in the 19th-century Dakotas, so how did you come to write The Little Bride, and how much of it stems from your family background?
Anna Solomon: It's true, I'm not a mail-order bride. I'm not a pioneer, either. I did work as a chambermaid one summer, so maybe that covers the maidservant part? And my paternal great grandfather came from outside Odessa, so I'd always been fascinated by the City of Thieves. Some family lore makes it in to the book. But really I discovered this story accidentally. I was Googling myself--don't laugh!--when I came across another Anna Solomon, on a website called Stories Untold: Jewish Women Pioneers. And I thought, Jewish women pioneers? I started learning about them, and the mail-order brides among them, and that's how The Little Bride began.
Blum: One challenge in writing a historical novel is that one can't get into a time machine and travel back to get the hands-on details. Instead, one might rely on what one of my readers kindly referred to as "method research," i.e. craziness like, just for instance, writing while wearing a drindl skirt and one's hair in braids. What research did you undertake for The Little Bride and what inroads did it make into your waking/dreaming life?
Solomon: My "methods" are a little half-baked, I'm afraid. I mean, I did a ton of research. And I had spent time in South Dakota on a public radio assignment, which gave me a real feel for the landscape. But mostly I just sat and imagined. Sometimes I would move my hands around in the air --seeing what it might feel like it to braid grass, for instance. Also, I ate a bunch if sunflower seeds, and I touched tomato plants then went around smelling my fingers. Many of the visceral details I drew from other writers--Isaac Babel, Willa Cather--who had lived during these times, in these places. I let their senses guide me.
Blum: Your writing reminds me of so many great writers' works: Isaac Bashevis Singer, Amy Bloom, Willa Cather, Alice Munro--all rolled into one and compulsively readable! I think it's the combination of your matter-of-fact charting and acceptance of human foibles combined with the wryest humor. Not to mention a graceful turn of phase on every page. I might hate you if I didn't love you, but meanwhile, whom do you read when you want to remember how to write, and why?
Solomon: I'm blushing. Certainly the writers you mention have all influenced me, Munro perhaps the most. Recently I've fallen in love with Elizabeth Strout and I find myself opening her books for just about any reason I can make up. Others I turn to often: Lorrie Moore, for honesty and humor; Annie Proulx, for energy; Marilynne Robinson, for patience; Michael Cunningham, for structure and grace; Anton Chekhov, when I need courage.
Blum: Full disclosure: I've known you since 1998, when you took my first fiction workshop at Grub Street Writers (okay, the first fiction workshop I ever taught, unbeknownst to you--I hope!). I told you then I thought you will be a very important writer. Where do you see your career in 15 years?
Solomon: If I make as much progress as I have in the last thirteen years, I'll be very happy. It amazes me now how little I knew back in that workshop--which was my first as a student! I feel lucky to have had so many amazing teachers who have emphasized the work itself, not the publishing part. You have to do the work--the rest will follow. Mostly I hope I can keep that focus, on writing, on telling the stories I want to tell. If I can do that, then there will be more books, and hopefully readers who love them.
Blum: In addition to being in awe of your writing, I'm in awe that you managed to write The Little Bride while raising your lovely young daughter, Sylvie. How has being a mother affected you as a writer?
Solomon: You mean besides having to lug a breast pump to the Brooklyn Writers Space when I first went back to work? Being a mother has changed the logistics of my writing, certainly: I can no longer be at my desk within 15 minutes of waking, and I have less time overall. But it's also made me more efficient. I went to an artist's residency last year for two weeks and it felt like a year - I wrote fifty pages of a new novel! More importantly, motherhood has given me more perspective on, well, just about everything. Certainly it helped me understand the characters in The Little Bride in ways I couldn't have before. And writing has influenced my mothering, too. Last week, Sylvie said to me, "Mama, can we stay on the swings for just one more page?" And I thought, ah, it's rubbing off.
Anna Solomon photo by Nina Subin
Excerpt
No Excerpt Currently Available
Weblinks
There are no web links at this time.
BECOME A MEMBER
it's free
Join the leading website for book clubs with over 35,000 clubs and 20,000 reading guides.
SEARCH OUR READING GUIDES
Search
JOIN OUR MAILING LIST
Get free weekly updates on top club picks, book giveaways, author events and more
Please wait...