BKMT READING GUIDES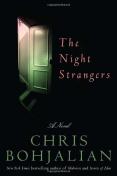 The Night Strangers: A Novel

by Chris Bohjalian
Published: 2011-10-04
Hardcover : 400 pages
14 members reading this now
12 clubs reading this now
8 members have read this book
Recommended to book clubs by 2 of 3 members
"A page-turner of uncommon depth. Guilt, egotism, and fear all play parts in the genre-bending novel."—Booklist, Starred Review
In a dusty corner of a basement in a rambling Victorian house in northern New Hampshire, a door has long been sealed shut with 39 six-inch-long carriage ...
No other editions available.

Jump to
Introduction
"A page-turner of uncommon depth. Guilt, egotism, and fear all play parts in the genre-bending novel."—Booklist, Starred Review
In a dusty corner of a basement in a rambling Victorian house in northern New Hampshire, a door has long been sealed shut with 39 six-inch-long carriage bolts. 
     The home's new owners are Chip and Emily Linton and their twin ten-year-old daughters. Together they hope to rebuild their lives there after Chip, an airline pilot, has to ditch his 70-seat regional jet in Lake Champlain due to double engine failure. The body count? Thirty-nine.   
     What follow is a riveting ghost story with all the hallmarks readers have come to expect from bestselling, award-winning novelist Chris Bohjalian: a palpable sense of place, meticulous research, an unerring sense of the demons that drive us, and characters we care about deeply. The difference this time? Some of those characters are dead.
Guest Reviewer: Justin Cronin on The Night Strangers by Chris Bohjalian
Justin Cronin is the bestselling author of
The Passage
, as well as
Mary and O'Neil
, which won the Pen/Hemingway Award and the Stephen Crane Prize, and
The Summer Guest.
To put the matter succinctly: The first chapter of Chris Bohjalian's The Night Strangers is so riveting, I dropped the book in the tub.
I spent the next half-hour running a hair-dryer over its soaked pages. By the time the task was complete the book was as swollen as a Reuben sandwich. It was clear to me that if the first twenty pages were any indication, I?d better read the rest somewhere safe and secure, with neither water nor fire, and while I was at it, some good soundproofing, lest I freak out my children by shrieking like an acrophobe on a roller coaster.
I wasn?t wrong.
Describing Bohjalian's thirteenth novel isn?t a simple matter. Its dovetailing plots are so seamlessly interwoven--as tightly screwed together as the thirty-nine carriage bolts sealing the mysterious door in the Linton's (very creepy) basement--I don?t want to give too much away.
But it's also a challenge to summarize because The Night Strangers is so many novels at once, as all good novels must be. It's a psychological thriller. It's a domestic drama, the story of a family coping with the aftermath of dislocation and disaster. It's a book about a specifically American locale, in this case a small town in a remote corner of New Hampshire. It's a classic New England ghost story, and a hell of a good one. (It also won?t make you want to get on an airplane anytime soon, though there I go, telling too much.)
I?ve been following Bohjalian for some time. Always I?ve come away from his novels replete with admiration--and not a little envy--for his skill and versatility, book after book. His psychological acumen is downright Flaubert-esque, most notably (and remarkably) in his creation of female characters. But Bohjalian is a reader-friendly writer, too. His novels are compulsively discussable, the kinds of tales that employ specific human dramas to probe larger ethical issues. They make you think. They are, in every sense, ?what would you do?? books, and the answers are never simple.
If there's a core to Bohjalian's work, though, it's the cultural divide between the modern scientific world and--for lack of a better term--the spiritual world and its ancient practices. His novels are populated by the likes of dowsers (Water Witches), the practitioners of traditional female-assisted birth (Midwives), homeopaths (The Law of Similars), even a shape-shifter (Trans-Sister Radio).
The Night Strangers follows this tradition, but with a dark twist. The witches of Bethel, New Hampshire are decidedly of the sinister variety?albeit more likely to sell real estate and wear stylish leather skirts than fly around on brooms and don pointy hats. Beneath the town's charming rural surface of gingerbread Victorians, maple sugarhouses, and fiery foliage lurks a conspiracy of evil reminiscent of Nathaniel Hawthorne's ?Young Goodman Brown.? How evil? Suffice it to say that when somebody drops by to welcome newcomers to the neighborhood with a plate of vegan brownies, they should think twice before taking the first bite.
But to say anything more would be to reveal too much. Fans of his fiction, as I am, will know The Night Strangers is pure Bohjalian. Newcomers will come away wanting more. And if you read it in the bathtub, consider yourself warned.
Excerpt
Prologue
The door was presumed to have been the entry to a coal chute, a perfectly reasonable assumption since a small hillock of damp coal sat moldering before it. It was a little under five feet in height and just about four feet wide, and it was composed of barnboard and thick pieces of rough-hewn timber. Its most distinguishing feature was not its peculiarly squat visage—and if a person were predisposed to see such things in the dim light of the basement, the knobs on the wood and the character of the planking did suggest the vague shadow of a face—but the fact that at some point someone had sealed the door shut with six-inch-long wrought-iron carriage bolts. Thirty-nine of them ringed the wood and it was all but impenetrable, unless one were feeling energetic and had handy an ax. The door glowered in an especially dank corner of the basement, and the floor before it was dirt. The fact was, however, that most of the basement floor was dirt; only the concrete island on which sat the washing machine, the dryer, the furnace, and the hot-water tank was not dirt. When most prospective buyers inspected the house, this was their principal concern: a floor that seemed equal parts clay and loam. That was what caused them to nod, their minds immediately envisioning runnels of water during spring thaws and the mud that could be brought upstairs every time they did laundry or descended there to retrieve(perhaps) a new lightbulb or a hammer. It was a lot of largely wasted square footage, because the footprint of the house above it was substantial. As a result, the door was rarely noticed and never commented upon. ...
view entire excerpt...
Discussion Questions
Suggested by Members
The epilogue - possible alternate endings.
Possible movie??? Who do you see as playing the roles of John, Anise, Reseda....
If you cannot get the author for a speaker phone or skype discussion then play this youtube interview www.youtube.com/watch?v=9Xl4TlkvS94 or www.youtube.com/watch?v=xvaYfCOz894.
by ncvlib
(see profile)
12/06/11
Book Club Recommendations
Recommended to book clubs by 2 of 3 members.
So many ideas that you can use to enhance the meeting from food to new names for your members.
by ncvlib (see
profile
) 12/06/11
We have some very inventive members who researched herbal plants to find names for each of us. Another member made vegan brownies with a "secret" ingredient and another brought airline peanuts. What fun!
BECOME A MEMBER
it's free
Now serving over 80,000 book clubs & ready to welcome yours. Join us and get the Top Book Club Picks of 2022 (so far).
SEARCH OUR READING GUIDES
Search
JOIN OUR MAILING LIST
Get free weekly updates on top club picks, book giveaways, author events and more
Please wait...