BKMT READING GUIDES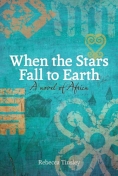 When the Stars Fall to Earth

by Rebecca Tinsley
Published: 2011-03-31
Paperback : 312 pages
0 members reading this now
2 clubs reading this now
0 members have read this book
Recommended to book clubs by 1 of 1 members
Centered around the plight of five Darfuri refugees, the novel follows the stories of Zara, Ahmed, Hawa, Abdelatif, and Rashid as each of them copes with life- and soul-threatening circumstances. Author Rebecca Tinsley makes their journey the reader s journey, and long after you put the book down ...
No other editions available.

Jump to
Introduction
Centered around the plight of five Darfuri refugees, the novel follows the stories of Zara, Ahmed, Hawa, Abdelatif, and Rashid as each of them copes with life- and soul-threatening circumstances. Author Rebecca Tinsley makes their journey the reader s journey, and long after you put the book down the characters will stay with you. Zara, barely escapes from the marauding Arabs and, numb with terror, crouches in a dried up riverbed beneath a rocky pass in the mountains. As the killing helicopter gunship flies overhead, her heart stops as she spies her pink flip flops clearly visible on the open ground near her. Zara, who is unusually gifted with both intelligence and education, hears the steady and calm voice of her grandfather the Sheikh of her village now dead telling her to use both of her gifts. I m going to survive this, she assures herself as she rescues her shoes and resumes her flight toward the uncertain sanctuary of the refugee camp. Ahmed, as fleet of foot as Zara is of mind and a born soccer player, organizes soccer teams in the refugee camp to help the dispirited refugees cope. Now, however, sitting in the stifling interrogation room, Ahmed tries to take his mind off the heat and the pain of the bullet lodged in his hip. Maybe this wound of mine will stop me playing professional soccer, but I can live with that, if it means getting out of here, he thinks. He recalls how the cool dawn air used to feel as he emerged from his hut, back in the village, when he used to run. After the first few paces he would get into his stride, leaving the village behind, like a streak of lightning, like the wind. Free of the cares and woes that plagued him and the rest of his village. His mind and his eyes looking forward, for the future, for hope. Hawa, measured and accustomed to being obedient, accepted the traditional role of a woman in her Darfuri village. Now wounded and damaged, she fights to find the will to live. She finds that will with help from Mary, the Christian nurse, from Ahmed, the optimist and organizer, and even in a backhanded way from Rashid, to whom she had been betrothed. The pain returned when she pulled herself upright, but Hawa felt strangely triumphant. I survived, she thought. I made it and I m here and I survived. They re not going to destroy me that easily. Ultimately, she goes far beyond finding the will to live: she develops into a strong leader who takes on the task of helping her people to learn and develop a new way of thinking and living. As Rebecca Tinsley guides us through each character s journey, we learn about the politics of violence and genocide, about the pain and terror of the African Wild West and about the hope, burning like a beacon in the night, that drives these young Darfuris to fight for their country, fight for their freedom, and fight for their lives.
Excerpt
No Excerpt Currently Available
Discussion Questions
From the author:
1. There are five major characters who are in refugee camps at one time or another: Zara, Abdelatif, Hawa, Rashid, and Ahmed. Which of these characters makes the greatest transformation during the course of the novel? How do you account for the differences?
2. When Martin first arrived in Muhammad's village, he was struck by how much the village conformed to his concept of the Wild West. Does the conflict between the sheepherders and the farmers also remind you of the American westerns? How is it very different? Who is the sheriff?
3. Hawa and Rashid were once betrothed. However, in El Geneina, they both professed to despise the other. What was the source of their enmity? Is there any chance of their being reconciled?
4. There are two grandfathers, and both are sheikhs or leaders of the respective villages. Since both are Muslims, how do you account for the differences in their outlooks on the role of the sheikh, religion, and community?
5. Martin was an outsider in the village and in the school in which he taught. Nonetheless, his short stay cast a long shadow. Characterize how he affected Zara. Do you know from your own experiences a similar individual whose life was modest but affected others in a major way?
6. Mary was also an outsider and a Christian. She had been taught by her father that we are all sons and daughters of Abraham. What does that mean? Do you have any hope that this idea could take hold in Darfur? The Methodists in London reached out to Zara's family. How does Abdelatif's response to their help affect your answer?
7. Hawa and Rashid remained in Darfur. Abdelatif desperately wants to return and help. Zara, despite her gifts of smarts and education, could not wait to get to New Jersey. How do you account for these differences? Is Zara somehow a traitor to her people?
8. Which of the five characters do you most relate to? Which character do you think behaved the way you might have behaved in the same circumstances?
9. The children's drawings (see the website) provide a powerful corroboration of the Darfur genocide. Are you surprised the children can survive and take up caring roles such that the heroes of this story have done? How do you account for their strength?
10. The children's drawings bear remarkable resemblance to children's drawings in the Nazi concentration camps, in Bosnia, and in Rwanda. What does that say about the perceptions of children? What does this say about the nature of genocide. Do these conclusions challenge the notion that the Burundi-Rwanda-Darfur genocides are simply manifestations of primitive tribes infighting?
11. The president of Sudan has been indicted for war crimes and genocide, but he remains at liberty in Khartoum. His top officials continue to travel the world at will. Why are the efforts to stop the genocide so weak? Can these efforts be strengthened? Why are other African nations indifferent in their actions to Darfur's plight?
BECOME A MEMBER
it's free
Join the leading website for book clubs with over 35,000 clubs and 20,000 reading guides.
SEARCH OUR READING GUIDES
Search
JOIN OUR MAILING LIST
Get free weekly updates on top club picks, book giveaways, author events and more
Please wait...