BKMT READING GUIDES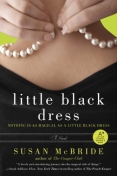 Little Black Dress: A Novel

by Susan McBride
Published: 2011-08-23
Kindle Edition : 320 pages
4 members reading this now
6 clubs reading this now
0 members have read this book
Recommended to book clubs by 4 of 4 members
"I'll read anything by Susan McBride."
—Charlaine Harris, New York Times bestselling author of the Sookie Stackhouse novels
"I'm madly in love with this full-of-surprises story about secrets, family ties—and one magical little black dress. One of my favorite novels of the ...
No other editions available.

Jump to
Introduction
"I'll read anything by Susan McBride."
—Charlaine Harris, New York Times bestselling author of the Sookie Stackhouse novels
"I'm madly in love with this full-of-surprises story about secrets, family ties—and one magical little black dress. One of my favorite novels of the year."
—Melissa Senate, author of The Secret of Joy
"An enchanting escape into a magical world."
—M.J. Rose, internationally bestselling author
Can there be magic in a Little Black Dress? Susan McBride, author of The Cougar Club and the Debutante Dropout mystery series, answers with a resounding, unequivocal, "Yes!" McBride's mesmerizing tale of two sisters whose intertwined lives are torn apart by a remarkable dress that opens up doors to an inescapable future is an ingenious work of the imagination that recalls the novels of Claire Cook and Jill Kargman. A sometimes heartwarming, sometimes heartbreaking look into two generations of women, this Little Black Dress is something every fan of quality contemporary women's fiction will want to own.

Editorial Review
Product Description
Two sisters whose lives seemed forever intertwined are torn apart when a magical little black dress gives each one a glimpse of an unavoidable future.
Antonia Ashton has worked hard to build a thriving career and a committed relationship, but she realizes her life has gone off track. Forced to return home to Blue Hills when her mother, Evie, suffers a massive stroke, Toni finds the old Victorian where she grew up as crammed full of secrets as it is with clutter. Now she must put her motherâ??s house in orderâ??and uncover long-buried truths about Evie and her aunt, Anna, who vanished fifty years earlier on the eve of her wedding. By shedding light on the past, Toni illuminates her own mistakes and learns the most unexpected things about love, magic, and a little black dress with the power to break heartsâ?¦ and mend them.
---
Amazon Exclusive: Charlaine Harris Interviews Susan McBride
Susan McBride and Charlaine Harris met in 1999 when Susanâ??s very first novel was published by a small press and Charlaine was an established mystery author, writing two separate series (the Aurora Teagarden and Lily Bard Mysteries). Susan went on to do five Debutante Dropout Mysteries for HarperCollins/Avon while Charlaine tried her hand at a Southern Vampire Mystery featuring telepathic barmaid Sookie Stackhouse. When Dead Until Dark was released in 2001, Susan passed out wax vampire teeth at the Mayhem in the Midlands Convention to celebrate her friendâ??s new book, hoping it might just catch on. My, what a different a dozen years makes! Charlaineâ??s 11th Southern Vampire Novel, Dead Reckoning, was recently released and hit #1 on virtual every bestsellers list while HBOâ??s TrueBlood heats up the small screen. In the meanwhile, Susan has taken a leap of her own and in a mystical direction as well, penning her first novel of magic realism, Little Black Dress, prompting Charlaine to ask a few questions of her old pal.
Charlaine Harris: Writers approach a genre switch with trepidation. Were you excited? Anxious?
Susan McBride: I was very comfortable writing series mysteries but always had the itch to try something else. I was fortunate to be asked to write several young adult books and then The Cougar Club, my first mainstream novel, which gave me the confidence to attempt Little Black Dress. And I needed that confidence! Writing Little Black Dress was the hardest thing Iâ??ve ever done. I donâ??t think Iâ??ve ever gone so deep into a story or into the characters, and it took over my life for months and months. Iâ??m both excited and anxious for the book to come out, wondering what my mystery readers will think of it and hoping it attracts readers whoâ??ve never read my books as well.
CH: What was your fundamental beginning idea for Little Black Dress? Was it a key scene, an interesting situation, the character of the protagonist?
SM: Iâ??d love to say the idea came to me in a dream but it was really very simple. I was thinking of things that are common to all womenâ??daughters, sisters, mothers, wivesâ??and I envisioned a little black dress. Maybe because my mother always insisted that every girl should have at least one in her closet since they worked well at most any function: cocktail party, graduation, fancy dinners, and, of course, funerals. I wondered, though, what if there was a dress that fit several women in one family, all of whom were different sizes. And what if this dress was made of a very special silk that seemed â??aliveâ?? and that, when donned, made its wearer glimpse her future. Then I saw two very different sisters from the 1960s, one destined toward spinsterhood and one on the eve of her wedding to a rich man she didnâ??t love. I wondered how putting on a magic black dress that revealed their fates could change both their lives. Would it push them apart or bind them together? Would the dress affect a second generation? So thatâ??s where I started, and the idea blossomed from there.
CH: Why did you decide it was the right time to try something different?
SM: Iâ??d been contemplating what I wanted to do after The Cougar Club as I so enjoyed telling that tale of three women and their great friendship. I think The Cougar Club is filled with hope and love, and I wanted to spin another story about hope and love and forgiveness but in a completely different way. Dealing with the magical element was definitely something I hadnâ??t tried before, but my agents and my editor were thrilled. In fact, I felt such enthusiasm from them over my Little Black Dressidea that it was kind of daunting. I knew I had to stretch my literary muscles further with Little Black Dress and dig a little deeper than I had before. Maybe because I have a sisterâ??and weâ??re as much polar opposites as Anna and Evie Evans in Little Black Dress, I got very emotional while writing the book. But it all seemed to come together perfectly. I hate to say I think itâ??s fate, but I do!
CH: Was the editing process different for this very different book?
SM: Hmm, thatâ??s an interesting question! It was a challenge to make sure I unveiled the mystery of the black dress and the sistersâ?? fates in a linear fashion while using two points of view: that of Evie, the older sister, and Antonia, her daughter. Evieâ??s perspective is very personal and historical, and Toniâ??s viewpoint is much more modern. So it was a matter of keeping the tension there while moving the story along, and reaching a place where past meets present (for want of a better description). My agents and my editor were incredibly insightful, and the novel is much stronger for their input.
CH: Do you think youâ??ll want to write more books like Little Black Dress, or do you think youâ??ll return to conventional mysteries?
SM: Yes, Iâ??d love to write more books like Little Black Dresswith magical elements. Itâ??s very freeing to know you can go beyond the boundaries of reality and whatâ??s considered â??normalâ?? in these books, and I adore that feeling. In fact, Iâ??ll be dipping into the world of magic realism with my next novel, Little White Lies.
CH: Last but not least, do you have a great little black dress that you canâ??t live without?
SM: Iâ??m embarrassed to say that I donâ??t. I just have a really old one hanging in the back of my closet. And it would probably take some magic to make it fit. So I think Iâ??d better go shopping!
Excerpt
A woman without a little black dress has no future.
--Coco Chanel
Chapter 1
Evie
I
never meant to resurrect the dress. I had intended for it to
remain out of reach so there would be no more meddling.
But I awoke before dawn with tears in my eyes after another
strange dream about Anna, and I knew that I had to find it.
A bruised-looking sky bled between half-drawn curtains as I
dragged myself from bed and padded down the hallway in my
nightgown and bare feet. I switched on the attic light and grabbed
the banister to climb, my knees creaking as sharply as the wood
beneath my heels. At the top of the stairs, I paused to catch my
breath and loudly sneezed.
I'd forgotten how dusty it was up there and how full of things
forgotten: discarded furniture, a steamer trunk stuffed with my
parents' belongings, and more boxes than I could count. It could
take me days to dig through all the detritus. I wished I had lis-
tened to Bridget about getting my life sorted out months ago so
LittleBlackDress_i_xii_1_308_1p.indd 1 4/15/11 10:53 AM
2 Susan McBride
there would be far less clutter. The house was full of it now. Like
so much of the past, I found it harder to face than to ignore.
Mr. Ashton's been dead two years, Miss Evie, she'd said yesterday,
as if I needed reminding. Sometimes it still felt like my teeth had
all been freshly pulled, the ache was so raw. You can't keep avoid-
ing the world. It hasn't stopped spinning just because you hoped it
would. He isn't coming back any more than Toni will, not if you
don't give her something to come back to.
The remark had stung deeply, and I resented Bridget for saying
it. My husband might be dead, but Antonia was not. She might
want nothing to do with me now that she was all grown up, but I
was still here for her, and her roots were entrenched in the dirt of
Blue Hills, no matter that she fancied herself a city girl.
Oh, dearest Antonia!
The thought of her gone nearly made me weep. I had wanted
so desperately to keep her close, but she'd flown away as soon as
she was able, just like Anna. And it exhausted me knowing that,
no matter how hard I'd tried to do what was right, I couldn't
seem to hold on to what I loved most in the world. I had lived
seventy-one years and everyone closest to me--Mother, Daddy,
Jon, Anna, even Toni--had left me one way or another. Was it
any wonder I'd hidden away the dress and all the confusion it had
wrought?
Until the damned dream that wouldn't let me be. I had to
know the truth. I had to see what was coming, and putting on the
dress was the only way.
Amidst the smell of dust and disuse, I inhaled a well-remem-
bered scent. Lily of the valley tickled my nose, drawing me for-
ward. Picking my way carefully through the mess, I edged toward
the corner of the attic, and my gaze fell upon a faded floral hatbox,
tucked squarely under the eaves. Grunting, I pushed aside a
wicker chair and half a dozen cartons to make a path.
By the time I reached it, I was panting, my breaths ragged. I
LittleBlackDress_i_xii_1_308_1p.indd 2 4/15/11 10:53 AM
Little Black Dress 3
rubbed damp palms on flannelled thighs before I lifted the lid.
Photographs fluttered to the floorboards as I drew the black shift
from within and held it up to the light.
The fabric came alive before my eyes. Silk that had seemed
dull and faded on first glance sparkled beneath the glow of the
bare bulb. My hands shook as I set the dress down long enough to
drop my nightgown 'round my feet. I heard the crackle of static as
I pulled it over my head and tugged it past my hips, smoothing it
over my thighs with a sigh of relief. It fit as well as it had when I'd
worn it to Jon's funeral; but, of course, I'd known that it would.
Even stowed away these past two years, the dress had not suf-
fered for lack of wear. I felt its energy flow through my skin, much
stronger than I remembered; perhaps because I had become so
much weaker since the last time I'd donned it.
"Ah!" I gasped as blood surged to my head, making me dizzy. I
sank to my knees on the planked boards, oblivious to the discom-
fort, and I pressed hands to my eyes as the vision flitted through
my mind like a moving picture, sharper even than memories.
The sweetness of lily of the valley became pervasive, envelop-
ing me as I glimpsed Anna, clear as day, older than the last time
I'd seen her, much older. Toni stood at her side, their faces alike,
pale with pain. How sad they were as they gazed upon a solitary
figure, shrouded in black, lying perfectly still on a flat bed. "Oh,
Evie," I heard Anna say through her tears. "Don't leave us. Please,
don't go. It's not supposed to end like this." I saw myself then,
lying beneath the sheet, eyes shut, perfectly still.
Dear God. Am I to die?
I rocked back on my heels, my cheeks damp and chin trem-
bling, and I thought of my dream of Anna, of my sister returning,
and Toni, too. Was it my death that would bring them together?
I shook my throbbing head. No, no, no. I wasn't ready to go, not
before I'd set things right with them both, until we'd all told the
truth.
LittleBlackDress_i_xii_1_308_1p.indd 3 4/15/11 10:53 AM
4 Susan McBride
Maybe the dress is wrong, I thought, even though I didn't believe
it. It had never been wrong before, only misconstrued. Could that
be what was happening? But what else could it be showing me?
Blood rushed to my ears in loud, crashing waves, and a horrible
pain shot through my skull. I buried my face in my hands, press-
ing hard at my temples, willing it to stop. Then it was gone, and
I felt nothing, heard nothing, and the world went completely and
utterly black.
LittleBlackDress_i_xii_1_308_1p.indd 4 4/15/11 10:53 AM
...
view entire excerpt...
Discussion Questions
(1) How are sisters Evie and Anna different? Are they alike in any way?
(2) Do you see a parallel between the sisters' difficult relationship and Toni's relationship with Evie? Is it a case of history repeating itself (i.e., Evie's relationship with Anna) or something else?
(3) Anna was instantly drawn into the Gypsy's shop while Evie wanted nothing to do with it. While Anna seemed mesmerized by the tale of the black dress and easily accepted that it was magical, Evie thought her foolish. What makes Anna so reckless and Evie so cautious?
(4) Toni is as wary of the dress as Evie. Does she handle glimpsing her fate any better than Evie or Anna?
(5) Once Evie had experienced the power of the dress, did it help her to understand why Anna left? Or did it further confuse her?
(6) Toni resisted going back to Blue Hills because she felt like her past was behind her; instead she discovered that so much of who she is relates to her own history and that of her family. Did she have to leave home to find herself? Or did Toni truly discover who she is once she returned to Blue Hills?
(7) When Anna walks into the river with the baby, Evie wishes her gone and can't imagine ever forgiving her. Do you think Anna's punishment was enough or too much? Why does it take so long for Evie to forgive? Do you think what Anna did was unforgivable?
(8) Is there any one thing that makes Toni realize she isn't in love with Greg, or is it a case of absence giving her clarity rather than making the heart grow fonder?
(9) What is the significance of Toni taking part in the ice harvest?
(10) The novel is full of water imagery as water is a life-giver but also has the power to take lives. How does this imagery symbolize what each main character goes through? (For example, Evie's sense of treading water while she's in a coma.)
(11) Should Anna and Evie have told Toni the truth about her birth? Was Anna right to want to keep it a secret for the time being? Is there ever a case when keeping secrets is less damaging than telling the truth?
(12) Do you have a personal belonging that holds some "magic" for you? Does it make you feel better, happier, or more secure?
BECOME A MEMBER
it's free
Join the leading website for book clubs with over 35,000 clubs and 20,000 reading guides.
SEARCH OUR READING GUIDES
Search
JOIN OUR MAILING LIST
Get free weekly updates on top club picks, book giveaways, author events and more
Please wait...